Here at Intrepid, we're firm believers in the fact that solo travel doesn't mean traveling alone.
Sure, you can arrive at a destination on your lonesome, but travel has that funny way of bringing like-minded people together. This is certainly the case in Europe, where there are both travelers aplenty and abundant countries ripe for exploration. So, whether you're tackling the continent on a small group tour (hello, fellow solo travelers!), or are simply seeking out countries that are particularly welcoming to adventurers, here are five destinations worthy of a visit.
Portugal
It's hard to know where to begin with why Portugal is such a dream destination for solo travelers, but we'll give it a go. First off, the cities really don't intimidate. Even the big ones like Lisbon and Porto (guide here) have transit systems that puts most other countries to shame (simple AND inexpensive), and locals tend to be as respectful as they are genuinely friendly towards travelers. And it's not just warm personalities that you'll meet here, but a warm climate too (yes, even winters are mild) making travel any time of year a doddle.
The southern European country itself is also pretty small, meaning you can do a series of day trips from any of the big cities, and you've already covered a decent amount of geography. Take Lisbon.  Just a day trip away from the capital and you can find yourself among beautiful beaches (try Estoril), the tastiest custard tarts (go to Belém), upscale fishing towns (ahem, Cascais) and an array of awe-inspiring, pastel-colored palaces (welcome to Sintra). Bonus: Portuguese people tend to be so nice, in addition to decent at speaking English, that you'll feel no awkwardness at all if you do end up at a traditional tavern on your own.
TEMPTED? HOP ON THIS 8-DAY FOOD TOUR THROUGH PORTUGAL AND SPAIN
Netherlands
Ah, the Netherlands – so much more than the canal-lined, coffee shop-filled wonders of Amsterdam. Ridiculously peaceful, very liberal, and super easy to travel round, this country is basically made for solo travel. And though Amsterdam's attractions are obvious to all, it'd be a shame to drop by and think you've done the country justice. Rotterdam, for instance, is not just Europe's biggest port, but one of the continent's coolest cities. Bursting with tons of museums, hip bars, and quite the street art scene, it's a city that's buzzing with activities for both travelers arriving with friends, or those looking to make them.
But get a train outside any of the big cities (yes, most trains have wifi) and you'll see even more Dutch charm than you thought possible – and probably a windmill or two chucked in for good measure. In the northeast you'll come across Giethoorn, the Venice of Holland, a village made up of boat-filled waterways. And we won't give any more away, but we will say that eateries in the Netherlands tend to be super cozy and welcoming. So, you can make some memories alongside fellow solo travelers, all the Dutch pancakes, and a pint or two of excellent Dutch beer.
VISIT THE NETHERLANDS ON THIS 15-DAY TRIP FROM BARCELONA TO BERLIN
Croatia
There's just so much that's appealing about Croatia, and so many ways to see the thousands of islands and inland attractions. In fact, the Adriatic coast almost holds so much wonder we'd advise checking out a small group tour so you can gaze at the UNESCO Heritage Sites and plentiful national parks in good company (anyone up for a sailing or cycling tour?).
To adapt Aerosmith's famous words, you really don't want to miss a thing here. The cobbled streets of Split, the famous-for-good-reason Plitvice National Park, the nightlife-filled hub of Hvar, and, well, the entirety of Dubrovnik are likely calling your name. And if you're a solo traveler, you're in luck. Croatia is one of the safest countries in Europe. So, whether you're having drinks at dusk in some coastal town, or ambling round the capital Zagreb, you'll feel both happy and at home.
LOVE THE SOUND OF CROATIA? EXPLORE IT ON THIS GREAT 8-DAY TRIP
Denmark
We chose Denmark for this list, but if we're honest we could have just as easily said Norway, Sweden, Finland or Iceland. We don't know what it is about the Nordic countries (something about the cold?) but they're perfect for travelers who like exploring alone, but also being social. As you might expect, Demark's cool capital, Copenhagen, is a great place to start any trip. Get snacking at the scenic harbor of Nyhavn, hit the shops at Strøget, and visit the iconic mermaid statue that's just crying out to be photographed. (Related read: How to travel like a local in Copenhagen!)
A big pro for solo travelers is the ease of getting around in Denmark. From Cophenhagen you can hop on a quick train to  Sweden's Malmö, or you can take a longer trip to the country's second largest city, Aarhus (home to open-air museums, an intriguing Latin Quarter, and beaches and forest close by). Whatever you do choose to do here, you can do with minimal hassle, because basically everyone speaks English. That, combined with an exceptional craft beer scene, means that you've got pretty much everything at your disposal for a sweet trip to Scandinavia.
SUBSCRIBE TO INTREPID'S NEWSLETTER FOR TRAVEL INSPO, COMPETITIONS, GIVEAWAYS & MORE
Switzerland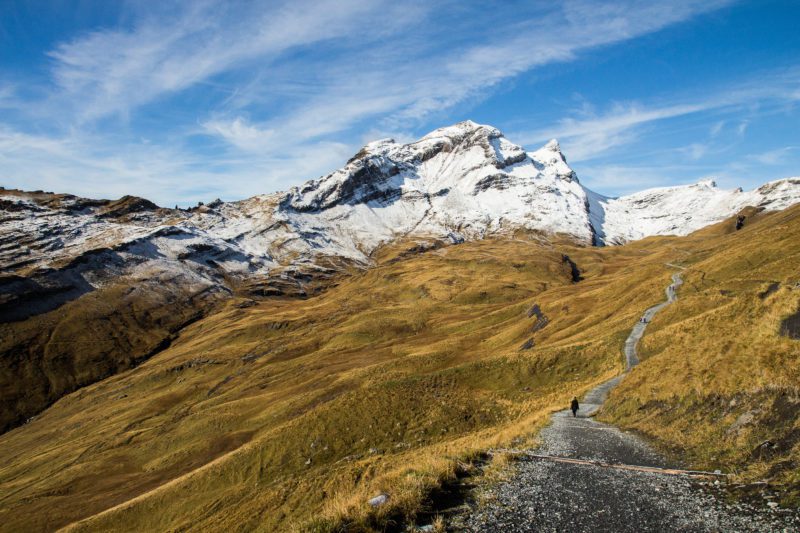 Famous both for its mountain ranges and for its political neutrality, Switzerland had to be mentioned as it really does make solo travel oh so easy. People are friendly and keep to themselves, food on offer has something for everyone (thanks to influences from France, Germany and Italy), and the combination of cool cities and Alpine scenery means you'll never get bored.
In fact, if you're overwhelmed by simply how many Swiss destinations you can reach on the country's (ludicrously efficient) train network, you could hop on a trip taking you through the Swiss Alp highlights. These include Interlaken – home to not only the world's highest revolving restaurant, but also scenic gems you can check out by mountain bike, and insane views you can gawp at via cable car. And that's just for starters…
Got the urge for adventure, but no one to go with? Check out our new range of trips specifically for solo travellers! 
—
Image credits: all Intrepid Travel (except Denmark image, c/o iStock)
Feeling inspired?