Diversity and inclusion has always been at the forefront of everything we do. The Intrepid Group, which Intrepid Travel forms part of, employs 1,600 staff from 68 nationalities based in 27 offices all over the world. We know that our strength comes through our differences and the freedom everyone has to be themselves – locals, leaders and travellers alike.
Around 65% of our travellers are female, and 60% of our global staff are women, but most our female staff work in our offices – in fact, only 21% of our trip leaders are female. This is something we want to change.  
Female trip leaders
The Intrepid team in India have been particularly proactive in trying to improve the gender balance of their trip leaders. By specifically advertising for female applicants, creating Instagram and Facebook campaigns, putting up posters in beauticians and cafes, and asking staff to approach female friends, for the first time ever we have achieved a 50/50 gender split of new leaders in India. We now have a passionate group of 11 female trip leaders who are ready to pave the way towards gender equality in the Indian tourism industry. With the support of the Intrepid Group, they hope to inspire and empower other women to follow in their footsteps and chase their dreams.
While we still have a long way to go, we're committed to providing an environment that encourages people of all ages, physical abilities, cultures, races, religions, sexual orientations and genders to have the same opportunities. Our vision is to create the best travel experience ever – for everyone.
Project SAMA
Project SAMA was a three-year global gender equality project which aimed to improve the lives of communities around the world, and help bridge gender gaps through education. To achieve this, Intrepid worked with Plan, one of the world's most experienced children's development organisations. Since 2012, Project SAMA has helped educate thousands of children in Laos and Uganda, and raised more than AU$160,000 for projects that support girls and women through early childhood education and maternal and infant health, as working as striving to change community attitudes towards young girls.
See the infographic of SAMA's achievements
Women's Leadership Forum
We see a future for the Intrepid Group where women and men can be equally represented and valued at every level of the business, with increased numbers of women in leadership roles by 2025.
We want to unearth and foster the growth of a new wave of potential female leaders. One way that we're progressing towards this is by bringing together a small group of engaged, positive, thoughtful and diverse women from across our business to take part in an annual Women's Leadership Forum. Attendees will work through case studies, projects and career development plans. The forum is designed to boost their business acumen and financial literacy, strengthen their negotiation skills and explore of the challenges, opportunities and myths associated with the success of females within businesses today.
The event is hosted by the Intrepid Group's female Global Leadership Team members. These strong, diverse and knowledgeable women will be there to listen, mentor, support and teach each of the selected 12 attendees from across the business.
Read more about gender equality
May 18, 2017
---
Sana is just one person. One female leader in one male-dominated society. But...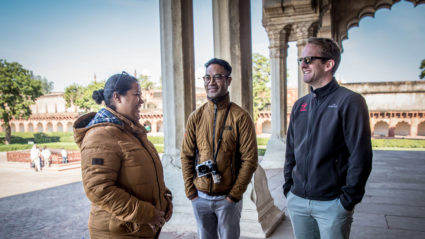 May 18, 2017
---
"I believe things are changing here", reflects Pravin. "It won't be long before 50...
See our other responsible travel policies