Travel is changing for the better. And more often than not, it's women who are leading the charge. From female guides breaking new ground in Nepal to climate experts holding the industry to account, here are seven Intrepid women building a brighter travel future, for everybody.   
Intrepid works with 1,250 staff and leaders from 65 countries in more than 40 offices all over the world – and 60 per cent of them are women. Women are pushing for change in the travel industry, and we're working hard to create new opportunities for female leaders, guides and porters on our trips. To that end, we've even launched dedicated women's expeditions, led by female guides and designed for female travellers. You can check out our gender equality policies over here.
Want to meet the face of travel's next generation? Here are seven inspirational women changing adventure for good.
Chama Ouammi is the first female Berber guide in Morocco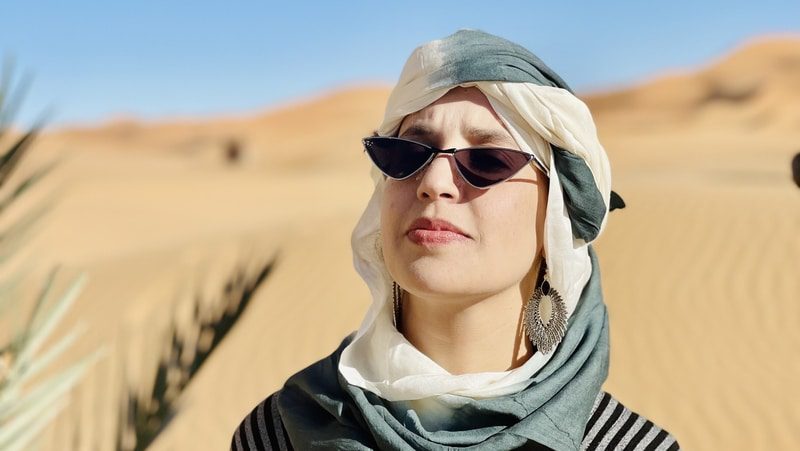 Chama is the first female tour guide from her Berber region, the Aït Bouguemez Valley in Morocco's High Atlas Mountains. She's also one of the youngest female guides in the country. "It was very difficult for my Berber society to accept a Muslim girl with a hijab as a tour guide," she says. "Life in the mountains is harsh. Most girls marry at a very young age, and many of them don't end up completing their studies. My family don't know much about tourism, but they've always supported me. They told me I'm a fighter."
It was a challenge for me to ignore everything and follow my dream. A dream that some people considered impossible, or unacceptable.

Chama Ouammi, Intrepid Guide
After studying computer management, Chama began working as a freelance guide in Marrakech. She joined Intrepid in 2018 and now leads many of our Morocco trips, including the women's expedition. "Intrepid's women-only tour was one of the best I ever guided," she says. "When you travel with a group of women, you express yourself more freely. You can wear what you want, do what you want. Travel is one of the best gifts a woman can give herself."
You can follow Chama's adventures (she climbs a lot of mountains in her spare time) on her Instagram page. "Life revolves around challenges," she says, "and I like to challenge myself. I will never ever stop."
Srishti Lama Tamang is busting through Nepal's mountain ceiling
Srishti's office is the rooftop of the world. She spends her days guiding our Intrepid trips in Nepal, hiking through the Annapurna ranges, exploring the forests of Pokhara, or leading travellers to Everest basecamp. In the male-dominated world of Nepalese trekking, she represents a new wave of local talent. And like many guides in the country, she got her start as a porter.
"Being a porter was unforgettable, but it came with many challenges," Srishti says. "The first time I trekked, I had to carry the bag on my head, which was painful. My friends and family kept telling me, 'Don't do this, you can't do this.' But I wanted to. I needed to challenge myself, especially if I wanted to be a leader."
Nepal's trekking culture has traditionally been a very masculine world, but female porters and guides like Srishti are beginning to shift expectations. "In the Nepali culture, the girls have to work inside the house, so there are few female guides working the high mountains," she says. "People think, because of our culture, they can't do it. But they can. I'm so happy with my job. I'm enjoying my life. I'm independent."
Sofi Wer is reducing plastic waste in Guatemala
There are children in Guatemala today with fresh, clean drinking water, thanks to Sofi Wer. She's been leading Intrepid trips here since 2014.
"When I started running the tours, I noticed how big an issue access to water was," she says. "Our country doesn't have a recycling program, and in the homestays, the locals were buying these big plastic jugs of water. The school kids, the cheapest water they had was in these little plastic bags, and all of that plastic ends up in Lake Atitlan."
Sofi decided to do something about this, so she teamed up with a water filter company, Ecofiltro, and began asking Intrepid travellers to chip in for filters. And it worked. Within a few years, she was able to bring clean water to San Jorge la Laguna on the shores of Lake Atitlán. "Now every kid at school has their own cup, which they just refill," Sofi says. "At home they stopped buying plastic everything. They just re-fill water from the tap."
It's a direct impact, and I really want to keep it going. I'm on a mission.

Sofi Wer, Intrepid Leader
When the COVID-19 pandemic struck, the tour groups and money dried up, so Sofi started a GoFundMe page to keep the clean water flowing. It was so successful that she exceeded her target in just a few days, raising nearly $1000 for local families in regional Guatemala. Now she wants to expand the filter program to other villages.
"When I started doing these homestays, the owners had dirt floors," she says. "Now they have their own rooms for visitors and they're sending their kids to university. Having an impact, it's not that complicated, you know? In the end, it's really easy."
Juana and Valentina are shouldering the load in Peru
Next time you're strolling along the Inca Trail in the Peruvian Andes, keep an eye out for Valentina Sinche Quispe and Juana Sinchi Huaman – Intrepid's first ever female porters in Peru.
Juana (55) is a widow from Huilloc near Ollantaytambo. She's been working the Inca Trail for the last three years. "I needed extra income to help my daughter. She just had a baby and she's a single mother," Juana says. "It's hard to have a stable income as a weaver, and women don't have many other opportunities, especially at my age. But when I saw my friends becoming porters, I know I could do it myself!"
To the young women, I say, don't be afraid of doing it. You're never alone.

Juana Sinchi Huaman, Intrepid Porter
Juana treks with our Chief Porter, Valentina (44), who works hard to feed her five children back at Huilloc. Both women choose to trek in a hybrid of traditional Quechan women's clothes and Intrepid mountain gear. "I always wanted to know the Inca Trail, because my husband works there as a cook," Valentina says. "I love that I can feel free in my job. It's also much less busy than home!"
Juana and Valentina want young Quechan women to shake off gender stereotypes and start thinking of portering as a serious career move. It's hard work, they say, but worthwhile. "To young women, I say, don't be afraid of doing it," Juana says. "You're never alone. There's always a family of female porters to support you."
Dr. Susanne Etti is holding the travel industry to account
Climate scientist Dr. Susanne Etti is Intrepid's full-time Environmental Impact Specialist. It's her job to lead our climate action work, including science-based climate targets and moving way, way beyond carbon neutral (which we achieved back in 2010).
"The tourism industry is at the forefront of the climate emergency," Dr. Etti says. "We have a front-row seat to the crisis that is unfolding. At the same time, before COVID hit, the industry was contributing eight per cent of global greenhouse emissions. I believe this period will redefine tourism for the future. While COVID-19 is not a solution for climate change, it is a catalyst for more ambitious action."
We have a front row seat to the crisis that is unfolding. I believe this period will redefine tourism for the future.

Dr. Susanne Etti
After a career in academia, which took her all over the world, Dr. Etti jumped to the corporate sector, working with multinational oil and gas companies in Thailand and helping them become more sustainable. Now she wants to bring the whole travel industry with her, especially when it comes to climate and gender equality.
"A female perspective has definitely shaped Intrepid's climate action plan," she says. "In fact, one of the steps in our seven-point climate plan is empowering women. Gender equality is a core pillar in the industry-wide fight for a healthier planet."
Zinzi Bobani is pushing for change in South Africa
"We have a saying in Africa," says Zinzi Bobani, Intrepid's Finance Manager in South Africa. "When you empower a woman, you empower the nation."
Zinzi knows a thing or two about empowerment. After starting her travel career as a receptionist – just 19 years-old and fresh out of high school – she worked her way up to operations clerk, then reservations consultant, then accountant. Now she handles the finances for our entire South African DMC (Destination Management Company – the crew who run our on-the-ground Intrepid trips).
Zinzi played a crucial role in Intrepid's recent B Corp re-certification (a gruelling sustainability audit of our entire global operations). "I provided all our financial data and information about our governance, controls and transparency in South Africa," she says. "South Africa is known for its beautiful landscapes, national parks and game reserves, and we've certainly done a lot to preserve these treasures. We've even got the 'Green Tourism Incentive Program' now, set up by the Ministry of Tourism, to help companies implement more sustainable travel."
Zinzi says she's starting to see change in gender equality, too, with more young women building businesses, or starting work in the travel sector. "We're slowly seeing more and more women take up key positions in travel, and those women are opening the doors for others. It's really heart-warming."
Feeling inspired?