The Sphinx. The Pyramids of Giza. Desert moons, Valley of the Kings, spices, music, the Nile.
As a child, I was fascinated by the culture of ancient Egypt – papyrus scrolls, King Tut and the tombs pharaohs were buried in for everlasting life. Flicking through the pages of the National Geographic Egypt book my mother gave me inspired my curiosity about what seemed like another world.
Recently, my ultimate bucket list trip became a reality. Visiting Egypt – my first trip to the African continent – reignited my childlike wonder for the first time in decades. It still feels surreal to say that I have finally experienced the Motherland.
Facing my fears
When Intrepid invited me and some of my transgender and body positivity advocate peers to join a tour of our choosing, the pressure was on. It felt like a once in a lifetime proposal, and while I explored all the options – Antarctica, Southeast Asia, Vietnam, places I've dreamed of going for years – Egypt kept resurfacing in my mind.
As a visible transgender human rights advocate, I'm used to travelling to places where political and social attitudes towards transgender and queer people differ. But in this instance, the thought of travelling for leisure, rather than advocacy work, as a Black trans woman, to a country with numerous anti-LGBTQ+ laws and attitudes, presented a quiet fear that I couldn't shake.
It is illegal to be transgender or homosexual in Egypt and the country has been shunned by human rights advocacy groups around the world for its aggressive transphobic and homophobic law enforcement.
And yet, I stubbornly thought to myself – if not now, then when?
Eye-opening adventures
In late 2022 I landed in Cairo ready for an 'Indiana Jones' style Premium Egypt adventure. I knew that Intrepid prides itself on its group travel experiences that take in all the highlights while also encouraging you to get to know the local people and culture on a deeper level – and I found that it lives up to that aim in so many ways.
I'd never done group travel before and didn't quite know what to expect. But I soon realised I was surrounded by like-minded travellers from around the world who shared many of the same aspirations for their first tour of Egypt as I did.
Our first adventure? Seeing the Great Pyramids at sunrise. From there we adventured by camel, ate kushari (a tasty mixture of pasta, rice, lentils and fried onions) with locals at a street food restaurant, toured museums filled with ancient artifacts and had cocktails by the pool at our hotel, learning more about each other and our parts of the world. We went on to visit the spice markets in Aswan, tour the Nile by riverboat, ride a felucca to the Nubian villages and hot air balloon over the Valley of Kings together (I'd encourage everyone to take part in the latter – even if you're afraid of heights like me!).
A special moment that stays with me is seeing the hieroglyphs and representations of Hatshepsut, a visibly gender nonconforming pharaoh. Seeing yourself represented in history – especially as both a Black person and a trans woman – is phenomenal.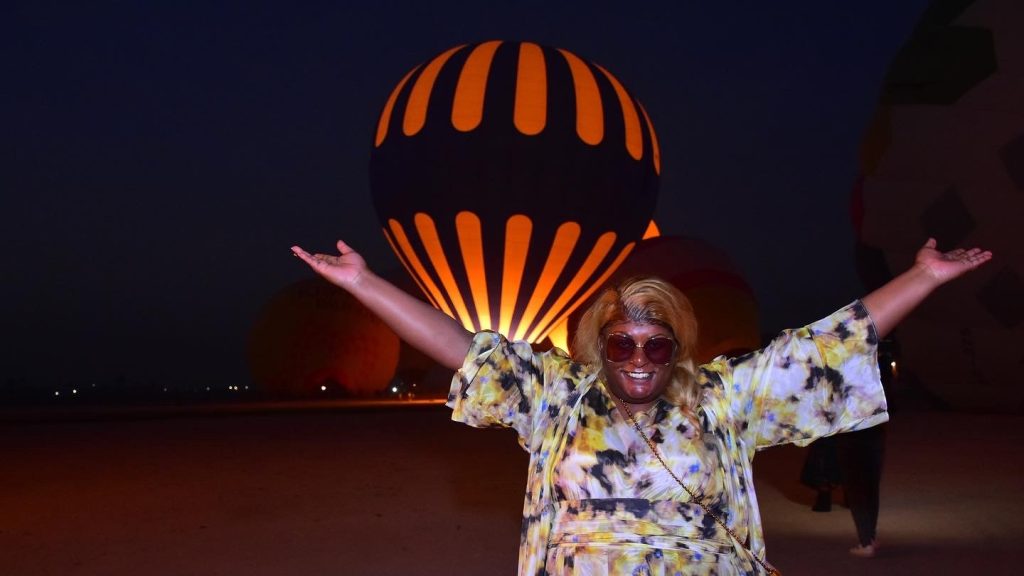 Tips for visiting Egypt as a plus-size LGBTQ+ traveller
As an LGBTQ+ traveller, your personal safety is always on your mind – that's the reality. Bold as I may be, I have to balance being visibly transgender while also being respectful of the land I am visiting, its people and its customs.
Here are some steps you can take to ensure you have an excellent experience.
Travel with a group
If you're LGBTQ+ and decide to visit Egypt, travelling on an organised group tour can help reduce any anxieties you may have. I spoke to Intrepid staff in advance and they took my safety concerns into careful consideration, working behind the scenes with airline, transportation and hotel staff to ensure I had the best adventure possible.
To be honest, I was expecting a white, cis, male, British leader but was pleasantly surprised to learn that Intrepid hires local people wherever possible. I felt extra comfortable travelling with leader Eman, a local Egyptologist and feminist Muslim woman who is blazing a trail in a male-dominated industry.
Be aware of local laws and customs
It's important to consider local laws and customs. For example, in places like Aswan and Luxor, women don't smoke in public. Men don't share hotel rooms, and women dress modestly even in the high desert heat. Yes, rules and attitudes are more flexible for tourists, but I also think following local customs and values wherever possible is a sign of respect.
My sisters Diamond and Breonna struggled with the modest dress codes, but they adapted and in general people appreciated that we were trying. I think this is why, whether they knew it or not, people engaged the three of us – all Black, American, transgender women – in conversation, which I think can only help to shift perceptions of trans people overall, just by virtue of us making a little effort.
Go at your own pace
As a plus-size traveller, touring ancient temples and sites in the heat can be physically gruelling. There were folks in my group who do CrossFit and marathons and even they were wiped by the end of each day. You'll be doing lots of walking, scrambling over rocks and squeezing into tight spaces – so gauge what you can do and modify accordingly.
For me, sometimes that meant staying behind as the group crawled on all fours to get into a tiny tomb. One day, I skipped a temple visit to stay in my room and rest. You are the guardian of your care, and I am proud I pushed myself to keep up with the group as much as I could, climbing in and out of feluccas and hiking hills to the villages. I took care of myself whenever I felt I had reached my limit and communicated with my guide when and where I would need to modify.
At the end of the day, everyone wants what you want: a good time and a memorable adventure. Also, Egypt is not a place for cute shoes (trust me, I ruined a pair of designer sandals). Sacrifice your need to match your outfit with your footwear in favour of tennis shoes with support – you won't regret it.
Aria travelled as a guest of Intrepid on our 9-day Premium Egypt trip. Follow her adventures on Instagram @ariasaid.
Feeling inspired?