Leitah and the Black Mambas are deterring poachers and inspiring a new generation of wildlife warriors while they're at it. The Big Five in Kruger National Park can rest a little easier knowing these women have their back. And in 2024, Intrepid travellers will get a chance to meet the Mambas for themselves during a special bushwalk and evening spent at the Black Mambas HQ.
When Leitah Mkhabela was 16, she joined a school program that gave her the opportunity to visit the nearby Timbavati Game Reserve on the border of Kruger National Park – something few people from her village had the chance to do. Here, she got to witness the animals – elephants, lions, rhinos and more – that call this reserve home and learned that they needn't be feared, like she'd been taught to believe, but instead protected. This program – and this excursion in particular – changed the trajectory of her life, giving her an inside look at the eye-opening reality of rhino poaching and the threats wildlife in South Africa face daily.
Flash forward to today, and her passion remains as strong as ever – she's now supervising the world's first all-female anti-poaching unit, the Black Mambas, where she has worked as a ranger since 2014. Turning a traditionally male-dominated industry on its head, they're putting their female prowess to work protecting the wildlife of Kruger National Park in an unconventional kind of way.
For the frist time ever, Intrepid travellers have the opportunity to meet the Black Mambas in person. Select trips take our travellers on a special bushwalk before they'll retire to camp to swap stories by the fire and find out exactly what it takes to be part of this fierce all-female unit. Read on to find out what makes the Mambas so unique and how you could meet them yourself.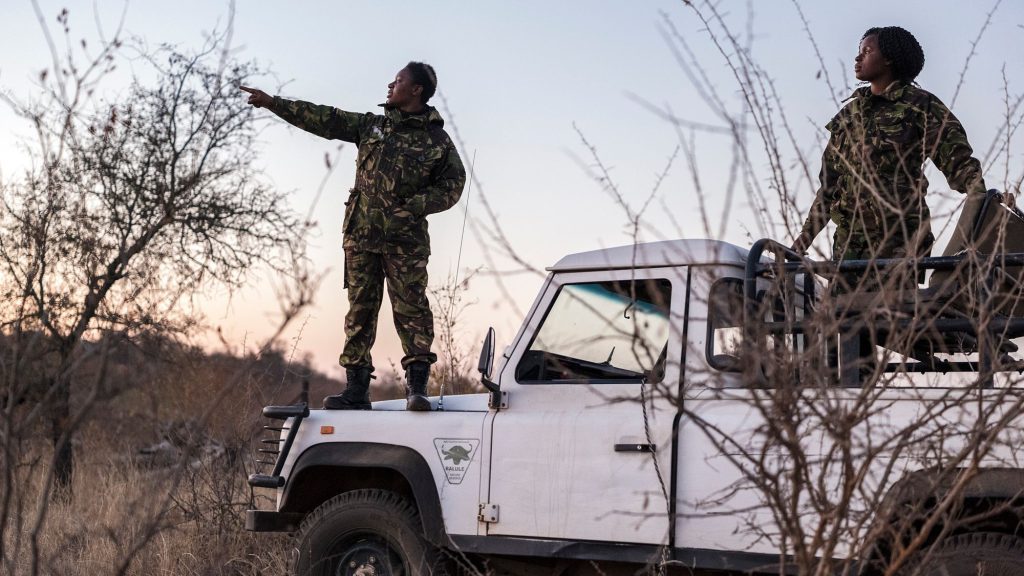 Doing things differently
Forget guns; forget violence. The Black Mambas, a team of 36 young Southern African women, use their skills to protect and inspire. Don't be mistaken, they're a force to be reckoned with. They've each undergone tough training to secure their positions, but their focus is to save endangered rhinos and other wildlife, not harm poachers. They patrol 20,000 hectares of the Balule Nature Reserve, part of Greater Kruger National Park, South Africa.
Kruger National Park is home to the largest population of rhinos in the world and attracts significant attention from poachers. In fact, there can be up to 11 different poaching groups in the area at any one time. The Black Mambas are the first line of defence, walking up to 20 km a day to patrol the perimeters.
Leitah told us, 'Many people believe that only a man can do this. And we have shown the world that women can do the same things men do as long as we've been given a chance.'
A day in Leitah's life
'I wake up early in the morning with pride, knowing that I'm going out there to speak for the animals that can't speak for themselves,' Leitah says. 'We are the eyes and ears of the reserve.'
The team patrols the boundaries on foot, keeping their eyes out for anything suspicious that might indicate poachers are in the area. They destroy snares, conduct routine vehicle stop-and-searches and install camera traps and early warning technology to keep poachers at bay.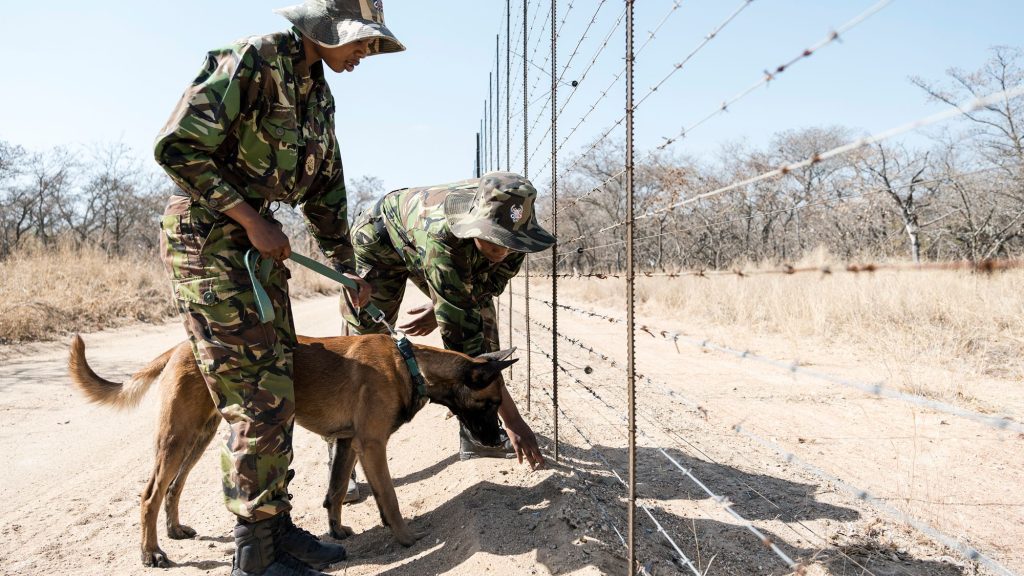 A far cry from the usual military-style anti-poaching units, the Mambas are totally unarmed. Their intense training prepares them for what the day may throw at them, however, they're backed by other units if trouble (poachers) arises.
Leitah praised the team's training program saying, 'I've learned to survive in the bush; I've learned to survive through challenges that I can come across… I've learned how to defend the rhino against the poachers.'
Risking it all
It surely comes as no surprise to hear that the job of a Black Mamba isn't for the faint-hearted. The work comes with a lot of risk, a fact that hits quite close to home for Leitah. In 2022, her cousin Anton Mzimba, who had worked as a ranger in Timbavati for 25 years, was shot dead outside his home after receiving death threats.
Anton was one of her biggest supporters when she applied to work with the Black Mambas and had stepped in as a mentor throughout her career.
'Being a Black Mamba is a risky job,' she says. 'You put your life in danger… it's not for everybody; it's for those who love nature.'
Facing the very real possibility of being injured (or worse) by poachers or wildlife, these women risk their lives to protect the animals who can't always protect themselves.
In the ten years since the inception of their unit, the Black Mambas have reduced poaching incidents in their area by 63 per cent.
'We've decreased rhino poaching… in the past three years, we haven't lost any rhinos in the game reserve that the Black Mambas are operating in.'
Inspiring a younger generation
Coming full circle, Leitah and her team are not only defeating poachers, they're also inspiring the next generation of wildlife warriors.
'The Black Mambas are the role models in the community that we come from. So, we want to set an example and teach the young kids – the future generation – about the wild animals.'
The Black Mambas' Bush Babies outreach program engages local communities in their work. They're teaching local school children about the beauty of the African wilderness and the animals that need their support, just as a young Leitah was taught years ago. Thousands of local children learn from their weekly conservation classes, and many of these kids have the opportunity to visit the reserve.
'What's amazing is that they take the messages back home,' she says. 'The poachers come from the villages the kids come from. So when these kids go home with this knowledge, an uncle or a father might realise that their child is very much interested in wildlife and protecting it, and if they continue killing the rhinos, then they're destroying their child's future career. It's all about raising awareness and inspiring them as we've been inspired.'
Travellers on our Kruger & Coast, Kruger to Vic Falls and Vic Falls to Kruger adventures will stay overnight at the Black Mambas HQ. From joining them on a special bushwalk through the national park to spending time by the campfire together, you'll have plenty of time to hear their stories and find out what you can do to contribute to conservation in Southern Africa.
The Intrepid Foundation is proudly partnered with Helping Rhinos, who directly support the work of the Black Mambas. Find out how you can help via the Intrepid Foundation or discover our Kruger National Park trips today.
Feeling inspired?