What could possess someone to walk six marathons in six years? A (really) good cause.
Turns out, that's precisely what the Blue Dragon Marathon Walk is. We sat down with Intrepid's co-founder, Darrell Wade, to get the inside scoop on the event and why he's walked more than 200 km for it over the years.
As Intrepid's co-founder, it's no secret that Darrell is a big-time advocate for giving back. After all, he and his good mate, Geoff 'Manch' Manchester, founded the company on the proviso that they'd be showing travellers a new way of seeing the world and supporting the people and places they visited while they were at it. In fact, Darrell and Manch were giving to local charities before the company was even turning a profit.
But our co-founder has really put his money where his mouth is (or should that be feet?) for the Blue Dragon Marathon Walk. He's single-handedly (single-footedly?) raised almost AUD 30,000 for the Blue Dragon Children's Foundation by pulling on his walking shoes and popping on his fundraising hat for the marathon.
The Blue Dragon Marathon Walk – 10 September 2023
The Blue Dragon Marathon Walk is an annual event supported by Intrepid's not-for-profit, the Intrepid Foundation. With no sign-up fees or geographical limits, the walk attracts hundreds of people around the world each year to take on the marathon (or any distance that challenges them) to raise money for Intrepid Foundation partner, Blue Dragon Children's Foundation. With Intrepid covering the admin costs, all donations go directly to helping them fight human trafficking, care for survivors and their families and to uplift communities out of poverty in Vietnam.
Darrell, you've walked a marathon every year for the past five years – that's a pretty impressive feat. What makes you so passionate about this cause?
I've seen the work of Blue Dragon Children's Foundation on the ground in Hanoi and the more I have to do with the organisation, the more impressed I become. They've grown over the years and so has their impact – they get real results and really do change the lives of human trafficking survivors and their families.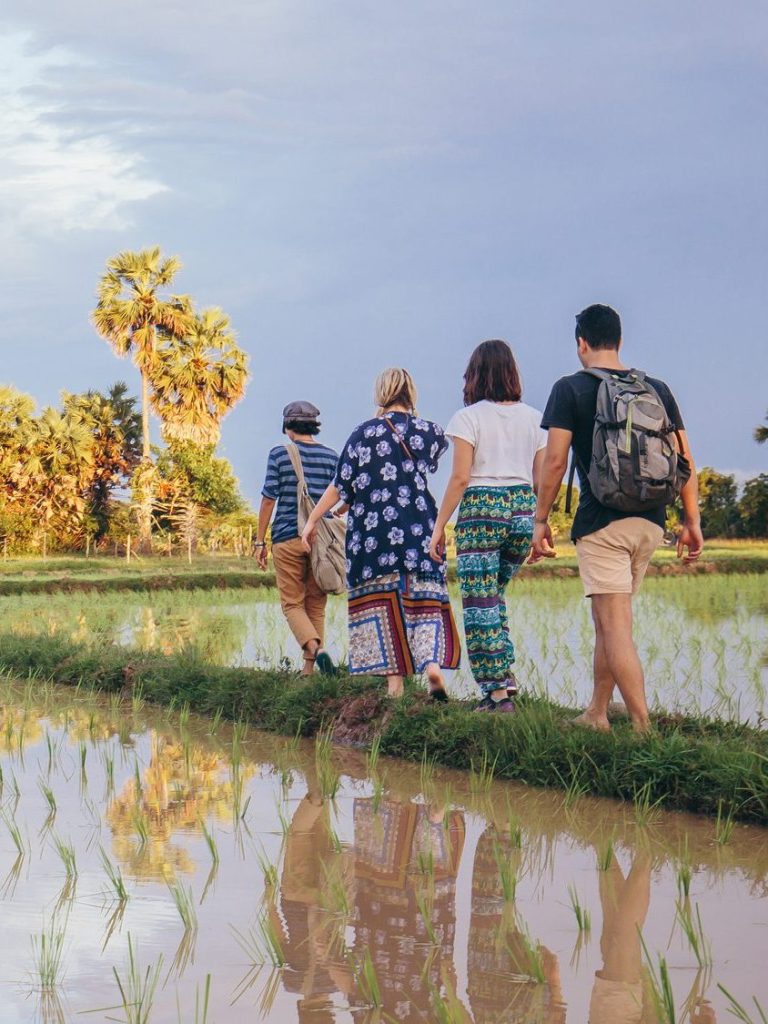 What makes the Blue Dragon Marathon Walk so important?
At a simple level, the dollars raised are critical for the ongoing work of the organisation. If we don't walk and raise funds then their work is curtailed – simple as that. The thing I love about raising funds for Blue Dragon is the sheer impact you can have. Rescuing and rehabilitating someone from human trafficking takes about AUD 1000. It's not often you can make a really dramatic positive impact on someone's life, but I feel by walking this marathon and raising some money we can do just that.
Can you tell me more about the connection Intrepid has to Vietnam?
Vietnam was one of the first countries we ran trips in. I'd heard that Vietnam was opening up in 1992 and so put out a press release to see if anyone wanted to visit and the response was tremendous. Through the goodwill of our leaders, travellers and the local communities the tours were a success. I think we've felt a certain connection to Vietnam ever since, and it's still one of our most popular destinations today.
What does it mean to you, as a co-founder of Intrepid, to support this kind of work through the Intrepid Foundation?
Intrepid has always been about having a purpose that is greater than the business itself. We want to build bridges between cultures and give back to the communities we travel to. We formed the Intrepid Foundation in 2002 as an extension of this philosophy. Activities like the Blue Dragon Marathon Walk are a perfect example of how we can help create an outcome that is far bigger than Intrepid (the business) could achieve on its own. And that's incredibly rewarding for us all.
What do you enjoy most about the walk?
People walk different lengths, from the 10 km mini marathon, to the half marathon, to the full 42 km version that I do. I like it to be a challenge each year so do the full walk which is both fun and rewarding.
How do you prepare for the walk each year? Do you have any one piece of advice for anyone who's signed up in 2023?
I walk a fair bit in my everyday life anyway, so I don't really bother with training. Having said that, I like to do one 20+ km walk in preparation just in case I've fallen out of form. In terms of tips – carry as little with you as possible and walk at your own pace. Headphones are a good idea when you want a break or need to find your rhythm.
What's your fundraising goal for the walk this year?
I'd like to raise AUD 5000 which – amazingly – is enough to build a small house and provide support for a family. This is absolutely transformative as it allows them to grow vegetables and even have some chickens so they can sell the eggs! 
What would you like to tell anyone who's thinking of joining this year's walk?
My main message is have a go! Either donate to someone who is walking (like me) or buckle up your boots and get walking yourself. You'll have a great day and also get a great feeling from helping people who really do need us. It never hurts to consider just how fortunate we are in life – and then do something positive for those that haven't been as lucky.
Feeling inspired? Sign up to join this year's marathon on Sunday 10 September. Not a walker? Contribute without breaking a sweat by making a donation or supporting someone else's fundraising goals. You can even help Darrell hit that AUD 5000 target.
Feeling inspired?