To step off the train in Jaipur after a long morning's journey from Delhi, I inch my way closer to the exit packed with passengers trying to dismount and board all at once. Carrying a 50L backpack, as well as small daypack strapped to the front of my chest, makes maneuvering through the crowd of women in bright silk saris and men in freshly pressed pants a challenge.
On the platform – awash with the smells of rosewater perfume, deep-fried snacks and burning brush in the distance – is when I really start to sweat under the unforgiving midday sun and the weight of all my belongings sinks into my shoulders. I consider that perhaps I didn't need four pairs of shoes or as many tops as I packed.
After two months in India – 5 weeks spent backpacking Rajasthan and 3 weeks as part of Intrepid's South India Revealed trip – I confess: I over-packed.
If you want to pack efficiently for India, throw out all the rules you usually follow. Here's what you really need for a comfortable trip through the subcontinent.
During peak fall and winter season, temps in Rajasthan hover between 30-35 degrees Celsius and there's little rain. The south, especially the coast, is thick with humidity and temperatures sway more wildly reaching mid 30s during the day and dropping to as low as mid 20s after dark. In summer the the north of India, especially the western desert can top 45 and the south is drenched from monsoons.
READ MORE: THE MAGIC OF MOVING OUT OF YOUR COMFORT ZONE IN INDIA
Long sleeves to beat the heat
It seems counter-intuitive, but lightweight, long sleeves do a better job of protecting from the sun and heat than short sleeves or tank tops. Throw a button-down shirt in your backpack, too. It's easy to pull it on over a t-shirt or tank top before entering temples.
Loose fitting and breathable clothing
Leave the skinny jeans at home. It's far more comfortable to wear long skirts, loose-fitting pants, and airy t-shirts.
Want to go shopping? Kurtas for men and women (tunics that range from calf-length to shorter mid-thigh versions) are extremely easy to find, ultra affordable, and comfortable.
You'll see plenty of women all over the country wearing a range of colors and styles over leggings, and most men donning over jeans or khakis. For women, I highly recommend bringing breathable running/yoga leggings to wear under long t-shirts or tunics.
Additional packing tips from Ashish Verma, Intrepid Travel's Contracting Manager in India:
Ear plugs in noisy cities are a must-pack. A torch and a microfiber travel towel are also a good idea.
Dress modestly
Long skirts or pants along with modest tops will blend in far more, and are required when visiting temples. Remember, both men and women need to cover shoulders and knees. In addition, if you are visiting a Jain temple, no leather is allowed.
CHECK OUT INTREPID'S RANGE OF SMALL GROUP ADVENTURES IN INDIA
Scarf
Actually, bring two. There will be times when you'll want to drape it around your shoulders and arms to enter temples and other times when it comes in handy as a wrap for cool nights, or even to loosely put over your face during tuk-tuk rides in dust or smog.
SUBSCRIBE TO INTREPID'S NEWSLETTER FOR TRAVEL DEALS, GIVEAWAYS, STORIES & TIPS
Comfortable shoes
Roads are dirty, cow dung is everywhere in crowded cities and you'll likely be climbing stone ruins at some point. Dark-colored sneakers are the most practical and comfortable. Throw in a pair of sturdy flip-flops or Birkenstocks for shorter walks or coastal towns or days when there are temple visits. (For temple visits, you need to remove shoes before entering.)
Train kit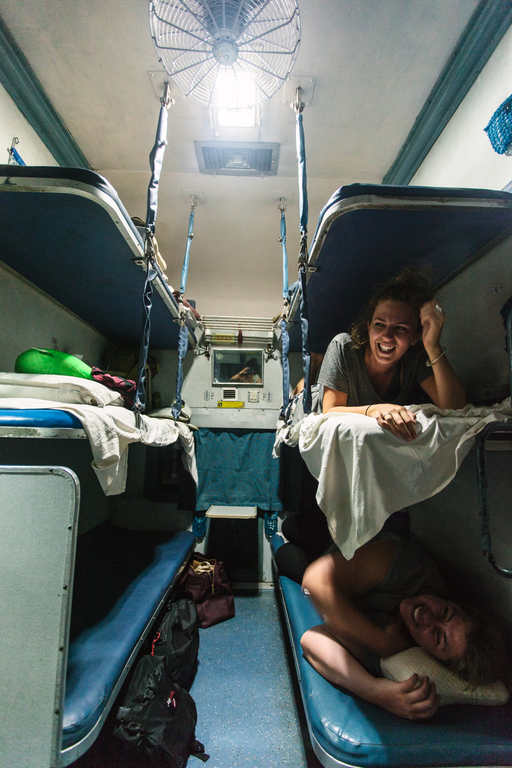 If you go to India and don't ride the train, you're doing it wrong. It's a memorable and social experience, but one that requires a little bit of pre-planning. Bring a small bag of toiletries, toilet paper, wet wipes, hand sanitizer, and snacks.
FIND OUT MORE ABOUT OVERNIGHT TRAINS IN INDIA
Electronics
Bring a portable charger, especially for long bus rides. Extra camera batteries, as it's much harder to find them in India than it is back home. And don't forget a plug adapter and even an extra phone charging cord. It was so hot on my trip I had one partially melt in the sun.
Bug spray
Depending on the area and time of year, mosquitoes can range from slight nuisance to serious problems.
Sunscreen
Apply liberally as the smog often masks the intensity of the sun.
Dry shampoo
Manage expectations and India is delightful. There's not always hot water at all times of the day. Even if the water is warm, there might not be enough for a full hair wash. Dry shampoo is your best beauty friend.
Medication
Always consult your travel doctor before a trip to ensure you have the right vaccines and any necessary emergency medication or asthma inhalers. In addition, bring over-the-counter remedies for Delhi belly, headaches, cold medication, and rehydration powder in case of dehydration.
READ MORE: HOW TO AVOID DELHI BELLY IN INDIA
One of the best tips I ever got from a travel pro was to carry Vicks VapoRub to help with congestion resulting from poor air quality and to smear a tiny patch under your nose in times of potent odors (think the side streets of Varanasi).
A book
Or three. When not zig-zagging through ancient ruins or grand palaces, there will be downtime on buses and trains. A good book is a welcome companion.
Snack bag
My fellow passengers chuckled, but I always carry a few snacks like biscuits or chips and a sturdy spork to ensure I have clean utensils if a sudden street food craving comes on.
READ MORE: 10 QUESTIONS WITH ONE OF INTREPID'S AMAZING LOCAL LEADERS, ANKITA
Water bottle
Plastic is a problem all over the world, and you'll especially notice it in trash heaps in India. There are several locations and hotels where you can refill a water bottle – your guide will let you know the safest source for drinking water.
The ultimate packing list:
After reassessing my trip, here's what I'd highly recommend in terms of quantity of clothing – keep in mind you can do laundry during the trip.
1 long skirt (to cover knees)

1 maxi dress
1 pair loose or khaki pants (2-3 pairs for men in lieu of skirts/dresses)
1 long-sleeve, cotton button-down shirt
3 shirts
1 tank top
2 tunics (bought in India— 1 short sleeve, 1 long sleeve)
1-2 pairs quick-dry leggings/yoga pants
5 pairs underwear
5 pairs quick-dry socks
2 bras (1 sports bra, 1 regular)
2 scarves (or buy them in India)
1 hoodie or lightweight sweater
1 bathing suit
1 pair sneakers
1 pair flip flops or walking sandals
1 pair shorts (only if you are in the south and plan on spending time on the beach)
Now you've got the gear, it's adventure time. Check out Intrepid's range of small group tours in India.
—
(Group photos courtesy of Kristin Amico. All others courtesy of Intrepid Travel.)
Feeling inspired?