I watched my favorite Wes Anderson movie, The Darjeeling Limited, on repeat prior to my first trip to India more than two years ago.
The camera pans across lush landscapes as the train with three troubled brothers slowly snakes through the Eastern Himalayas. Remember that scene where the impeccably-dressed steward brings the brothers sweet lime juice on a silver tray, and they sip while sitting on opulent orange upholstery? The movie is absolute eye candy.
My overnight train journeys, both solo and as part of Intrepid's South India Revealed trip, looked nothing like the cinematic masterpiece. They were, however, equally quirky and rewarding immersive experiences, and I would gladly take the train again (now that I'm prepared).
Here's what to expect on your own rail adventures across India:
You'll make new friends
There's a chance you'll be sharing a compartment with local travelers of either gender. Our group met a variety of passengers along the way, including a professional web developer who was traveling for work, and a young couple on holiday. Part of my group took the North India Revealed trip before I met up with them in the south, and told me about their shared meals and late-night conversation with a family sharing the quarters. While it sometimes feels exhausting to take long trains, it's hard to turn down homemade desserts!
The thing all these experiences with local travelers have in common is the genuine interest about our journey across India, and desire to learn where we were all from. Fellow train travelers always have the best food tips for each city, too!
READ MORE: THE MAGIC OF MOVING OUT OF YOUR COMFORT ZONE IN INDIA
Put your misgivings aside
The ambiance on Indian trains falls somewhere on a sliding scale of slightly tattered to dorm room drab. With vinyl seats, metal walls and fluorescent lighting, it's definitely not a design marvel, but I ended up getting a decent night's sleep as the beds are actually quite sturdy.
The accommodations aren't spotless, but they aren't dirty, either. You'll be provided with clean sheets that come in paper packets, blankets, and a pillow. Many of the seasoned travelers I met chose to bring their own cocoon-style travel sheet.
CHECK OUT INTREPID'S INDIA TRIPS AND EMBARK ON THE ADVENTURE OF A LIFETIME
Don't expect privacy
Unlike European sleeper cars, there are no doors to each compartment, nor are there curtains that slide in front of the bunks. The vinyl seats fold down to convert each seating area to a 6-bunk compartment with three bunks on each side. Think of it more like an open-air sleeping cube. Passengers will be walking up and down the aisle at the far end of the beds.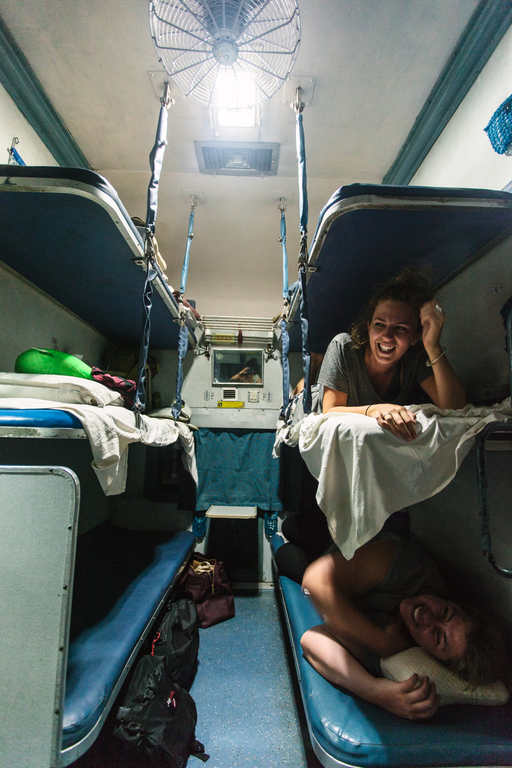 You'll want to sleep in comfy yet modest clothing. A t-shirt and yoga pants are fine, and you'll see plenty of local men sleeping in jeans and sweatshirts, and ladies in comfy shirts or tunics paired with traditional pants called salwars, which can be tight like leggings or loose like pajamas.
SUBSCRIBE TO INTREPID'S NEWSLETTER FOR TRAVEL TIPS, STORIES, GIVEAWAYS & MORE
What's to eat?
There is no cafe cart. Ask your guide about what bring before you arrive at the station, or even what will be available to eat at the station. Our amazing guide, Usha, who was not only a travel pro, but a provider of great food advice, prepped us before each journey, alerting us to which stations had good street food, and which ones were bare bones. It's easy to pick up bananas, chips, water and a last-minute cup of chai before boarding the train. Some even had vendors making fresh takeaway.
On extra hot days, most in our group indulged in ice cream bars (look for the small freezers where they sell cold water), as our pre-train sweet treat.
Bring a sweatshirt
Yes, India is often hot and it seems crazy to pack such a bulky item in your luggage, especially if you're limited to just a backpack. Train cars with AC – which is how you'll travel on an Intrepid trip – can get cold, especially if you are on the top bunk near the fan.
READ MORE: VISITING INDIA FOR THE FIRST TIME? HERE'S WHERE TO GO
Vital train tips from Ashish Verma, Intrepid Travel's Contracting Manager in India:
Be ready for delays for a number of reasons – fog is a pretty common one. And remember a chain and padlock (there are bars beneath the seats where you can lock up your bag). Also, don't use the toilets when the train is stationary!
Sleep early and bring earplugs
Once you and the group board, it's best to get settled and get to sleep earlier rather than later. First, there are no individual bunk lights, just one big overhead light, so you can't customize it to your liking. Second, the chai wallahs start gliding through the aisles early (around 6am) to hawk their hot tea – and they aren't quiet about it.
In addition, the train will make stops throughout the night letting passengers on and off, and it might get noisy. The earplugs will help offset the sporadic commotion throughout the night.
Let's talk toilets
Sleeper trains have toilets at the end of each car. Most have 3 bathrooms — 2 Indian-style squat toilets, and 1 Western-style seated (drop) toilet. Attendants come through and clean throughout the journey. It won't be the cleanest bathroom ever, but I've experienced worse at roadside stops during my travels. I'm going to admit, me a few of the other ladies on our trip ran to the bathroom as a bunch as soon as we boarded to scope out the situation — that's when we pulled together a communal bathroom supply bag with toilet paper, hand sanitizer, and wet wipes.
Put on shoes to visit the bathroom (the floors are often hosed down and wet) and bring toilet paper and hand sanitizer, though there are sinks. Most importantly, don't avoid drinking water during the journey simply because you want to avoid the WC. It's hot throughout most of the year in India and you'll risk dehydration. Our guide Usha warned that dehydration, not Delhi belly, is the reason they most often need to seek medical attention for guests.
READ MORE: AN ESSENTIAL GUIDE TO THE DELHI METRO
Luggage stays with you
There is room under the bottom bunk to store your luggage. You'll be able to squeeze a carry-on, large duffle, or 60-70 liter backpack under the seat. Large, traditional suitcases don't fit so well. Nor will that kind of luggage fit in a tuk-tuk, which you'll take almost daily in India. So be a smart traveler, and opt for luggage you can easily carry.
What's available on the train?
No dining car, but vendors will come by selling a limited supply of water, packaged snacks, tea, and (instant) coffee

Yes, there are electrical outlets, but there are only 2 in a compartment of 6 beds

No wifi, bring a book

Yes, sheets, blankets, and pillows are provided for each passenger

Hand sinks are in the WC, there are no showers
Safety tips from Ashish Verma, Intrepid Travel's Contracting Manager in India:
Don't carry too much cash on overnight trains and don't leave any electronic gadgets unattended. Money belts should not be visible to anyone and expensive jewelry should not be worn!
Overnight train survival kit
Sweater

Earplugs

Sleep mask

Snacks

Water

Wet wipes

Hand sanitizer

Toilet paper

Flip flops or slippers

Sleeping sheet

Deck of cards, book or writing journal (anything non-digital) to pass the time
Ready for an incredible adventure? Check out Intrepid's range of small group trips in India.
—
(Image credits from top to bottom: Intrepid Travel, Kristin Amico x2, Intrepid Travel, Kristin Amico x2, Intrepid Travel.)
Feeling inspired?