Majestic waterfalls or erupting geysers? Technicolor hot springs or emerald blue lakes? Choosing between Yellowstone and Yosemite is no easy task, but we'll try to make the decision a little easier.
Yosemite and Yellowstone are two of the USA's most loved national parks. But how on earth are you supposed to choose between the two? It's a tough one. Instead of leaving it to a spin of heads n' tales, we've put together some information to help you decide which national park to cross off your list first.
Best for landscapes
People didn't believe the first explorer, John Colter when he returned from his expedition to Yellowstone with fantastic tales of these otherworldly lands. They even mocked him, calling the park "Colter's Hell". From bubbling mud holes, steaming fumaroles, hissing geysers that shoot water into the air and rainbow-colored hot springs, Yellowstone certainly isn't short of natural wonders that'll blow your mind. In fact, half of the world's hydrothermal features are found in the park. There's also the gorgeous Grand Canyon of Yellowstone with its cascading waterfalls and the lush Lamar Valley where you'll find an abundance of wildlife (more on that later).
You won't find any weird and otherworldly sights in Yosemite, but you will find more dramatic and glorious landscapes. Yosemite was formed by glaciers millions of years ago which carved out the massive granite peaks and pretty alpine valleys filled with waterfalls and shimmering lakes. It's also home to the giant sequoia trees (the tallest on earth) and walking beneath them is truly humbling.
The verdict:
Yellowstone wins the prize for weird and wonderful. It promises to intrigue you and have you wondering if you're still in the US (or Earth) and not some distant planet in outer space. Yosemite, on the other hand, is where you'll find more breathtaking landscapes and views. It's more beautiful in a 'postcard-perfect' sense and might be a better option if you prefer pristine lakes, wildflower meadows and lush forests.
Best for wildlife
Because Yellowstone is so vast and remote, it has the highest amount of wildlife in the lower 48 states. There are 67 species of mammals alone including black bears, grizzly bears and wolves. There are also seven native species of ungulates (large mammals with hooves) including moose, pronghorn sheep, elk, white-tailed deer, mule deer and bison. You're pretty much guaranteed to see large herds of bison roaming the Lamar Valley and you might even get stuck in a bison traffic jam in the Yellowstone rush hour.
Yosemite is also home to an impressive range of wildlife including black bears, bighorn sheep, bobcats, mule deer and coyotes. But are you likely to see these big mammals in the park? It's not as likely. This is probably because Yosemite is much smaller than Yellowstone and most of the animals hide from the big crowds. Bird watchers are in for a treat, though. The high elevation means there are plenty of opportunities to see Stellar's Jay, Sooty Grouse, Dark-eyed Junco, ravens and more.
The verdict:
If seeing wildlife is at the top of your list, then you should probably go to Yellowstone. There's less foot traffic than Yosemite and you have a much higher chance of spotting big animals in their natural habitat.
Best for hiking
Yellowstone has over 1,000 miles of hiking trails and 92 trailheads to explore. There are some fantastic trails to see the park's many geothermal features and expansive vistas that stretch over Wyoming and the Rockies. The terrain is quite different from Yosemite and the views aren't as dramatic, but the trails are quieter and you're more likely to see wildlife.
Related reading: The 8 best hikes in Yellowstone National Park
With its giant granite monoliths and glacially carved landscapes, Yosemite has some amazing trails and unbeatable views. There are trails for all levels and abilities, whether you want to put yourself to the test by climbing up the world-famous Half Dome or El Capitan or go on a pleasant stroll through the valleys.
The verdict:
Yosemite has world-famous trails that attract hiking enthusiasts from near and far. That said, the trails are more crowded and if you prefer to hike in solitude, you might prefer Yellowstone. When it comes to hiking in the backcountry, Yosemite is probably a little safer as there is less wildlife and the weather is more reliable.
Best for waterfalls
Did you know Yellowstone has 290 waterfalls? People often overlook this because the geothermal features steal the show. Some of the park's most famous falls include the Upper and Lower Falls in the Grand Canyon of Yellowstone, Union Falls, Terraced Falls and Cave Falls. Sure, they're not as tall as Yosemite's, but they're wild and just as enchanting.
Waterfalls are one of the main drawcards for Yosemite. In fact, 10 of them are taller than Yellowstone's tallest waterfall. Yosemite Falls plunges 736 feet and is one of the highest cascades in the world. You also have the wondrous Vernal Falls, Horsetail Falls and Bridalveil Falls to explore.
The verdict:
This is tough 'un. Both Yosemite and Yellowstone have incredible waterfalls. Yellowstone gets an extra point as the waterfalls run all year round, whereas Yosemite's dry up in the summer leaving only a trickle. If you're looking for breathtakingly tall cascades that leave you speechless, Yosemite wins the prize. If you're not too fussed about height but you still want to enjoy the serenity of the water (with the added bonus of being able to see falls no matter what time you visit), go with Yellowstone.
Best for weather
Summer is the peak season in both national parks when the conditions are good for exploring. However, the crowds are considerably thinner in Yellowstone even in the peak season. Yellowstone has relatively short summers but they're warm and dry(ish). Winter is long with heavy snowfall that restricts access to most of the park (unless you go via snowmobile) and spring and fall can be unpredictable with a mixture of winter and summer weather.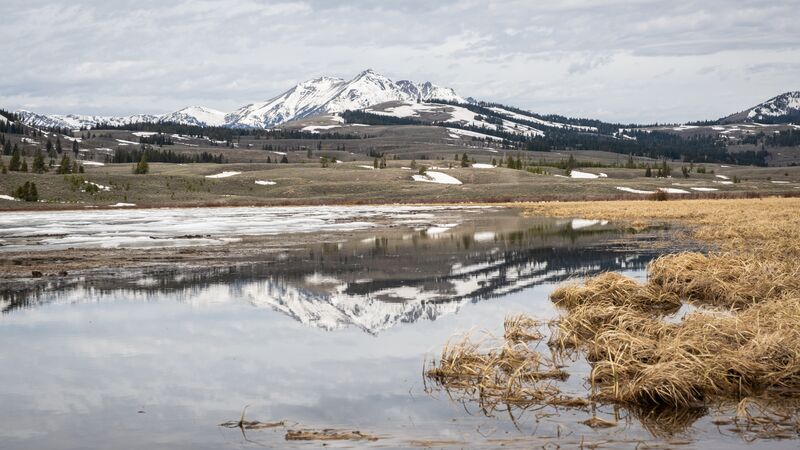 The weather is generally a bit milder in Yosemite with drier and warmer weather across the board. Spring warms up quickly and fall is a slightly cooler extension of summer with prime conditions for hiking. There may still be the occasional thunderstorm in the summer but the temperature remains warm. Yosemite also experiences snowfall in winter, but it's not as heavy as Yellowstone.
The verdict:
If you prefer warmer temperatures and more reliable weather, Yosemite wins. Yellowstone weather tends to fluctuate more with sudden thunderstorms and temperature drops. Winter is the least popular time to visit both parks, but it's a great time to go if you enjoy winter sports like cross-country skiing and snowshoeing.
Best for accessible travel
Yellowstone is in a remote area of Wyoming with fewer major cities nearby. Depending on where you're traveling from, you may need to fly into Jackson and then drive or take a bus. Yosemite is located in California, which means it's much easier to get to with better transport links (the drive from San Francisco International Airport takes only 1.5 hours).
Many areas of Yellowstone and Yosemite are accessible for travelers with disabilities. Both parks have accessible trails, facilities and wheelchair-accessible accommodation in the park lodges. The National Park Service (NPS) also offers an Interagency Access Pass for free lifetime access to US national parks to people who are blind or have permanent disabilities.
Most of Yellowstone's visitor centers and roadside attractions are wheelchair-accessible and all campgrounds (apart from Slough Creek, Tower Fall, Fishing Bridge and Pebble Creek) have at least one wheelchair-accessible campsite. Yosemite also has wheelchair-accessible lodges, campsites and visitor centers. It also has more than 12 miles of paved trails along the Lower Yosemite Fall area where you can see most of the park's main sights.
It's impossible to say which national park is 'better' (and we're not just saying that to be nice). If you have limited time and want huge peaks and jaw-dropping views, then Yosemite may be the right choice. If you want to experience something totally different and get away from it all, Yellowstone could be a better call. But honestly, it's not fair to compare them. It would be like comparing New Orleans with San Diego – both are unique and offer something totally different depending on what you want to experience.
But we are certain of one thing. Whichever national park you choose, you're going to have an amazing time.
DISCOVER THESE NATIONAL PARKS FOR YOURSELF ON A YOSEMITE TOUR OR YELLOWSTONE TOUR.
Feeling inspired?