Explore otherworldly landscapes and enchanting natural wonders in the world's oldest national park.
Yellowstone National Park is one of the USA's most loved national parks, and rightly so. With hissing geysers that shoot water hundreds of feet into the air, bubbling mud pools and an abundance of large mammals and wildlife, it's a pretty special place. There's so much to see and do, but we think one of the best ways to explore is to let your curiosity lead the way on one of the many hiking trails. In fact, Yellowstone has over 1,000 miles of hiking trails to explore.
We've put together a list of must-do hikes in Yellowstone (in no particular order) to help you discover the beauty of this national treasure.
1. Mount Washburn Trail
Difficulty: Moderate
Distance: 6.2 miles
Duration: 3-6 hours
Elevation: 1,400 feet
Hike type: Out and back
Wheelchair accessible: No
Trailhead: Dunraven Pass
Hike up to the lookout tower on Mount Washburn for incredible 360 views that stretch as far as 50 miles. On a clear day you can see the Grand Canyon of Yellowstone, Yellowstone Lake, the Absaroka Range and rolling mountain ranges. It's not the best trail for hiking in solitude (it's one of the park's most popular day hikes), but we promise the views are worth it.
Starting from the Dunraven Pass Trailhead, you climb a steady incline that wraps along the side of Mt. Washburn. You then go through a mile-long series of switchbacks before approaching the final stretch that flattens out slightly as you reach the summit. The trail is very scenic with rocky outcrops, wildflowers (in the summer) and the occasional family of bighorn sheep. Grizzlies also roam the area but it's less common to see them in the peak summer season.
2. North Rim Trail
Difficulty: Easy/moderate
Distance: 7.6 miles
Duration: 3-4 hours
Elevation: 1,000 feet
Hike type: Out and back
Wheelchair accessible: Yes (the section between Grandview Point and Lookout Point is accessible)
Trailhead: Inspiration Point
The Grand Canyon of Yellowstone is an absolute must. Although you can drive to many of the viewpoints, this trail offers exclusive views and lets you get close to the thundering Upper and Lower Falls. Starting at Inspiration Point, you'll meander through the picturesque Cascade Creek just above Crystal Falls before approaching a short trail that takes you down to the brink of Upper Falls where you can watch the river plunge 109 feet.
Another slightly longer climb down takes you to the brink of Lower Falls where the water plummets another 308 feet (more than twice the size of Niagra Falls), and standing this close is pretty impressive. You'll hear and feel the roar of this mighty force of water. Oh, and be prepared to get sprayed by the mist!
3. Avalanche Peak
Difficulty: Strenuous
Distance: 4.6 miles
Duration: 3-5 hours
Elevation: 2,100 feet
Hike type: Out and back
Wheelchair accessible: No
Trailhead: Avalanche Peak Trailhead
Avalanche Peak offers some of the best seats in the house with unbeatable 360 views of the Rocky Mountains, Lamar Valley, Yellowstone Lake and some of the tallest alpine peaks in the area. But these views don't come cheap as you'll climb 2,000 feet in elevation in just over two miles, phew. The entire trail is very steep with a fair bit of vertical scrambling and it's a burner on the legs, but we promise your efforts will be totally worth it once you reach the summit.
Because it's one of the more strenuous trails in the park, it's much quieter than other day hikes and you can enjoy the views in solitude. The best time to do this hike is between June and October, but it might close early depending on bear activity (they head up here in the early fall to forage for pine nuts).
4. Fairy Falls Trail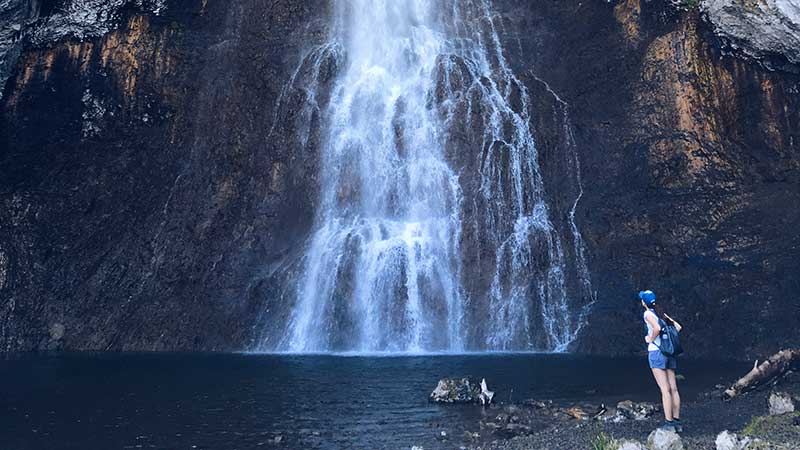 Difficulty: Easy/moderate
Distance: 6.5 miles
Duration: 3-5 hours
Elevation: 105 feet
Hike type: Out and back
Wheelchair accessible: No
Trailhead: Grand Loop Road (located between Midway Geyser Basin and Old Faithful)
If you're pumped to see Yellowstone's abundant geothermal features, then this is the hike for you. The Fairy Falls trail starts about one mile south of Midway Geyser Basin. You'll cross Firehole River before climbing to an overlook that offers amazing elevated views of the colourful Grand Prismatic Spring and the steaming Excelsior Geyser. You'll walk past a few small hot springs and then through a gorgeous lodgepole pine forest before arriving at Fairy Falls: Yellowstone's largest front-country waterfall that plunges from a 200-foot cliff. It's a mystical trail that showcases some of the park's most unique natural wonders. The best time to do this trail is in the spring and summer, but it can be a wonderful skiing trail in the winter.
5. Electric Peak
Difficulty: Strenuous
Distance: 20.6 miles
Duration: 1-3 days
Elevation: 3,343 feet
Hike type: Out and back
Wheelchair accessible: No
Trailhead: Glen Creek Trailhead
Fancy climbing the most prominent peak in northern Yellowstone? At 11,000 feet, Electric Peak is the tallest mountain in the Gallatin Range (of the Rocky Mountains). It's a challenging trail with exposed cliff edges and Class 3 scrambling to reach the summit, but you'll be rewarded with incredible views all the way up.
It's a doable day hike if the weather is on your side and you have a high fitness level, but you can also spread the journey over two days with an overnight stop at one of the two backcountry campsites that are located just over halfway. If summit scrambling isn't your thing, you can hike most of the trail and call it quits when you reach the Class 3 section. The best time to do this trail is between June and September when the weather conditions are good.
6. Lamar Valley River Trail
Difficulty: Easy
Distance: 8.6 miles
Duration: 3-5 hours
Elevation: 780 feet
Hike type: Out and back
Wheelchair accessible: No (note: several pullouts have enough room to move around in a wheelchair and there is an accessible restroom at the Lamar River stock trailhead)
Trailhead: Lamar River
Located in the heart of the Lamar Valley, this family-friendly hike is a Yellowstone classic. It's one of your best chances of seeing the diverse wildlife that live in the park (Lamar Valley is even nicknamed the "American Serengeti"). Keep your eyes peeled for entire herds of bison, elk, deer, antelope, bighorn sheep and pronghorn who might be grazing, mingling or just doing their thing. It's also one of the best places in the world for wolf tracking.
EXPLORE WITH THE WHOLE FAMILY ON OUR YELLOWSTONE & GRAND TETON FAMILY HOLIDAY
It's also one of Yellowstone's most scenic trails with rolling hills, colorful wildflowers, sagebrush meadows and plenty of spots to sit down for a picnic along the Lamar River. If you're looking for a longer and slightly more strenuous hike, you could continue on to Cache Creek.
7. Mammoth Terraces Trail
Difficulty: Easy
Distance: 2.8 miles
Duration: 1 hour
Elevation: 300 feet
Hike type: Loop
Wheelchair accessible: Yes (Upper Mammoth Terrance and some Lower Terrace Boardwalks)
Trailhead: Mammoth Terraces parking area
Mammoth Hot Springs could easily have you thinking you're walking on the moon, or at least inside a cave deep underground. These two thermal travertine terraces are home to 50 shallow orange and yellow pools (the dazzling colours are thanks to algae and bacteria that thrive in hot water), gas vents that bubble to the surface and some pretty pungent sulfur smells. The entire trail has a very extraterrestrial atmosphere and the visual grandeur is definitely worth pinching your nose for. If you're feeling up to it, you could continue the hike down to Boiling River where you can bathe in a section of the river where the hot spring water mixes with the cold river water (it's one of the only safe swimming spots in Yellowstone).
8. Lone Star Geyser Trail
Difficulty: Easy
Distance: 4.8 miles
Duration: 2-3 hours
Elevation: 121 feet
Hike type: Out and back
Wheelchair accessible: Yes
Trailhead: 3.5 miles south of Old Faithful Overpass
Lone Star is one of Yellowstone's largest cone geysers and it was given this name due to its isolated location. Every three hours, Lone Star erupts and spouts water about 45 feet into the air for five minutes. This is followed by a loud hissing sound as more water and steam shoot out for another 20 minutes. You'll probably see at least some minor steaming action happening no matter what time you visit, but it's well worth planning your hike around an eruption (it can be a little busier around this time but there are way fewer spectators than its counterpart Old Faithful).
You could bring a picnic to keep you entertained while you wait. The paved trail takes you along a tranquil stretch of the Firehole River and through a pine forest with pretty meadow views. If you don't fancy the walk, or you're pushed for time, you could also cycle there and jump off when you reach the barrier near the geyser.
Safety tips for hiking in Yellowstone National Park
Hiking is one of the best ways to see Yellowstone, but it's important to do it safely. The park is huge and the weather can change quickly. Below are some tips:
Let someone know where you're going and what time you expect to return
Be aware of wildlife (especially bears) and know how to travel safely in bear country
Watch wildlife from a distance and never approach animals
Stay on the trail paths and boardwalks
Check the daily weather forecast and be aware of lightening above the treeline
Wear appropriate clothing and pack a few warm layers in your daysack in case the temperature drops
Stay hydrated and bring plenty of water and high energy snacks
Do not enter the hot springs or geothermal features
Do not go beyond the marked zones near the hot springs
Whether you want to see hissing geyser basins up close or challenge yourself to reach the summit of Yellowstone's highest peaks, we promise every trail will be an adventure. Where will you let your curiosity take you?
Keen to experience all Yellowstone has to offer? Check out our Yellowstone National Park tours.
Feeling inspired?