For many travellers, the idea of exploring Ecuador's Galapagos Islands is one drenched in folklore.
Most have heard about the out-of-this-world display of incredible animals and fauna which, after a five-week visit in 1835, inspired Charles Darwins' On The Origin Of Species. By now, most have probably heard incredible stories or seen pictures of the sharks and sea lions drifting through clear seas, of giant tortoises gently munching their way through green fields and blue-footed birds gliding through clear skies. Few, however, get to see it for themselves.
The Galapagos' reputation as a bucket-list destination really does precede it. But for every traveller relaying its many natural wonders, there's one or two more who deem it too hard to reach, too expensive, or too impossible to tackle alone – all concerns that can be alleviated if you embark on a group tour of the islands, where expert local knowledge is provided alongside a ready-made batch of like-minded travellers.
Here are seven totally amazing experiences that you shouldn't miss once when you get there (having experienced them myself on Intrepid Travel's 10-day Active Galapagos trip)!

Witnessing the incredible biodiversity
The Galapagos Islands are home to some of the highest levels of endemism anywhere on the planet. This means that around 80% of the land birds you will see, 97% of the reptiles and land mammals, and more than 30% of the plants can only be found in that area. In other words, every sight could be a once-in-a-lifetime experience, so drink it all in as you see it.
Expect to have your bags searched each and every time you swap islands (to ensure you don't upset fragile ecosystems with pollen, seeds or other living things), and expect breathtaking biodiversity too. But don't expect everywhere to resemble a tropical paradise – many of the smaller islands are rocky, volcanic and stripped of much of the kind of vegetation you might have expected the animals to need. This is a unique ecosystem; one that's unlike any other in the world.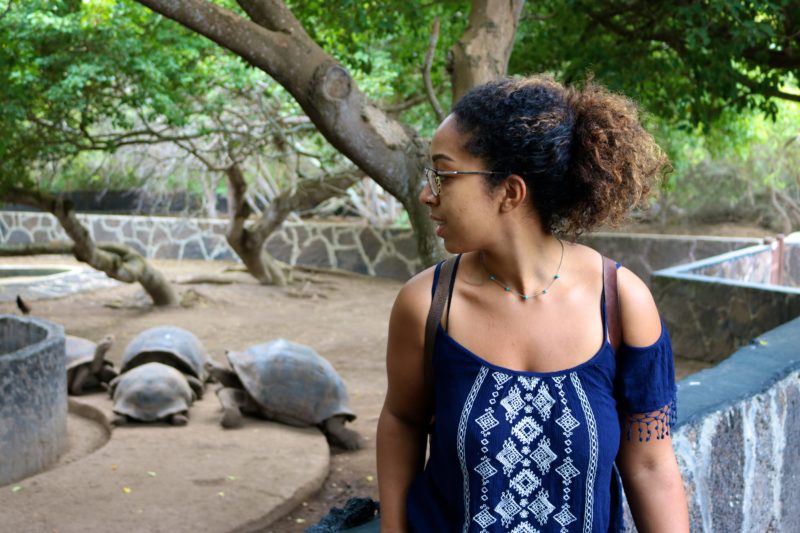 READ MORE: THE BEST (AND WORST) TIMES TO VISIT THE GALAPAGOS ISLANDS
Seeing awe-inspiring animals
Officials at Galápagos National Park state that there are 2,017 endemic species across the islands which include 79 fish, 42 reptiles, 45 birds, 15 mammals and an incredible 1,435 invertebrates. Travelling the area alone might feel almost intimidating, but in a tour group with a trip leader overflowing with local knowledge, it's easier to spot eye-catching animals.
A boat trip around the arquipelago off Isla Isabela resulted in sightings of giant, colourful iguanas, blue-footed booby birds, nesting frigates, swooping pelicans and even super-cute penguins (yep, Galapagos penguins exist and are among the smallest penguin species in the world). Our tour guide Fabrizio answered every question we had and even took us to breathtaking beaches on San Cristobal which were full of fun-loving sea lions sunning themselves as we snatched photos of them.
Photographers rarely need a long lens on the Galapagos islands; the wildlife often behave as if you're not even there.
CHECK OUT INTREPID'S WIDE RANGE OF SMALL GROUP ADVENTURES IN THE GALAPAGOS ISLANDS
Enjoying world-famous chocolate and coffee
Coffee and chocolate is made with a difference on the Galapagos islands. On Isla Santa Cruz, we met a local sugar cane and coffee producer and his family, who showed us their products' journey, from bean to cup. The coffee beans were slow-roasted on his farm and we marvelled at the meticulous way in which they hand-selected only the best beans for their batch.
On the same island, homemade chocolate turtles could be bought from an Ecuadorian couple who make their own incredibly delicious sweet treats at Chocolapagos. Souvenir shopping never looked so easy.
Hiking a lava-filled volcano 
If hiking with spectacular views is your thing, the Sierra Negra volcano on Isla Isabela won't disappoint. The six hour, 17 kilometre trek up the rocky mountain boasts the second largest volcanic caldera (crater) in the world. Our guide took us to the very edge of the blackened, six-mile-wide crater. It looked more like the surface of an alien planet than anything else. Then he told us that the last time Sierra Negra erupted was in 2005…
PHOTO ESSAY: THE GALAPAGOS IN PHOTOS – WHAT AN INTREPID TRIP IS REALLY LIKE
Snorkeling in idyllic waters
There are snorkeling hotspots all over the Galapagos Islands, many of which are best explored with the safety of an expert guide. Fancy swimming through glass-like waters with shoals of manta rays and whitetip reef sharks swimming below you? It's possible, when you know where.
Fabrizio showed our Intrepid group where to swim so we could uncover all the beauty the seas have to offer: playful sea lions pirouetting through waters around you, giant turtles gracefully gliding by and more beautiful fish than you'll know how to process. A snorkel expedition in the Galapagos islands is a vibrant, action-packed adventure like no other.

SUBSCRIBE TO INTREPID'S NEWSLETTER FOR TRAVEL TIPS, COMPETITIONS, GIVEAWAYS & MORE
Seeing things that inspired history
Take a walk around any of the Galapagos islands and it's easy to see how Charles Darwin found inspiration to write his seminal work 200 years ago. If you want to be blown away by otherwordly animals and you haven't yet been impressed by blue-footed birds and the stunning sea life, be sure to check out the serene, 500lbs tortoises crawling around the Giant Tortoise Breeding Centre on Isla Isabela.
Later, you can learn all about the conservation efforts to protect the area, explained at the iconic Charles Darwin Research Station. And then of course there's the unique geology and botany of an area made up of 12 volcanoes to uncover, too. The Galapagos islands will change the way you look at the world and your place in it, simply because of the abundance of history and beauty.
HEARTWARMING READ: THE JOYS OF VISITING THE GALAPAGOS ISLANDS WITH MY MOM
Meeting friendly locals who love their home

Whether it's the excellent tips from your Intrepid guide or the locals eager to share stories of their upbringing on their island, the Galapagos is home to a host of fantastic people who are all united in their passion for protecting an area of outstanding natural beauty.
Talk to them, quiz them about the animals and the plants, and find out how they too have adapted to the influx of tourism over the years. Their attitude and love for their home is infectious and will undoubtedly be one of the reasons you leave the Galapagos with one main aim.
An aim to return again some day.
—
Ready to take on the otherworldly islands of the Galapagos with Intrepid Travel? Check out all our Galapagos tours.
—
(Image credits from top to bottom: Georgina Lawton, Intrepid Travel, Georgina Lawton x3, Intrepid Travel, Georgina Lawton, Intrepid Travel.)
Feeling inspired?