This National Reconciliation Week, we want you to get out, take action and experience a First Nations tourism experience near you.
This year, the theme for National Reconciliation Week (NRW) in Australia is 'More than a Word. Reconciliation takes Action' and we believe there is no better way to do just that than by getting out and experiencing a First Nations tourism experience.
Welcome to Country, an Aboriginal and Torres Strait Islander not-for-profit, gathers the best tourism experiences all in one place, and with more than 140 options, there's heaps of choice. As NRW is a time for all Australians to learn about our shared histories, cultures and achievements, this is a time to listen, learn and contribute towards reconciliation. You'll find hundreds of First Nations experiences right across Australia — and a few even feature in our own trips.
But this is not about us.
This is about celebrating Aboriginal and Torres Strait Islander cultures. Our mates at Welcome to Country have rounded up 10 brilliant experiences that are within easy reach of many of our capital cities.
So, what are you waiting for? Hop onto the Welcome to Country marketplace, explore what's on offer and take action today.
First Nations experiences near Sydney
1. Learn about Aboriginal saltwater heritage on Sydney Harbour
Take a walkabout around The Rocks with an Aboriginal guide from Dreamtime Southern X (an Aboriginal business owned by Aunty Margaret, a Dunghutti/Jerrinja woman). This historic district tucked along the edge of Sydney Harbour may be famous for its cosy cafes and high-end restaurants but on this tour, you'll learn about the Aboriginal people's saltwater heritage within the harbour and their spiritual connection to the adjoining waterways as you listen to Dreamtime creation stories.
BOOK THE ROCKS ABORIGINAL DREAMING TOUR
2. See the Aboriginal etchings at Jibbon Beach, Bundeena
Learn about the connection between land and culture with a guided visit to Bundeena, southern Sydney. Aboriginal guides of Shared Knowledge Tours will welcome you with a traditional ceremony, then take you to an important ceremonial site for many of the Sydney First Nations – Jibbon Beach – home to the Dharawal people of the Tharawal Nation. Learn about the etching artwork visible here, and then understand more about traditional lifestyles of the local Aboriginal people with a bush food tasting and demonstration.
BOOK ON COUNTRY EXPERIENCE SYDNEY TOUR
First Nations experience near Melbourne
3. Learn about Aboriginal plant uses in Melbourne's Royal Botanic Gardens
Visit the Melbourne Royal Botanic Gardens, which is a significant cultural site for the Kulin Nation, a group of five Aboriginal groups in central Victoria. Led by your Aboriginal guide, you'll identify significant native plants found within the gardens, learn the traditional uses and customs of local flora, and sample tea made from lemon myrtle — a native plant long used by Australia's First Nations people.
BOOK ABORIGINAL HERITAGE WALK, MELBOURNE GARDENS
First Nations experiences near Darwin
4. Have a hands-on Aboriginal art experience on the Tiwi Islands
The Tiwi people are internationally renowned for their artwork, which includes ceremonial carvings and brightly coloured textile designs. On this tour with SeaLink Northern Territory, in partnership with Tiwi Art and Design, you'll not only experience the culture and history of the Tiwi people, but also learn about their art directly from Tiwi artists. Browse paintings, pottery and clothing, and participate in a screen-printing session to make your own Tiwi-style art to keep.
5. Experience Aboriginal culture in Litchfield National Park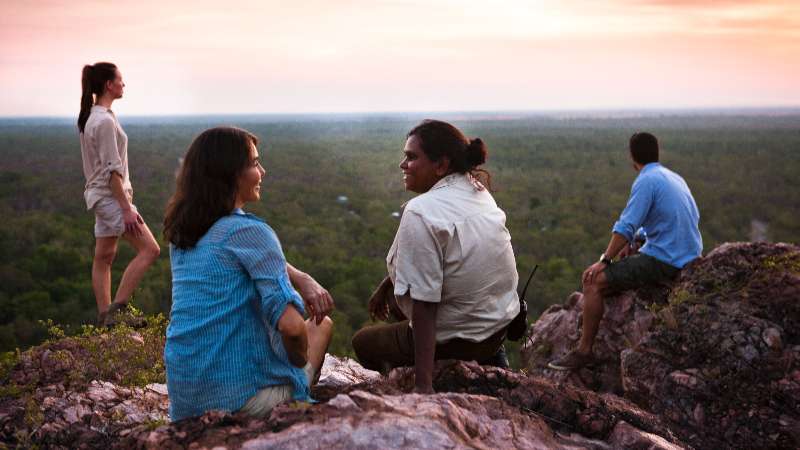 Take the road less travelled from Darwin and discover the rich beauty and Aboriginal heritage of Litchfield National Park with Northern Territory Indigenous Tours. Guide Tess is a traditional owner of the Litchfield area and her tours provide access to areas not accessible by any other tour on the market. Visit ancient rainforest, unspoiled woodland and spiritually important waterfalls, before taking a dip in one of the park's clear, natural (and crocodile-free) swimming holes. For lunch, enjoy freshly cooked crocodile, kangaroo and wild-caught barramundi.
First Nations experience near Brisbane
6. Watch award-winning Aboriginal theatre in Beenleigh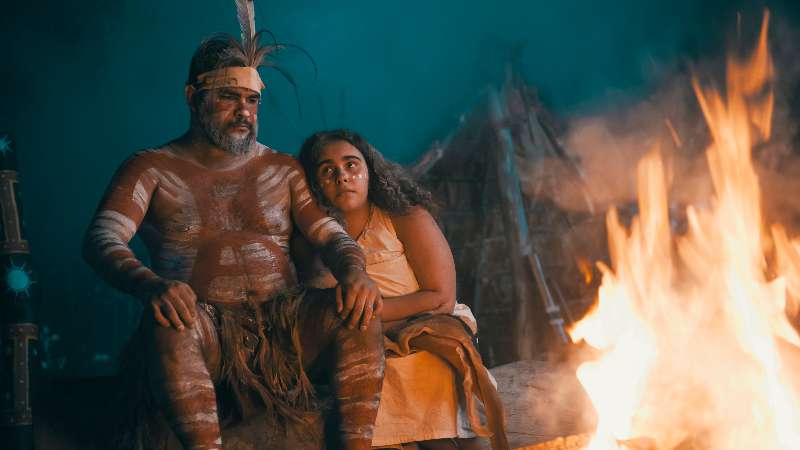 Travel from the Aboriginal Dreamtime to the 1800s in an open-air, live dinner theatre by Spirits of the Red Sand, which follows the true story of three Aboriginal brothers dealing with the clash of British and Aboriginal cultures. Many of the performers are direct descendants who experienced the events showcased in the performance. Dig into a feast of dishes like bush dukkah, skewers of kangaroo, crocodile and emu, chargrilled meats with bush rub and seasonal salads.
BOOK SPIRITS OF THE SAND DINNER AND SHOW
First Nations experience near Cairns
7. Dive the Great Barrier Reef with Indigenous sea rangers
Cruise the outer Milln and Flynn reefs with Aboriginal and Torres Strait Islander sea rangers from Experience Co as they share stories of the Gunggandji sea country on an ECO-Certified dive and snorkel tour of the Great Barrier Reef. Learn the creation story of the reef and watch live performances of traditional dances and the didgeridoo — all of which will give you a cultural understanding of both the reef's ecosystem and Aboriginal heritage.
BOOK DREAMTIME DIVE AND SNORKEL
First Nations experiences near Perth
8. Learn about local plants, bush foods and Aboriginal medicine in Perth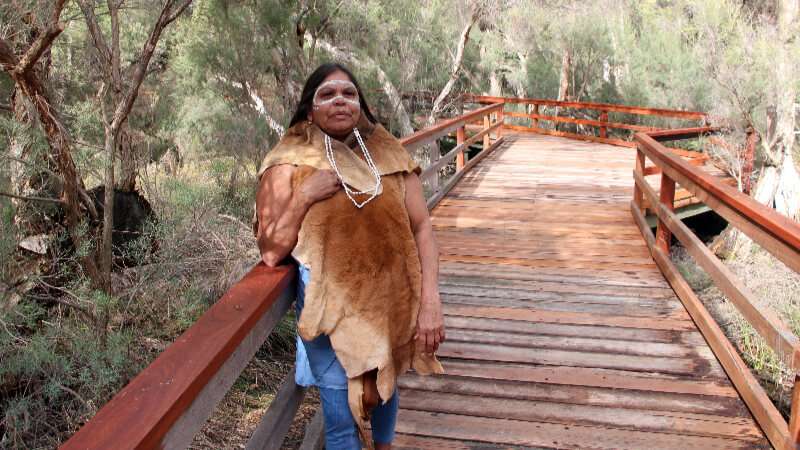 Explore Perth's Scented Gardens or Kings Park on two different experiences with Nyungar Tours. Learn how local plants have long been used for bush foods and medicinal purposes by the Nyungar people and hear the traditional stories of Whadjuk Country. You'll also learn about the history and meaning of 'Men's Business' and 'Women's Business' in Aboriginal culture.
9. Uncover the history of the Nyungar people in Perth
Learn about local Aboriginal history, including Perth's Prohibited Area and the Stolen Generation, through several experiences with Djurandi Dreaming. Head out for an evening stroll from Elizabeth Quay as you listen to Dreamtime stories of the Swan River. Or take an interactive art session and learn about the traditional symbols and colours used in Aboriginal art while you create your own piece. Alternatively, head out to the rugged limestone cliffs of Cape Peron and learn about the protected rock formations and caves used by the Nyungar people.
BOOK A DJURANDI DREAMING TOUR IN PERTH
First Nations experience near Alice Springs
10. Visit a sacred Women's Dreaming site in West MacDonnell National Park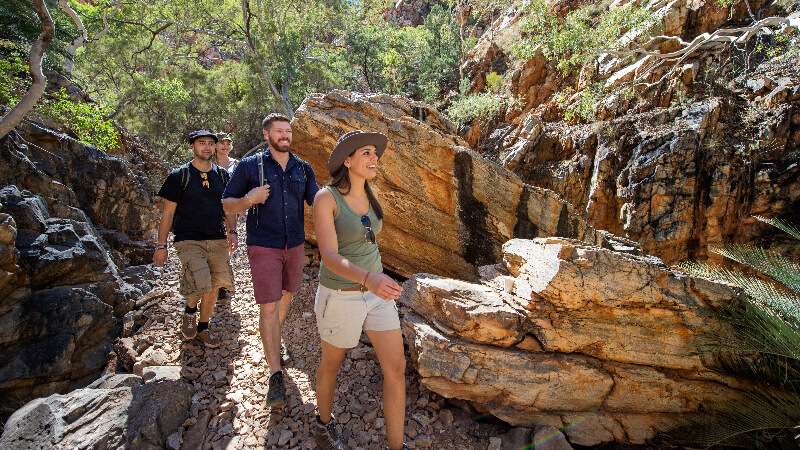 Standley Chasm is a narrow, 80-metre high gorge, traditionally known as Angkerle Atwatye, meaning "Gap of Water." The chasm is a significant Women's Dreaming site to the Western Arrernte people, and on this tour with an Aboriginal guide, you'll learn about the geology, flora and fauna, bush medicine, food, weaponry and cultural history tied to this sacred site. Finish off the experience with a painting workshop that explains traditional dot painting techniques and symbolism, as you create your own souvenir to take home.
BOOK ANGKERLE CULTURAL EXPERIENCE – STANDLEY CHASM
For more First Nations experiences throughout Australia, check out Welcome to Country. Every booking made with Welcome to Country not only supports the experience you are booking but also supports the growth of the Aboriginal tourism industry.
You can also check out Intrepid's own new Australia tours, all of which feature included experiences led by First Nations communities.
You can learn more about our Reconciliation journey here.
As an Australian-owned business, we acknowledge the Traditional Owners of Country throughout Australia and their continuing connection to land, waters and community. We pay our respects to them and their cultures, and to their Elders past, present and future.
Feeling inspired?