Eeny, meeny, miny, moe. Chicken pad thai or a bowl of phở? If only it was that easy to pick a country to explore…
So you've decided to plan your next adventure (good on you). And you've narrowed it down to South East Asia. But then you face a dilemma: should you go to Thailand or Vietnam? Both countries boast enchanting cultures, pristine beaches, captivating cities, warm tropical weather and delicious food (oh, the food!). The struggle is real, we get it.
To save you from spending hours on Google or tossing a coin (though to be honest, you'd be a winner either way), we've put together a guide that will hopefully make the decision a little easier.
Beaches
Swaying palm trees? Check. Powder white sand? Check. Gentle waves lapping the shore? Check. While you'll find stunning beaches in both countries, Thailand's are arguably more famous – ahem, remember the iconic Maya Bay in the cult classic, The Beach (2000) starring Leonardo DiCaprio? Whether you want to party under the stars at Haad Rin on Koh Phangan, swim in tranquil lagoons on Koh Hong, bathe in the sapphire waters of Phra Nang on the Railay Peninsula or enjoy the secluded vibes of Phuket's Freedom Beach, Thailand caters to beach bums of all kinds.
RELATED: 6 BEAUTIFUL BEACHES IN THAILAND YOU SHOULD VISIT
Vietnam's beaches probably don't feature on as many 'world's top beaches' lists, and there might not be as much tourist infrastructure, but this could be ideal if you're looking for a low-key beach holiday. With 2,000 miles of gorgeous coastline, you're bound to find a beach to match your vibe.
Looking for a laid-back resort just a stone's throw from the charming city of Hoi An? Head to An Bang. Want to laze in a hammock while listening to the sounds of the jungle? Check out the island of Phu Quoc. The beach parties don't rival Thailand's, but for a more upbeat atmosphere where you can sip cocktails and have a boogie, go to Nha Trang.
Landscapes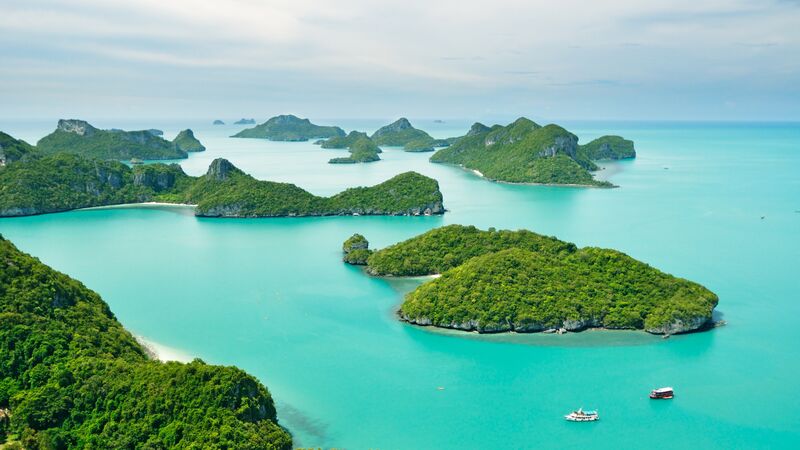 Sharing borders with Cambodia, Laos, Malaysia and Myanmar (Burma), Thailand's geography varies greatly from region to region. There's no shortage of stunning scenery and 'pinch me' panoramas – from lush jungles and misty highlands in the north, to sheer limestone cliffs and picturesque islands in the south. In fact, dreamy islands are what makes Thailand really shine. Whether you want to learn how to dive, go jungle trekking or enjoy a romantic getaway with someone special, there are countless islands to explore.
Both destinations have landscapes that promise to wow you, but many would say Vietnam's are more dramatic. Occupying a long, thin part of the Indochinese peninsula and sharing borders with China, Laos and Cambodia, you'll discover everchanging scenery from forested mountains, huge caves and wind-whipped sand dunes, to steamy jungles, fruit-filled orchids and peaceful rice paddies. Whatever activities you have in mind, there's a good chance you'll be able to do them all in Vietnam.
DISCOVER THE NATURAL BEAUTY OF VIETNAM ON OUR SCENIC VIETNAM TOUR
Now, we can't talk about landscapes and not mention Halong Bay. With thousands of little limestone islets rising from deep, emerald waters, this magnificent archipelago is one of the country's most impressive scenes. Explore the karst-studded bays on a junk-style boat cruise, get up close and personal to Cat Ba's otherworldly rock formations on a kayak or admire the epic stalagmites and stalactites in Surprise Cave.
RELATED: CAT BA ISLAND IS THE BEST THING ABOUT HALONG BAY. THIS IS WHY
Cities
Whether you run toward or away from big cities, it's impossible not to be intrigued by Thailand's capital city, Bangkok. This huge metropolis is an enticing mix of old and new, chaos and calm – think trendy rooftop bars overlooking golden temples, colourful tuk-tuks maneuvering beneath modern sky trains and back-alley street food vendors among fine dining restaurants. Fill up on fresh tropical fruit at Tha Kha floating market, discover the magnificent Grand Palace and the Temple of the Emerald Buddha, wander down the backpacker mecca of Khao San Road or indulge in a Thai massage.
RELATED: WHAT TO DO, EAT & DRINK IN BANGKOK
If you prefer a slower pace, head to the charming city of Chiang Mai in northern Thailand to marvel at hundreds of golden temples glistening in the sunlight, and tuck into tasty local fare at the famous night markets. If you're a history buff, look no further than the UNESCO-listed city of Ayutthaya to explore the spectacular ruins of 14th-century palaces, temples and monasteries.
EXPLORE NORTHERN THAILAND WITH INTREPID
The energy of Vietnam's capital city, Hanoi is similar to Bangkok. The streets are flooded with cars, motorbikes and bicycles; constant traffic and loud horns follow you everywhere you go; and crossing the road feels like winning the Olympics. But there are many moments of peace among the mayhem. Explore the city's maze-like alleyways, enjoy bia hoi (fresh beer) with locals on tiny plastic stools or watch life go by in cosy coffee shops.
If you're all about the food, then head down south to Vietnam's largest city, Ho Chi Minh to indulge in some of Vietnam's most sizzling street eats and sip cocktails in chic rooftop bars. To learn about some of the sobering events of the Vietnam War, it's also worth visiting the Cu Chi Tunnels.
RELATED: EMBRACING THE CHAOS AND LEARNING TO LOVE HANOI
If the constant horn honking gets too much, you might like to head to Dalat where the city is surrounded by lakes, forests and waterfalls. Or for a more romantic vibe make your way to Hoi An – a beautiful city brimming with colourful lanterns, heritage buildings, peaceful pagodas and winding waterways. If a laid-back coastal getaway filled with sun, sand and seafood sounds good, then head to the sleepy city of Qui Nhon.
Cuisine
Add a squeeze of zingy lime juice, a few springs of lemongrass, a dash of fish sauce, a sprinkling of palm sugar and lots of chillies, and you have the basics of Thai cuisine. It's bold, insanely delicious and packed with fragrant aromas that you can smell a mile off. Get stuck into a rainbow of curries loaded with tender meat, seafood or veggies, slurp bowls of tom yum soup or chow down on pad thai – an iconic stir-fried noodle dish garnished with meat, veggies, bean sprouts and peanuts.
RELATED: FOODIE? HERE'S WHY YOU SHOULD TRAVEL TO THAILAND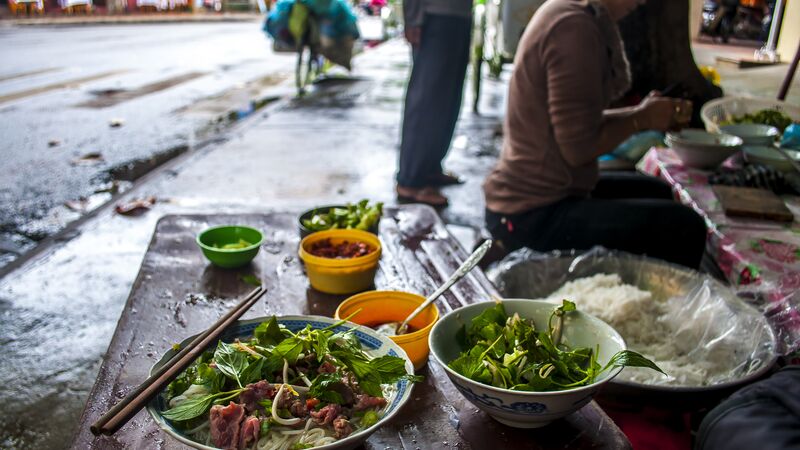 The Vietnamese know a thing or two about pho-nomenal food. It's characterised by fresh, contrasting flavours and textures. Think sweet and sour, crunchy and silky, fried and steamed. Tuck into piping hot bowls of phở (beef noodle soup), crunchy bun bo xao (beef noodle salad) and delicious seafood hotpot washed down with cold beer. Not that you'll need reminding, but make sure you try banh mi – a Vietnamese baguette filled with tender meat or tofu, pickled veggies, creamy mayo and fresh chilli. Yum.
RELATED: YOUR ULTIMATE GUIDE TO EATING IN VIETNAM
The proof is in the pudding, right? Well, these cuisines are that good, Intrepid has entire trips dedicated to finding, eating and cooking the best Thai and Vietnamese fare.
TAKE YOUR TASTEBUDS ON A REAL FOOD ADVENTURE IN THAILAND OR VIETNAM
Culture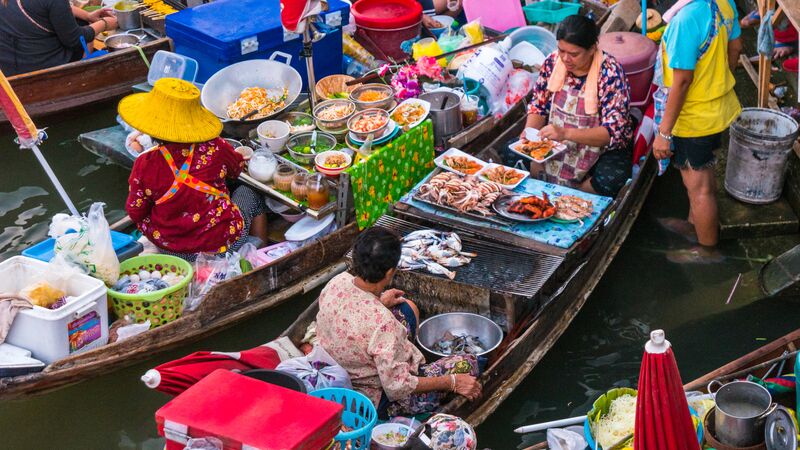 Littered with thousands of stunning temples, the peaceful pulse of Buddhism permeates daily life in Thailand. Family and national pride are also woven tightly into the culture. Thai people are known for their warmth and hospitality (it's not called the 'Land of a Thousand Smiles' for no reason!), and you're never too far from a friendly face welcoming you into a restaurant, shop or market.
If you want to immerse yourself in Thai culture, you may like to align your trip with one of the country's many festivals. How about Songkran – a country-wide water fight that takes place in April to mark the Thai New Year? Or Chiang Mai's dazzling Yi Peng lantern festival in November. There's also the slightly weird and wonderful Monkey Buffet Festival in Lopburi where you can watch hundreds of local macaques feast on an impressive spread of fresh fruit.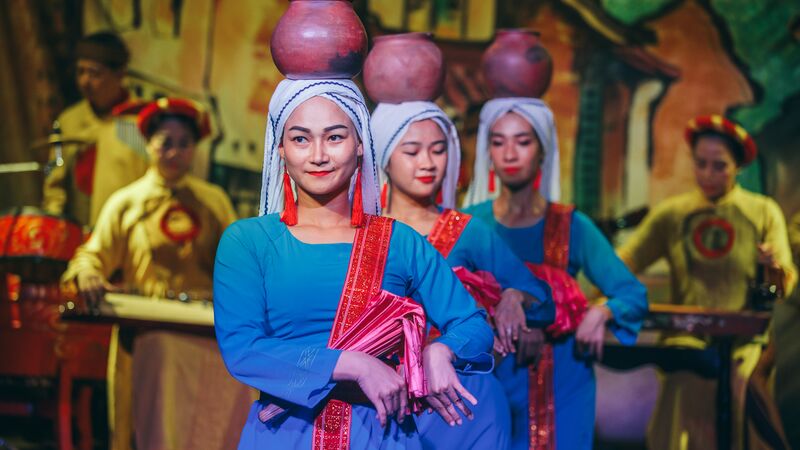 Vietnam's culture is ancient, but it has been influenced in different ways over the years by the Chinese, Khmer, French and American cultures. Despite the hardships of the Vietnam War in the 1960s and 1970s, most Vietnamese people are keen to get on with life and live with a strong sense of optimism and humility.
Many Vietnamese people practice a form of religion that is an interesting mix of Buddhism, Confucianism and Taoism, and there are also many practising Catholics. Like Thailand, family is a big focus. Festivals and holidays are spent with loved ones – participating in rituals, feasting on special foods, exchanging symbolic gifts and honouring ancestors. Some of the biggest cultural events include Tet Nguyen Dan (Vietnamese New Year) in late January/early February, Buddha's birthday in April and Reunification Day celebrations in late April/early May.
Weather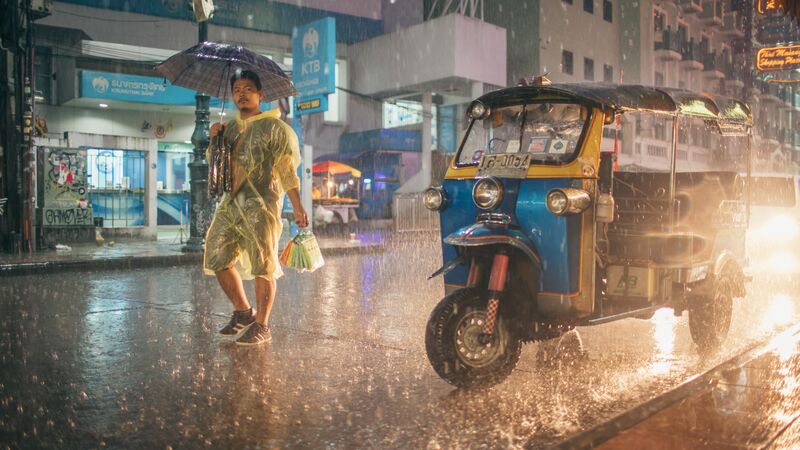 Thailand has a tropical climate with hot, humid and monsoonal weather. There are two seasons – wet and dry – but they differ slightly from coast to coast. The best time to visit northern, eastern and western Thailand is typically between November and February when it's cooler and dry. If you're heading south or you fancy diving or snorkelling, January through April offers prime weather and sea conditions.
The monsoon arrives in July through to November, and these months may be uncomfortably hot and sticky for those who aren't accustomed to tropical heat. That said, it's less crowded and can be a great opportunity to experience a quieter, more tranquil Thailand.
Vietnam has more diverse regional weather due to its location and landscapes. There are two distinct seasons – the northeast monsoon from October to early April and the southwest monsoon from April to September – but the weather varies a lot across the country.
Northern Vietnam experiences cold, dry winters from December to February and overnight temperatures can dip to 4°C (39°F), while southern Vietnam sees warm to hot temperatures all year. That said, temperatures often exceed a swelteringly hot 36°C (97°F) in Ho Chi Minh City during the dry season, which isn't ideal for those who prefer mild weather.
The verdict
The jury's out on this one. Thailand and Vietnam are both incredible countries, and with so much on offer – stunning beaches, dramatic landscapes, mouthwatering food, buzzing cities and heaps of culture – we have no doubts you'll have an unforgettable trip no matter where you go. Happy travels!
Feeling inspired?