Although Bangkok is my favorite city in the world—and my current home—I know it's not for everyone. After all, it's a city known as much for its timeless temples as its boundless traffic, for its modern malls as much as its Red Light Districts. 
At the same time, I can't get my head around why so many travelers skip the Thai capital altogether, not even bothering to leave the airport before they fly south to the islands or north to the jungles.
The idea that someone could see anything other than a world of possibility in its broad boulevards pulsing with fluorescent taxi cabs and street food stalls and energy, is difficult for me to imagine.
Even if you only want to devote a day or two of your Thailand trip to Bangkok, it's easy to have an extraordinary experiences. Or heavenly, as it were—the city's official name in Thai, Krung Thep Maha Nakhon, means "City of Angels."
Continue reading to see what I mean!
Discover Bangkok's bizarre side
Some view Bangkok as a seedy city, others view it as little more than a convenient layover stop. The reality, however, is a multidimensional one – the city has attractions for everyone, unusual ones included.
One of them is right within the city center: the aptly-named Unicorn Café, which serves up food and drinks themed to everyone's favorite mythical creatures, to say nothing of its colorful decor.
The Unicorn Café is only a few steps from the Chong Nonsi station of the BTS SkyTrain, so it's as convenient as it is crazy.
If you're looking for something even stranger, and don't mind getting in a taxi, head just north of Bangkok-proper to Wat Phra Dhammakaya. By some accounts the world's largest temple, this massive complex is the home base of the Dhammakaya sect of Buddhism, which many locals consider to be a cult.
Strange stares from members notwithstanding, I particularly enjoyed visited the Hall of One Million Lord Buddhas, whose stupa literally has a million small Buddha statues.
Of course, the Grand Palace and Khao San Road are such obvious must-sees it's stating the obvious to tell you to go. But, do. The former is the city's most spectacular landmark and the latter, a lively backpacker hotspot.
READ MORE: HOW TO SPEND THE PERFECT 7 DAYS IN THAILAND
Trade traffic for tranquility – and Thonburi
One of the best Bangkok hacks I discovered early during my love affair with the city was the Chao Phraya Express boat. Departing from just beneath the Saphan Taksin bridge (and the BTS station of the same name), this lesser-known public transportation feature allows you to cruise north along the Chao Phraya River to Bangkok's old city of Rattanakosin.
Alternatively, take it south to the Asiatique nightlife and entertainment complex, where you won't want to miss the Calypso Cabaret ladyboy show. No traffic, plus a cooling breeze? Sounds like a win to me!
Alternatively, ride the boat to Memorial Bridge station, then cross over the river into Thonburi. Although less visited than Rattanakosin, this part of the city is home to the same sort of distinctly Thai attractions you'll find on the river's east bank. There's temples like Wat Prayoon (as famous for its white color as for the turtles that live there), scenic restaurants such as Supatra River House, and locals so friendly they might actually invite you into their home.
TIP: If you want to explore Bangkok along its riverfront, but feel overwhelmed by all the options, organized Bangkok river tours are a sanity-saving option. Some of these even include stops at must-see destinations such as the Grand Palace and Khao San Road, affording you the best of all Bangkok's worlds.
SUBSCRIBE TO INTREPID'S NEWSLETTER FOR TRAVEL STORIES, COMPETITIONS, GIVEAWAYS & MORE
Expand your culinary horizons
If you finish in Thonburi at a decent hour, ride the shuttle boat from Wat Arun ("Temple of the Dawn") over to Wat Pho. Then, after paying a visit to its famous reclining Buddha, get a tuk-tuk down to Yaowarat, Bangkok's Chinatown. Here you can connect with Bangkok's most concentrated community of Chinese-Thai, not to mention eat their food.
I personally love dining at The Canton House (which, in addition to offering delicious dim sum has much-needed air conditioning!), but there isn't a bad meal to be had here, even if you eat from a street stall. You can even take a Chinatown food tour to discover the district on a deeper level!
Bangkok also offers up great options for other world cuisines, my favorites of which are located on opposite sides of BTS Nana station. To the north on Sukhumvit Soi 11 you'll find Bangkok's most concentrated collection of Middle Eastern and Indian restaurants. To the south you'll find the Korean Town shopping mall, which sits between Sois 10 and 12. The building itself is dated, but restaurants like Myeong Dong and Kaborae serve up Bangkok's best Korean BBQ.
Then again, much of Bangkok's food diversity lies in Thai food itself, which is far more interesting than Pad Thai noodles and Som Tam papaya salad. A great place to delve into the world of Thai street food is the area around Suan Phlu Soi 8 in the Sathorn district. Enjoy flavorful Khaaw Man Gai Hainese chicken rice, crispy Muu Groop crackling pork or a soupy, spicy Thai take on Japanese Sukiyaki.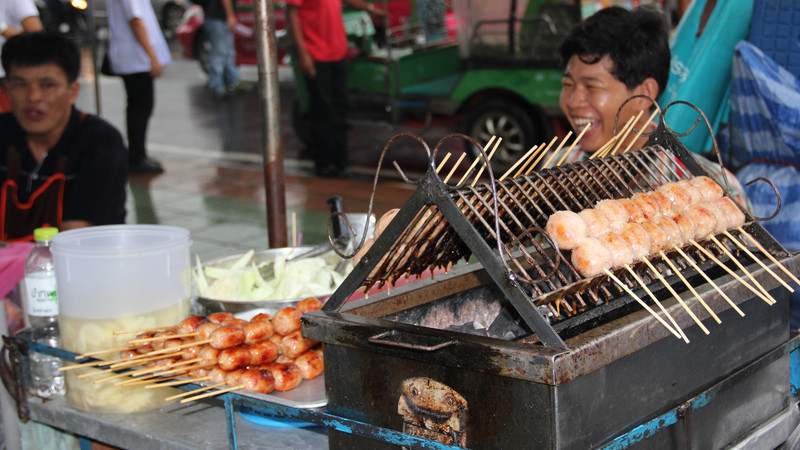 Don't leave the city without checking out the floating markets, either. Home to the most charming khlongs (canals), Khlong Lat Mayom is a great bet. Grab a wooden stall and chow down on noodle soup, Hoi Tod (oyster omelet), all manners of exotic fruit, and more.
READ MORE: WHAT TO KNOW ABOUT THAILAND'S INCREDIBLE FOOD SCENE
Don't forget the rest of the "New City," either
Eating is the only the beginning of why you should escape from ancient Rattanakosin and Thonburi, at least for an afternoon.
Whether you search for giant monitor lizards in Lumpini Park (Bangkok's answer to Central Park, which sits just north of raucous Silom Road), say your prayers at the Erawan Shrine located at the busy Ratchaprasong Intersection, or learn the shady story of Thai silk at the Jim Thompson House near the MBK shopping center, Bangkok's new city is a lot more than the hundreds of skyscrapers that tower above it.
Of course, those are nothing to shake your stick it. Indeed, Bangkok is home to some of the most incredible "sky bars" in the world. Class it up at fancy hotels like the Banyan Tree, whose aptly-named Vertigo rooftop towers more than 50 stories over Sathorn Road.
Or, enjoy a more accessible atmosphere (and cheaper drinks!) at "Above 11". Located, not surprisingly, above Sukhumvit Soi 11, having a cocktail as Bangkok's skyline glitters beneath you will make you glad you escaped the airport. Even if just for a day or two…
You don't want to miss this tantalizing capital city. For adventures to Bangkok and beyond, check out Intrepid's range of small group tours in Thailand.
—
(Street food photos c/o Intrepid Travel. All other images c/o Robert Schrader.)
Feeling inspired?