Traveling through Thailand, you'll see buildings of one-bedroom apartments that house families of four, then turn the corner to see a string of high-rise condos that cost millions. You'll see Buddhist temples just down the block from some of the raunchiest go-go bars. You can go from having your feet wedged in the warm sand to, later that day, watching a sunset atop a chilly mountain.
Very few places have contrasts like these on such stark display, and that's what makes Thailand so beautiful.
There are gems all over the country, and one could spend years there and still have more to see. That being said, if you only have seven days to explore, there's still plenty of time to experience the essentials. In Thailand, those would be Buddhist culture, spicy food, chic shopping and plenty of natural wonders.
Fret not, travelers – this seven-day itinerary covers all of those and more.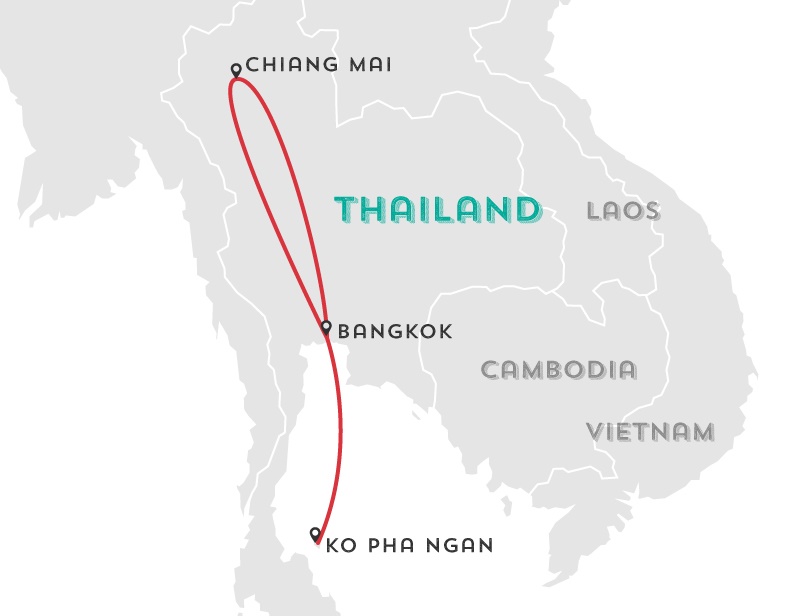 Day 1: Bangkok
Be forewarned: Bangkok is a beast. Some, like myself, find it irresistibly charming, while others find it a little overwhelming. Either way, it's the hub of Thailand and you need to experience it. (And if you find it a little too chaotic to explore on your own, then check out the range of local-led day tours run by Intrepid's sister company, Urban Adventures.)
Popular day-time activities include visiting Jim Thompson's house (the ex-pat who revolutionized Thai silk industry) or the out-of-the-ordinary Lingam Fertility Shrine, an area with hundreds of phalluses where locals pray for conception.
If you arrive on a Saturday or Sunday, you must hit Chatuchak Market ("JJ Market"), arguably the best shopping market in Bangkok (just remember that every price is negotiable).
If there's still some daylight, head to Benjasiri Park off Sukhumvit Road. This is a great spot for a picnic, especially since they have street carts right outside the park serving delicious food (grab some som tam, kor muu yang and sticky rice, and you're good). Later in the evenings the guys play Ta-kraw, a hybrid of soccer and volleyball that, I assure you, will be the most engaging sport you've ever watched.
READ MORE: WHAT TO EAT, DRINK AND DO IN BANGKOK
Bangkok is certainly a city that comes alive at night, and you should start by hitting one of its sky bars. Sirocco is the most famous (as featured on The Hangover), but my favorite is Centara Grand, atop Central World mall in downtown Bangkok. You'll have some of the best views of the city. Afterwards, hop downstairs and explore the chic shopping spots of Siam Square.
If you're feeling frisky, head to Soi Cowboy. It's flat-out, in-your-face "Red Light District", but I mention it because it's a kicking-good time if you're up for it. For something less intense, head to Silom Soi 4 – a string of bars and clubs with some of Bangkok's most colorful characters. You can grab a table right on the road and people watch until sunrise.
VISIT BANGKOK ON PRETTY MUCH ANY INTREPID TOUR; WE LOVE THIS 8-DAY FOOD TRIP
Day 2: Bangkok
Following all that, you may need to wash yourself of some sin. Wat Mahathat is a temple near the river that offers English-speaking meditation classes throughout the day. Afterwards, you can walk the temple grounds and chat with some of the monks (they aren't the Dalai Lama, but hey, it's not every day you get to chat with Thai monks).
Since you're near the river, hop on a taxi boat and explore. This is along the tourist circuit and so there's plenty to see on this stretch: The Grand Palace, Wat Pho and the famous golden, reclining Buddha, Wat Saket ("The Golden Mount"). If you're feeling super adventurous, head across the river to Siriraj Medical Museum, a forensics medical museum filled with dead bodies and cadavers donated by local medical schools.
End your day with sunset drinks at the Deck, a bar right on the river positioned directly in front of the iconic Wat Arun (be sure to get there early to get a good seat). If you still have some energy, you can head to the ever-raucous Khao San Road, the bohemian street of backpackers, bucket drinks and plenty of music.
SUBSCRIBE TO INTREPID'S NEWSLETTER FOR TRAVEL INSPO, COMPETITIONS, GIVEAWAYS & MORE
Day 3: Chiang Mai
You'll notice an immediate change of pace in Chiang Mai – cool and mountainous, far less chaotic than the metropolitan Bangkok.
Upon arriving, drop off your stuff and rent a scooter. These are the best way to explore the city and beyond. You can ride up to Doi Suthep, a famous temple in the mountains that overlooks the city, and then continue scooting up the cool and windy roads and all the way up to the small villages at its peak. If you're feeling more adventurous, you can do one of the many one-day self-guided motorbike trips near the city ("Samoeng Loop" is a popular and moderate day trip).
As you're nearing dinner, your best bet is to grab some street food. Northern Thailand is best known for Khao Soi, a noodle curry with chicken. It's some of the best Thai food around and must be tried while you're in Chiang Mai.
VISIT CHIANG MAI WITH INTREPID AND YOU'LL STAY IN A HOMESTAY AND SO MUCH MORE
Day 4: Chiang Mai
The foodie feast continues. There are multiple ways of experiencing it but you truly can't go wrong with a local guide and cooking class.
Combine both these elements with one of the following tours: 'A Taste of Chiang Mai', in which you wander morning markets and enjoy a local-style breakfast, or 'Chiang Mai's Off-Grid Food Adventure', where you meet street vendors and explore the city's back alleys that brim with authentic dishes.
I would recommend exploring Chiang Mai's forestry, and zip-lining between tree tops is perhaps the best way to do so. After, to see even more of the surroundings, it's worth cruising the Mai Ping River in a longtail boat to see local life unfold along its banks. One of the main rivers in northern Thailand, it offers a lot of insight into local livelihoods and rural life.
Making your way back in town, the chic spot in Chiang Mai is called "Nimman Road". It's a great spot to spend the second half of your day, hitting the boutique shops, art galleries and coffee shops.
RELATED: HERE'S WHY YOU SHOULD VISIT KRABI, ANOTHER THAILAND GEM
Day 5: Chiang Mai
Continuing your foray into Thai nature and wildlife with a trip to Friends of the Asian Elephant Hospital located in Lampang (90 minutes outside Chiang Mai).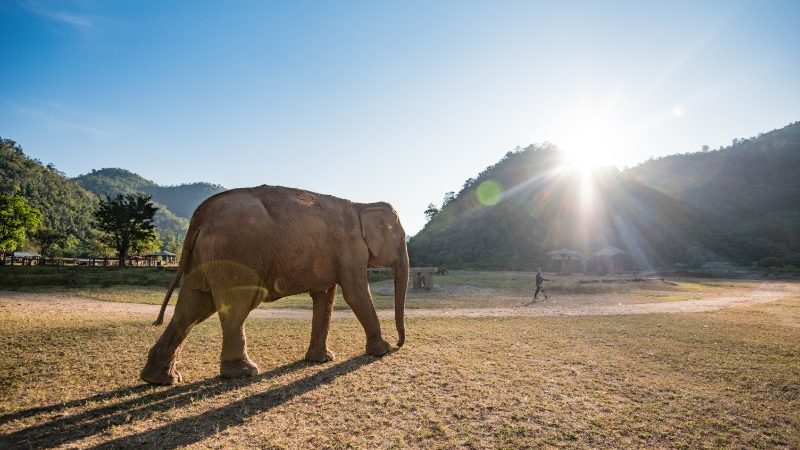 It's an Intrepid Foundation project that you can visit on a bunch of Intrepid trips (such as 'Explore Northern Thailand') and is the first elephant hospital in the world established to care for sick and abused elephants. With an aim of preserving the animals' natural habitat and lifestyle, it might just prove to be a highlight of your trip.
If you're feeling a bit tired afterwards, the Women's Correctional Institution has established a program where inmates give Thai massage as a form of rehabilitation. This is completely safe – the only thing you may have to worry about is how long the line may be for getting in.
Day 6: Ko Pha Ngan
Ko Pha Ngan is arguably one of the most beautiful islands in the country, you just have to work to find the more tranquil spots.
If you're still comfortable on that scooter, I'd say take a day trip around the island and let yourself get lost. One good stop is Sramonora waterfall, a natural pool a bit inland, that's in between Haat Rin and Baan Tai (turn off the road when you see the sign "river on stone").
As it gets later in the day, start asking around about Muay Thai fights (that is, if you don't hear it blaring from truck speakers throughout the day). There are three stadiums at Baan Tai and two at Haad Rin, so hopefully there's a fight happening while you're there (they are a must-watch).
If you're feeling energetic, stay a bit later at Haad Rin for some nightlife. Should you arrive on the night of a Full Moon Party, brace yourself. Otherwise, the beach is normally populated with DJs, bars, fire twirlers and gap year students.
RELATED: IF YOU LOVE THAI ISLANDS HERE'S WHY YOU SHOULD VISIT KO TAO
Day 7: Ko Pha Ngan
Given it's your last day, you might want some relaxation before returning home (and, you cannot go back to work without being three shades tanner). Haad Rin is the more popular spot for sunning, though Thong Nai Pan Yai and Had Salad are more serene and low-key.
Or, if you didn't get the chance to already, you can explore the waters by doing a day-long snorkeling or diving trip. Koh Pha Ngan is a short boat ride away from Ko Tao, a small island that's home to some world-famous diving spots.
Haad Salad is also your best bet for your last night sendoff. It has plenty of cool bars and restaurants, usually boasting chill live music in the background.
Ready to experience the unparalleled beauty of Thailand? Check out Intrepid's range of small group adventures.
—
(Image credits from top to bottom: iStock x4, Sara Millican, Claire Gibson, iStock, James McGhie, iStock x2)