Although Vietnam conjures up many images on first mention — motorcycles whizzing by, the limestone islands of Ha Long Bay, all of the food — perhaps nothing is more quintessentially "traveller in Vietnam" than bia hoi.
To clarify before we even begin, bia hoi is two things. It is both that fresh, local homemade beer found all over Hanoi and other areas of northern Vietnam (bia hoi literally translates to "fresh beer"), and also the roadside restaurants where you sit on those little stools to drink it. It is both the beer and the experience of drinking the beer, all wrapped up into one phrase.
EXPLORE VIETNAM ON A SMALL GROUP ADVENTURE WITH INTREPID NOW
But it all starts with the beer. The big thing to know about it is that unlike most beers you probably drink, which can take up to a month to brew, bia hoi is brewed fresh every single day. A light, golden lager that's served ice cold with a bit of foam on top, it's only about 3% alcohol, which makes it as easy to drink as water… which is a little too easy, if you know what I mean.
It also hardly has any preservatives in it, since it doesn't need to stay fresh for longer than a day. And due to its quick turnover, bia hoi is also incredibly cheap (about 20 cents a glass, give or take). Yet while that whole fast-beer thing sounds great in theory — so cheap and fresh, yay! — the truth is that it can also be kind of ~questionable~ by the time evening rolls around. It's delivered in kegs to businesses early each morning, so it's best consumed earlier rather than later, when the chances of it going bad are higher.
SUBSCRIBE TO INTREPID'S NEWSLETTER FOR TRAVEL TIPS, COMPETITIONS, GIVEAWAYS & MORE
So, how did this insanely cheap beer come to be? Like many Vietnamese cultural traditions, it can be traced back to the late 1800s, when the French ruled the country as a colony. They brought beer to Vietnam in the 1890s to try to get the Vietnamese to stop drinking their beloved traditional home-brewed rice wine. But they only built one brewery — the Hommel Brewery in Hanoi — which made it very expensive; a limited luxury for the rich and only the rich. However, once Vietnam got its independence in 1954, the Vietnamese renamed the brewery Hanoi Brewery, and from there, bia hoi was born.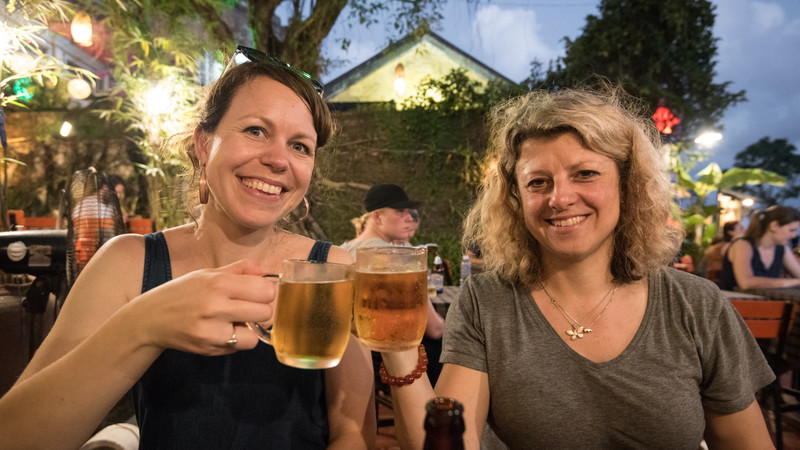 But the story doesn't stop there, because it didn't catch on at first! The locals still loved their rice wine over anything else, and continued to drink it until the government banned home brewing, meaning locals were basically forced to turn to bia hoi as a function of necessity. Yes, leave it to the laws to change the game.
RELATED: WHERE TO FIND THE BEST BANH MI IN VIETNAM
These days, bia hoi bars are all over the northern parts of the country, but they're mostly in Hanoi, since that's where the whole tradition began. And let me tell you: bia hoi bars are a fun time. They get rowdy. They don't have any tables, just stools that usually spill over into the streets, meaning you may have your beer with an exciting side of motorcycle dust. If fume-y dust is not your thing, there's also lots of street food to choose from, like fried rice, barbecue chicken, and more. But a word of caution: travellers often get sick from eating at bia hoi bars because the food is generally made very quickly and isn't that sanitary. Try to stick to the bars that are crowded, which means they get the local's stamp of approval and are likely a little cleaner than the less popular ones.  
Or you can just head to the bia hoi bars below. All of them are vetted by Intrepid Travel's team on the ground in Vietnam, who say that these are the finest ones in all of Hanoi. Cheers!
Bia Conner
Address: Joint section of Nha Hoa and Duong Thanh Str
Bia Hoi Tong Dan
Address: 12 Tong Dan Str, Trang Tien
Bia Hoi Duong Thanh
Address: 2C Duong Thanh Str, Hoan Kiem
Bia Hoi Lan Chin
Address: Many locations across Hanoi
Sip your way around Vietnam on a small group adventure with Intrepid now!
Images by Pat O'Neill. 
Feeling inspired?