Vietnam is basically synonymous with delicious; so much of the food there is out-of-this-world good. And there is perhaps no greater evidence of this fact than banh mi, the Vietnamese sandwich to beat all sandwiches.
While it doesn't look particularly special on the surface — it's simply an airy French baguette stuffed with an assortment of fillings — don't be fooled. Everything about this sandwich is special.
Let's begin with its history. As you may suspect from the baguette situation, the banh mi sandwich has French roots. The French arrived in Vietnam in the 1800s and took control of the country in 1887, at which point they brought with them their various foods and traditions, including the baguette. However it wasn't until the 1950s, when the Vietnamese gave the French the boot, that they started to make the baguette their own. That's when they decided to add their own fillings, and give their creation a Vietnamese name (translated, banh mi simply means "wheat").
YOU + BANH MI = A HAPPY TRAVELLER. ENJOY A TRADITIONAL VIETNAMESE SANDWICH
ON ANY OF THESE SMALL GROUP ADVENTURES NOW
Though banh mi is made slightly differently depending on the region and the chef, it is, at its core, a sandwich with staple ingredients. The baguette is typically stuffed with a mix of deli-style pork or chicken, pate, various vegetables like pickled radish, carrot, and cucumber, chilli, fresh herbs (mostly cilantro/coriander), homemade mayo, and some Maggi sauce (a thin seasoning sauce). Various regions add other ingredients, too, like terrine and pork sausage. And generally speaking, banh mi sandwiches in the south of Vietnam are made with bigger baguettes, and are jam-packed with more ingredients, especially more veggies and herbs.
Although banh mi sandwiches are popular all over the world now, thanks to the popularity of food trucks and Instagram foodies, it was not always this way. In fact, banh mi started out as a typical working man's sandwich; street food long before street food became A Thing. And it stayed that way for a couple decades, until the Fall of Saigon in 1975. That's when many people fled Vietnam, taking their favorite sandwich with them. Today, banh mi can be found all over the globe, loved by both the Vietnamese and the world at large.
ENJOY ALL THE DELICIOUS TREATS VIETNAM HAS TO OFFER ON OUR 12-DAY REAL FOOD ADVENTURE
That said, there is perhaps nothing better than eating a banh mi in its country of origin. But finding the best banh mi in Vietnam is a daunting task; there are thousands upon thousands of options, which means you have to know what you're doing and go in with a plan.
To help you make that happen and reach your banh mi bliss, we asked the sandwich experts at Intrepid Travel for their recommendations of the best sandwiches throughout the country. Here are their top picks in Hoi An, Ho Chi Minh City, and Hanoi:
HOI AN
Banh Mi Queen—Madam Khanh
Address: Tran Cao Van Str
This place is truly the stuff of legends. Locals say is should be on every "best banh mi" list ever. The owner, Mrs. Loc, has run this store for 30 years, and you can't really go wrong. Locals say her banh mi perfectly captures the yin-yang taste of the banh mi: It's sweet and salty, spicy but basic, and crunchy yet creamy — all at the same time. Fillings include pate, pork char siu, sausage, fried egg, homemade pickles, papaya, carrots, parsley, chili sauce, soy sauce, and — last but certainly not least — her secret sauce.
SUBSCRIBE TO INTREPID'S NEWSLETTER FOR TRAVEL TIPS, COMPETITIONS, GIVEAWAYS & MORE
Banh Mi Phuong
Address: 2B Phan Chu Trinh Str
The late Anthony Bourdain recommended this spot, so you know right away that it's going to be good (Canadian chef Cameron Stauch has praised it too). Run by a small family, the restaurant typically serves more than 1,000 banh mi every single day. But a word of caution: The word is out, so be prepared to queue up, as it's usually busy.
HO CHI MINH CITY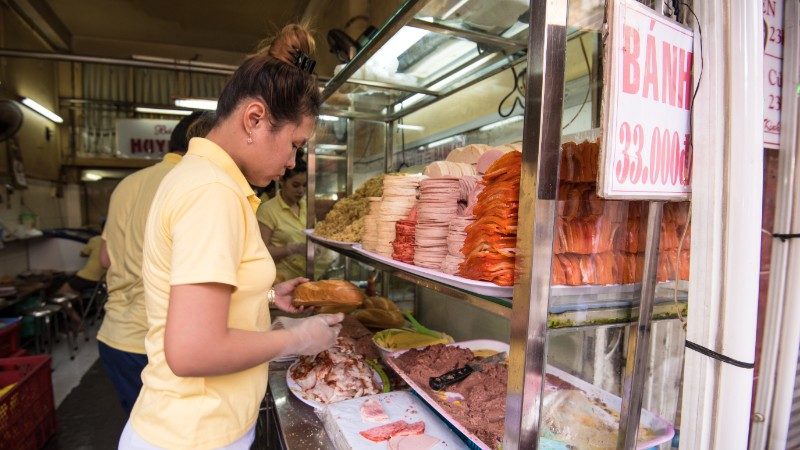 Banh Mi Huynh Hoa
Address: 26 Le Thi Rieng Str, Pham Ngu Lao
If you ask someone for the best banh mi in Ho Chi Minh City, this will probably be where they send you. It's very popular, likely because they absolutely pile on the fillings. Get ready for a feast: There are so many layers of pate, meat, veggies and cilantro, and the pickled daikon and carrots may just blow you away.
RELATED: VEGAN? VEGETARIAN? GLUTEN-FREE? HERE'S YOUR ULTIMATE GUIDE TO EATING IN VIETNAM
HANOI
Banh Mi Pho Hue
Address: No 118A, Hue Str  
This could be the best banh mi sandwich in all of Hanoi, according to locals. The shop has been open since 1974, and the pate is especially delicious.
Banh Mi Moc
Address: 27 Han Thuyen Str, Hoan Kiem
There are lots of different pork rolls at this shop, and all of them are what banh mi dreams are made of.
Banh Mi 25
Address: 25 Hang Ca Str
Locals and tourists alike flock to this go-to banh mi shop. The baguettes here are always crunchy (which is not always the case), and the service is great too. It's even got vegetarian options (just ask for "banh mi chay").
RELATED: VIETNAMESE COFFEE WILL CHANGE YOUR LIFE. HERE'S WHY.
Banh Mi Pate
Address: 20 Cha Ca Str
Speaking of vegetarians, this spot has especially delicious meat-free options too. 
Banh Mi Tram
Address: 252 Cua Nam Str, Hoan Kiem
While all of the banh mi sandwiches here are on point, this spot is best known for its Bordelaise sauce banh mi. Yum. 
Got all that? Now go and find the banh mi of your dreams on a small group adventure in Vietnam. 
Feeling inspired?