Vietnam is a great destination for many reasons: the people are friendly, the scenery is beautiful, there's so much to do… and, perhaps best of all, the food is incredible. Just delicious. And the best part? Even if you have food sensitivities or restrictions — you're a vegan, let's say, or you're gluten-free, or you don't eat peanuts — Vietnam has your back.
Lots of their dishes can be prepared to your liking, or are inherently gluten-free or vegan in the first place — which means that you don't even need to ask for a special dish. You just need to know the right dishes to eat in the first place. This guide will help you navigate all of your options.
First things first: learn some key lingo.
If you're vegetarian or vegan, "chay" means that you eat vegetarian food in the same way that Vietnamese Buddhists do—so be sure to bust out that phrase often. While Vietnamese dishes do have a lot of meat, most of them can be made without meat. If you're vegan, though, you'll also need to say what else you don't eat. "Toi khong an" means "I don't eat" in Vietnamese, and then add the following words: sua (milk), bo (butter), trung (eggs), nuoc mam (fish sauce), and pho mai (cheese).
RELATED: 6 REASONS VIETNAM IS THE PERFECT DESTINATION FOR FIRST-TIME TRAVELLERS
If you're gluten-free, Vietnam is a pretty sweet destination. Many of its staples—rice, rice noodles, meats, and veggies—and naturally gluten-free, so you'll generally be okay. But condiments can get tricky. Although traditional Vietnamese soy sauce is gluten-free, many restaurants that cater to tourists import soy sauce from the West—which has gluten. In this way, it's actually safer to eat street food, which often uses traditional Vietnamese condiments, then eat in restaurants. No matter what, you may find it helpful to carry around a gluten-free translation card, like this one and this one, if you are severely allergic. "Khong chua gluten" means that you don't have gluten, but if you show someone the cards, they will have an even better understanding of your food restriction.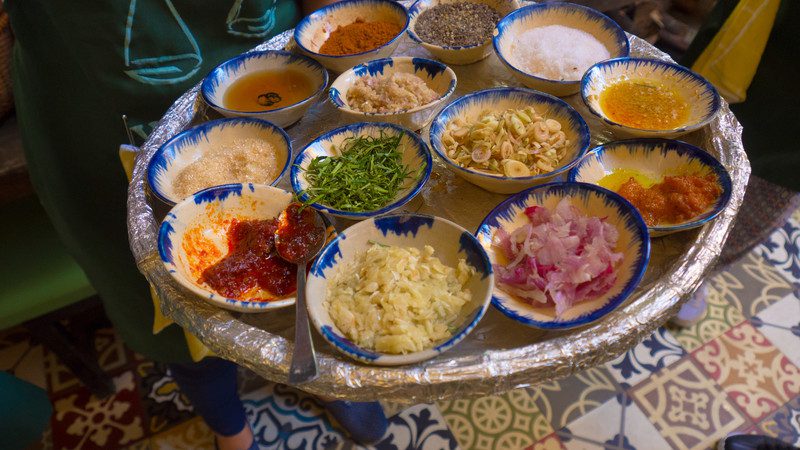 And finally, if you have a nut allergy, especially a peanut allergy, you will have to be really careful, as nuts are a staple in Vietnamese kitchens and are often served as a flourish or garnish on dishes. If you are severely allergic, it's best to carry around a food restriction card like this one, which tells you how, exactly, to say things like "If I eat peanuts I will die." Your best bet is to stick with mostly soup dishes, as they are least likely to have peanuts and other nuts.
EXPLORE VIETNAM ON A REAL FOOD ADVENTURE NOW
Next up: Learn a few key dishes that are generally best for gluten-free, vegan and vegetarian food in Vietnam.
1. Pho
BEST FOR: Gluten-free, vegetarian, vegan, peanut-free
You've probably heard of pho already; it's a popular Vietnamese meal even outside of Vietnam. But what you may not know is that pho knocks it out of the park when it comes to dietary restrictions, as most people — regardless of what they can and cannot eat – can eat pho. The noodles themselves are made from rice, so they are inherently gluten-free. The dish does not have peanuts either, so nut-free people are good there too. And while traditional pho is usually made with a meat-based broth, beef, noodles, and tons of herbs, chillies, and limes, they make delicious veggie versions too, which is perfect for all of the vegetarians and vegans out there. Just ask for "pho chay," and you'll get a soup made from vegetarian stock and tofu, plus all of the same accoutrements.
TREAT YOUR TASTEBUDS TO A WORLD OF AMAZING FOOD ON A VEGAN FOOD ADVENTURE NOW
2. Banh Mi
BEST FOR: Vegetarian, vegan (and usually peanut-free)
Like pho, banh mi is also one of the most famous Vietnamese dishes around. It's essentially a baguette stuffed with savory fillings, like fresh cilantro and mint, pickled cucumber, carrots, and daikon radish, and then a protein of your choosing, topped off with a healthy dose of hot sauce. While the most typical protein filling is meat — usually pork — vegetarians and vegans can ask for "banh mi chay," which will come instead with seared tofu, egg, or vegetables. Banh mi usually doesn't have peanuts, but sometimes there may be a drizzle of peanut oil, so be sure to check.
3. Goi cuon (Vietnamese rice paper rolls)
BEST FOR: Gluten-free, vegetarian, vegan (and peanut-free people if you skip the sauce)
These rolls are gold. Seriously. So fresh, and so delicious. They are essentially rice paper (which is naturally gluten-free) rolled around a combination of meat, seafood, and vegetables. They can easily be made vegetarian or vegan by asking for tofu instead of meat or seafood. But peanut-free people, beware: these usually come with a peanut dipping sauce, so if you order them, make sure to skip the sauce!
RELATED: HOW TO CROSS THE ROAD IN VIETNAM
4. Nom Du Du (papaya salad)
BEST FOR: Gluten-free, vegetarian, vegan (people with peanut allergies should definitely avoid this dish!)
Unless you're allergic to peanuts, fresh papaya salad is an absolute must in Vietnam. Made from fresh papaya strips, carrots, sesame seeds, basil, coriander, and a ton of peanuts, it's inherently gluten-free, vegetarian, and vegan — score. Some places may use fish sauce in the dressing, so ask them to leave it out when you're ordering. 
5. Banh It Tran (sticky rice dumplings)
BEST FOR: Gluten-free, peanut-free, vegetarian, vegan
These babies are heaven for dumpling fanatics. The dumpling dough is made from rice flour and water — so it's gluten-free — and it's then stuffed with a mix of mashed mung beans and meat, fried shallots, and fresh spring onions. (Vegetarians and vegans can ask for it without the meat—just the mung beans.) Finally, it's served with a chili dunking sauce and pickles — so much yum.
RELATED: VEGAN FOODIE? THESE 5 DESTINATIONS ARE PERFECT FOR YOU
6. Lau (hot pot)
BEST FOR: Gluten-free, peanut-free, vegetarian, vegan
Hot pots are a great way to have a group dinner with having to debate about what to order. Your server places a big pot of simmering soup in the middle of the table, and then places bowls of other things — precooked rice noodles, vegetables, meats — around it. Then it's on you to make your own creation using all of the above. For vegetarians and vegans, be sure to request "lau chay," which will guarantee that the stock doesn't have meat, and that you will get veggie-friendly sides, like tofu and mushrooms.
7. Dau Sot Ca Chua
Best for: Gluten-free, vegetarian, vegan, peanut-free
This one's a favorite among the vegetarian Vietnamese crowd (and tourists, too). It's essentially fried tofu with garlic and tomato sauce, plus spring onions and steamed rice. It's both a street food and a restaurant food, so find it anywhere if you can!
Finally: Once you know the dishes to look out for, get yourself to a restaurant that prepares them exceptionally well. These spots are a good start:
Ho Chi Minh City
Goc Ha Noi — This is one of those restaurants that will make you feel like a true traveler for having discovered such a hole-in-the-wall gem. Tucked at the end of a long alleyway, it's got that mystery, that allure — and the food is delicious too. They have both meat and vegetarian-friendly options, and they have a delicious egg coffee!
Hanoi
Com Chay Nang Tam — Remember how "chay" technically means food that Buddhists eat? This cafe has tons of "Buddhist food," complete with tofu bowls and veggies and even mock meats that replace the meat in standard Vietnamese dishes. Bonus: It's the oldest vegetarian restaurant in Hanoi!
RELATED: A DAY IN HANOI, VIETNAM: YOUR GO-TO GUIDE
Hoi An
Minh Hien — This place is straight out of a travel movie, where you see travelers milling about, eating local food and relaxing at a hole-in-the-wall spot. It's got an incredibly relaxing atmosphere, with bookshelves all around and an outdoor area with twinkly lights, and they offer vegetarian versions of most Vietnamese specialties, so you really can't go wrong.
Hue
Nook Cafe & Bar — Not only is this cafe super cute, with festive tablecloths and wall hangings, the food is all catered to the food-sensitive crowd. They have meat dishes, yes, but they also have plenty of veggie and gluten-free and nut-free options.
SUBSCRIBE TO INTREPID'S NEWSLETTER FOR TRAVEL TIPS, COMPETITIONS, GIVEAWAYS & MORE
Vietnam food FAQ's
Is Vietnam vegetarian friendly?
Lots of Vietnamese foods can be made vegetarian, dishes such as Banh mi, Pho and Goi Coun perfect for vegetarians.
Is Vietnam vegan friendly?
It can be a little more tricky to find vegan food in Vietnam, but there are lots of dishes which are vegan, but we recommend double checking with the restaurants.
What does chay mean in Vietnamese?
Chay in Vietnamese means non-meat or meatless, it's a great word to learn if you are vegetarian.
In the end, no matter where you choose to eat — restaurant or street cart — there is a very high chance that the food will be delicious, as Vietnamese dishes are so full of flavor at their core. And now that you are armed with the intel you need to navigate your options, you're practically guaranteed to have an amazing — and delicious — time. Happy eating!
Explore Vietnam on a small group adventure now!
Feeling inspired?