No book or blog post can prepare you for what to expect or how you might feel in Varanasi. Some places just need to be experienced.
Located along the banks of the Ganges River, in the northern Indian state of Uttar Pradesh, Varanasi is one of the holiest places in all of Hinduism, and one of the oldest continually inhabited cities in the world.
I spent hours aimlessly wandering around the old city, peering around each and every corner to see what I could find. I would follow my senses, listening to music and chanting make its way through the alleyways, smell my way to lunch, and happily take in all the colourful surroundings.
Daily life here unfolds at a chaotic pace, and one that's similar to how it has for centuries. Watch as devout Hindus wash their sins away in the holy Ganges; as men and women bathe and do laundry at the bottom of the Ghats (riverfront steps leading to the bank of the Ganges); and as funeral processions line the streets, where Hindus make their final journey to their final resting place – to be cremated and sent into the Mother Ganges.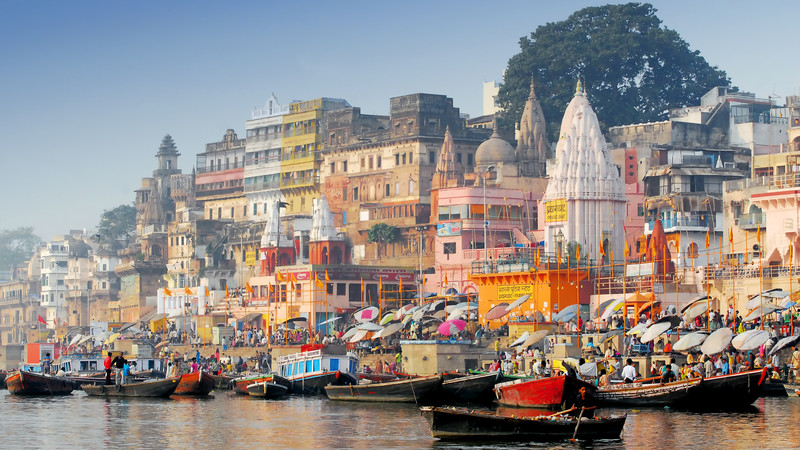 If you're short on time in this captivating city, try to knock off the following five experiences from your list:
Enjoy the Ganges River
Life in Varanasi revolves around the Ganges. One of the holiest rivers in the world, devout Hindus come from all over the world to plunge into the purifying river. Though the Ganges is holy, it has been abused for decades, becoming one of the most polluted rivers in the world. Raw sewage from hundreds of cities is pumped into the river every day, and millions use it as a place to bathe, do laundry, and dispose of goods – a place where life and death meet; a river that purifies and pollutes at the same time.
Despite these things, a boat ride during sunrise or sunset on the Ganges is not to be missed. You'll hear "Boat? Boat?" from optimistic touts as you walk along the ghats looking out upon the river. Once on the river, relax as your helm paddles you around.
Watch as the ghats come alive, as the sun shines on the steps and the ancient buildings tower over the river. It can be a romantic, relaxing, stimulating, poignant, and humbling experience all at once.
VISIT VARANASI ON INTREPID'S UNFORGETTABLE INDIA OR DELHI TO KATHMANDU TRIP
Walk along the Ghats
From early morning to late evening, a walk along any of Varanasi's ghats doesn't disappoint. Many of the city's 88 ghats have individual purposes. Many are used for bathing and religious ceremonies, and two are used as cremation sites. Assi Ghat is where locals come to bathe before praying to Lord Shiva. Dashashwamedh Ghat, the main ghat, is one of the oldest in the city and is always filled with tourists, hawkers, touts, pilgrims and a steady flow of other people.
Many of the ghats are beautifully photogenic, so don't skip jumping on a boat for a different vantage point. The stairs are brimming with life, as children play cricket, men play cards, and holy sadhus pray. 
Manikarnika Ghat, known as burning ghat, is one of the holiest sites, but often a confronting site. This is the last stop for many Hindus, as they believe the cycle of death and reincarnation will end by dying in Varanasi. All day long, bodies are cremated on top of pyres on the riverfront steps. Bodies are endlessly carried through the streets to the ghats where they wait to be cremated, their remains sent into the river.
PHOTO ESSAY: VARANASI AS YOU'VE NEVER SEEN IT BEFORE
It's a challenging custom to watch, and you'll see and smell the smoke before arriving at the ghat, but it is a truly compelling spectacle. Be respectful; no photography is allowed.
Eat your heart out
Varanasi boasts an impressive food scene and is known for an array of mouthwatering specialties. For starters, the city is known for its chaats (small, savory snacks typically served roadside), which can be found all throughout the city. Varanasi is also said to have some of the most delicious samosas and kachoris (stuffed bread) in all of India. The road/market leading down to the main ghats is lined with a bunch of delicious eateries selling breakfast and lunch plates. Expect richly-spiced curries, delicate and puffy breads, and oh-so-sugary Indian sweets.
READ MORE: 6 FOODS THAT PROVE INDIAN CUISINE IS THE BEST IN THE WORLD
But more than anything, Varanasi is known for its lassi – said to be the best in India. You'll pass many vendors, pretty much around every corner, claiming to have the best in the city. Blue Lassi, however, has upheld its reputation for serving some of the best lassis around. Choose from mango, banana, chocolate or one of the other dizzying 75 flavors and put it to the test.
Of course, there's wonderful vegan and vegetarian fare everywhere, and don't forget about sipping chai on a balcony high above the Ganges.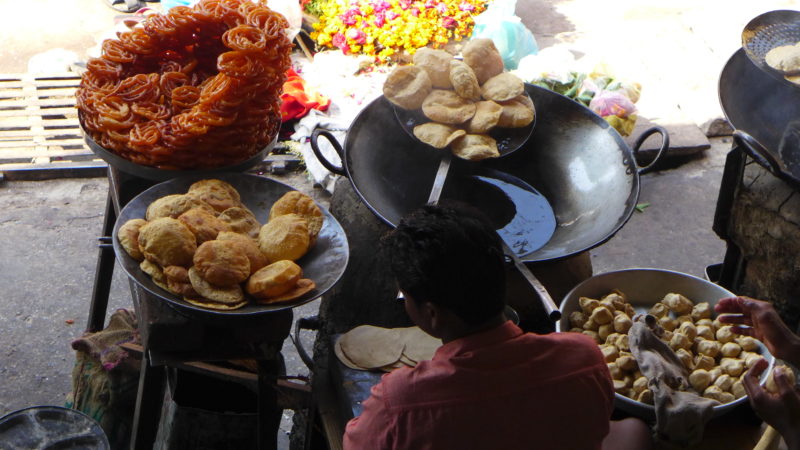 Insider foodie tip from Sana Jinah, one of Intrepid Travel's local leaders in India:
Go to the restaurant "Pizzeria" for its patio overlooking the Ganges. It has the best apple pie!!
Watch the evening Puja ceremony
A form of Hindu worship conducted by Brahmins, Puja rituals are held to honor Hindu Gods. Every evening, elaborate, colorful ceremonies are held on the steps of Dasaswamedh Ghat, which attract hundreds of visitors who fill the stairs, rooftops and any other space they can occupy. Arrive early to find a good seat.
Those performing the Puja, dressed in saffron-colored robes, stand on small platforms near the river. They perform slow dances, in which large, flaming lamps are moved around in synchronized patterns. At other times, the pandits hold sticks of incense and waft smoke through the air, while prayers and sang. The pounding of the tabla vibrates around you, and the ringing of bells is continuous behind the spiritual chanting.
Starting around 6.30pm and lasting about 45 minutes, the ceremony should not be missed.
On a different religious and spiritual note, consider hiring a rickshaw driver to take you to some of Varanasi's 23,000 temples.
SUBSCRIBE TO INTREPID'S NEWSLETTER FOR TRAVEL TIPS, COMPETITIONS, GIVEAWAYS & MORE
Explore the old city
Exploring the narrow maze-like lanes in Varanasi's old city is a must on any itinerary. Although you'll almost certainly forget where you are or how to get where you're going, you will never be truly lost, as most lanes lead to the river. If you're lucky, you may find a hidden gem, such as the tiny, family-owned Dosa Cafe, where you can dig into delicious food in a welcoming environment.
Around every other corner, you'll find yourself drinking lassis from ancient shops, watching as funeral processions pass you by, sharing smiles with the families who call these quarters home, and playing chicken with cows who roam these crammed lanes, trying to figure out who's going to budge first (probably you). Bring your camera to try and capture the magic that unfolds daily within these old city alleys.
Lastly, when you hear chanting and reach a long queue in the narrow streets, you've probably made it to Kashi Vishwanath Temple (Golden Temple), the most famous temple in Varanasi. It can be very hectic and crowded, and you may have to go through multiple lines and security checks before you can enter, and you'll need a valid passport, but the Hindu temple dedicated to Lord Shiva is well worth a visit.
—
Compared to other major tourist hotspots in India, Varanasi may not offer as many 'tourist attractions' per se, but instead it is best visited as a place to have new experiences and to absorb the vibrant life that will surround you. It's a city to lose yourself in, both literally and metaphorically. 
It is a feast for the stomach, mind and heart.
Ready to visit Varanasi on the trip of a lifetime? Check out Intrepid's range of small group tours in India.
—
(Image credits from top to bottom: Intrepid Travel x5, Evan Ceretti x3.)
Feeling inspired?