For years, Sri Lanka stayed (somewhat) hidden in the shadow of neighboring giant India, with countless travelers passing this island gem without much thought.
Had it not been for a cheap online flight deal, my two best friends and I might have overlooked Sri Lanka too. Having read very little about the country, our expectations were limited to seeing elephants and chilling on a beach – how wrong we were! We quickly discovered how much this little, diverse island has to offer.
Located close to the well-trodden paths of Southeast Asia, Sri Lanka's unique fusion of culture, landscapes and history is luring adventure seekers to stop and explore. As an alternative to the overwhelming size of India, there's good reason why this compact, tropical country is appearing on more and more travel itineraries. Few places can boast such a range of stunning beaches, world class surf, spectacular train rides, delicious cuisine and highland hiking through tea plantations.
Add this to the short travel distances and amazingly affordable prices and it's no wonder that Sri Lanka is becoming one of the most up-and-coming places to visit. Here's a little more detail on why the country should be on your travel radar:
The food
You may not have heard much about Sri Lankan cuisine but let us be the first to tell you: Sri Lankan food is some of the best. As a blend of Indian and Asian culinary techniques, the cuisine revolves around intricately spiced curries, rice, rotis and samosas that are served in terracotta clay 'chatties'.
In Kandy or Colombo, head to the bustling street markets to watch the expertise of Sri Lankan cooks preparing local vegetables and shred roti on hot iron sheets.
If you find yourself in Galle on the south coast, head to Lucky Fort restaurant, a quaint, family-run establishment decorated with fairy lights and brightly-colored tuk tuks. I recommend ordering the ten curries and you'll be treated to an array of curries that include beetroot, lotus flower, pumpkin, cucumber and dhal – each one with its own rich and fiery flavor.
EAT YOUR WAY THROUGH THE COUNTRY ON THIS 12-DAY FOOD TOUR!
Ensure you also sample Sri Lanka's most popular dessert, chocolate roti (a cross between pancake and flatbread filled with hot, melted chocolate) and wash it down with a mug of world famous Ceylon tea. What's more is the astounding cost – with meals costing around $1, you can be satisfyingly full on a budget!
The train rides
If you don't travel by train in Sri Lanka, you've seriously missed out. Sri Lanka's train network is cheap, easy to navigate and offers breathtakingly spectacular views.
Heading south of Colombo to Hikkaduwa and Galle, the tracks hug the coast so be sure to watch the rolling waves of the Indian Ocean along palm tree-lined shores as you ride on the open-windowed carriages.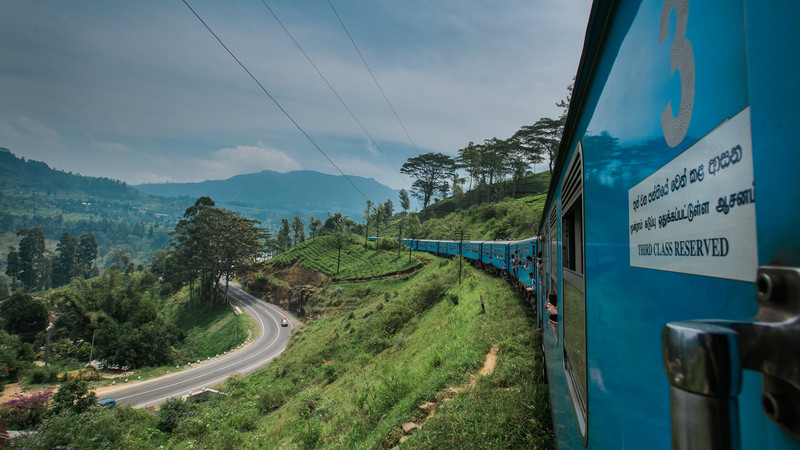 Grab a bag of corn and chilli snacks wrapped in last month's newspaper from the vendors and sit back and take in the vistas of rolling tea plantations.
SEE WHAT SRI LANKAN TRAIN JOURNEYS ARE LIKE VIA THIS GORGEOUS PHOTO ESSAY
Undoubtedly the most popular train ride is from Ella to Kandy – I'd recommend booking a ticket for the 1st class observation carriage to get the best seat in the house!
The surf scene
With regular swells pushing up from the south, Sri Lanka's Arugam Bay (called 'A Bay' for short) is known as one of the top ten surf sports in the world. Whether you're a novice or an expert, the bay has waves to suit everyone. (Love surfing? Check out these 6 unexpected surf spots around the world.)
With the aptly-named 'Main Point' and 'Baby Point' running along the beach, hire a board from one of the many laid-back cafes and head to the ocean.
Alternatively, take a day trip to Peanut Farm, a small but epic bay perfect for beginners with hanging hammocks and a bamboo roti hut perfect for a post surf chill out. Your tuk tuk driver will most likely spot the local resident families of Asian elephants on your way there so keep watch!
Other top spots to ride the waves in A Bay are Pottuvil and Whiskey Point or Unawatuna and Mirissa if you're on the south coast.
RELATED: 8 OF THE BEST PHYSICAL ACTIVITIES IN SRI LANKA
The hiking
Hiking might not be the first thing that springs to mind when planning a trip to Sri Lanka but climbing some of the island's mountainous terrain can be the best way to see the country's wonder (as well as burning off some of those dhal curries!).
Sigiriya is a definite must. Located in the country's Central Province, the massive rock is simply not worth visiting unless you get all the way to the top.
(Yes, this is a little more hiking than climbing, but we're going to insist it counts. The views are otherworldly.)
Some of the best other hiking is around Ella, a luscious, green highland town built around the area's tea plantation industry. Try walking up Little Adam's Peak, a gentle 5km ascent through tea bushes, which offers impressive views of the hillside surroundings.
For a steeper, sweatier challenge, try tackling Ella Rock, a 10km scramble through dense forest to an outstanding panoramic lookout point. With little signage, smiling, barefoot locals will likely approach you offering guidance in return for a few rupees.
LOVE BEING ACTIVE WHEN TRAVELING? OUR 'CYCLE SRI LANKA' TRIP IS PERFECT FOR YOU
The locals
As cliché as it sounds, the people really do make a place. If smiles from strangers in the street isn't the norm, you're in for a lovely surprise. Sri Lankans are some of the most genuine, warm and welcoming people I've ever met.
If you're a female or solo traveler, I'd definitely recommend Sri Lanka as a safe place to explore. It won't be uncommon for locals to invite you into their homes or introduce you to their extended family with open arms.
One of my most memorable moments was hitch-hiking on a local school bus and watching the children's joyous faces as their teacher applauded me into becoming the centerpiece of a Bollywood-style dance down the aisle.
My advice is to get chatting to your neighbor on long train rides or jump in on a game of casual cricket with the local kids and you'll soon feel at home amongst the heartwarmingly friendly Sri Lankan culture.
And, before long, you'll find it as hard to leave as I did. It's truly a special country.
Tempted to visit this up-and-coming travel destination? Check out Intrepid's wide rang of small group adventures in Sri Lanka.
—
(Image credits from top to bottom: Ryan Bolton for Intrepid Travel, Ryan Bolton for Intrepid Travel, Ryan Bolton for Intrepid Travel, Ryan Bolton for Intrepid Travel, Ryan Bolton for Intrepid Travel, Lauren Wigham, Lauren Wigham, Ryan Bolton for Intrepid Travel, Lauren Wigham, Ryan Bolton for Intrepid Travel, Lauren Wigham)
Feeling inspired?