With a temperate climate, landscapes so stunning they have to be seen to be believed, and activities to suit all ages and interests, South Africa boasts something for every type of traveller.
If you thought it was simply your one stop shop for safari, it's time to think again. The water sports, wine tasting, history, hiking and incredible food are just some of the great offerings this nation boasts, proving that there's oh so much more to it than wildlife.
Let me take you on a journey of these once-in-a-lifetime sights and experiences, and you will see why South Africa is such a must-visit.
Spectacular safaris
Okay, despite the above we'll start with the obvious one. Kruger National Park is the region's most famous national park for spotting wildlife. At almost 19,500 square km, it's about the same size as Israel! And a popular tourist destination, it's home to the 'Big Five' – leopard, lion, buffalo, elephant, and rhino – as well as countless other animals.
Even without the animals, Kruger is well worth the visit for the landscape alone. The rolling plains provide their own serene beauty, with countless acacia trees and other native vegetation dotting the savanna. Multiple rivers run through the park which, as well as looking magnificent, often become the epicentre of the animal action.
On my very first game drive, I spotted something sitting amongst the bushes. Slowly, the driver reverses our truck, and there he was. A male leopard sitting near perfectly camouflaged. We watched him for around 15 minutes in the evening sun until he slowly made his way off into the bushes and out of sight. What an experience.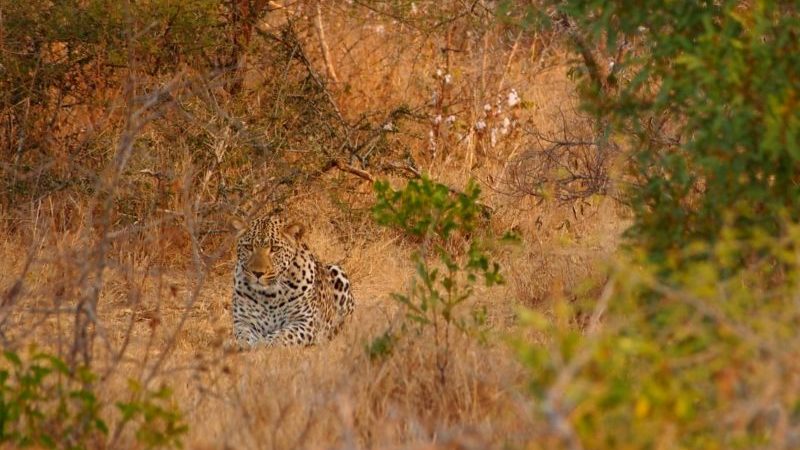 It's also worth mentioning that even though the Rand has strengthened over the last 12 months, you still get way more bang for your buck here than in safari destinations such as East Africa.
VISIT KRUGER NATIONAL PARK (AND SO MUCH MORE) ON THIS 9-DAY ADVENTURE
Wine country
The Mediterranean climate the coastal areas of South Africa experience make it a perfect place for vineyards to flourish. The country has a long history of wine-making, producing some of the world's most popular and exclusive wines.
The Cape Winelands in the Western Cape Province, as the name suggests, boasts plenty of vineyards and some of the most stunning scenery in the entire country. You'll find an excellent mix of vineyards ranging from large commercial states to tiny independent wineries. A fine example is The Warwick Estate in Stellenbosch, which has been run by women for centuries and produces beautiful wines.
Western Cape is located just an easy one-hour drive from Cape Town, so, really, there's no excuse. And how to really do the region justice? A bicycle wine tour and tasting. The good news: this 9-day hike and bike trip let's you do just that. You'll spend an entire day in Stellenbosch on a wine tasting cycle tour. Think of it like a bar crawl, but classier and with less guilt!
SUBSCRIBE TO INTREPID'S NEWSLETTER FOR TRAVEL TIPS, COMPETITIONS, GIVEAWAYS & MORE
Vibrant cities
South Africa is a vibrant country, so it's no surprise its cities are bustling hubs of activity. Cape Town is well known for its many bars and restaurants and is overlooked by the ever-iconic Table Mountain (you can take a cable car or trek to the top). The best vantage point from which to see the whole city is found by hiking the Lion's Head. The views are reward enough for your efforts.
Don't leave Cape Town without wandering the streets of Bo-Kaap. This neighbourhood has some dazzlingly colourful buildings that are a photographer's dream. Even better, visit the area on this 9-day trip and you'll be treated to a cooking class and an authentic home-cooked dinner in a local house.
Apartheid, unfortunately, is synonymous with South Africa. And so it's worth making the time to visit the Apartheid Museum (Johannesburg), District Six Museum (Cape Town), and to take a ferry across to Robben Island to see where Mandela was imprisoned for 27 years.
Johannesburg is South Africa's largest city and also has plenty to see. Visit the township of Soweto, once home to Desmond Tutu and Nelson Mandela, and see the house where the former once lived. Other must-dos include the Hector Pieterson Museum, which gives a solemn, informative insight into the Soweto protests of 1976, and more.
READ MORE: 10 PLACES YOU SHOULD REALLY VISIT IN CAPE TOWN
Near-endless coastline
With its 2,500km of coastline made up of the Indian and Atlantic Oceans, South Africa has no shortage of marine activities. For water sports enthusiasts, spots like Muizenberg Beach and Jeffrey's Bay are world famous for surfing and kite-surfing. (Though the infamous great white shark also enjoys these areas, so be sure to listen out for the siren and white flag that signals a shark sighting!)
For those that are less hands-on but no less enthusiastic, there is plenty for you to enjoy too. South Africa boasts an awesome array of marine life. The great white shark and multiple whale, dolphin and penguin species are just a few you can expect to find. From June to December, you can spot the southern right, humpback, and Bryde's whales in South African waters.
Take a whale watching boat trip from Hermanus – a small coastal town 120km from Cape Town – for your best chance to see some magnificent wildlife.
READ MORE: WHAT IT'S REALLY LIKE ON AN INTREPID TOUR OF SOUTH AFRICA
Breathtaking scenery
The combination of towering mountains, beautiful beaches and picturesque landscapes give South Africa its well-earned reputation for stunning scenery. Over 60 mountain ranges and a varied climate mean the country has what feels like the whole gambit of topography.
One surefire way to pack in as much of this beauty as possible is to drive the Garden Route. The 300km drive stretches from Mossel Bay in the Western Cape, to Storms River in the Eastern Cape, and the route takes you through a diverse range of ecosystems, each offering their own unique beauty. From sandy white beaches with stunning ocean views, to small towns in the mountain foothills, you will see it all. And that's not to mention the mighty Drakensberg range and Tsitsikamma National Park.
You can enjoy spectacular hikes throughout this region on Intrepid's 14-day Garden Route Adventure. Included activities range from a guided tour through Cango Caves to a rafting trip in Swellendam to game drives and more!
Delicious cuisine
With 11 official languages spoken, South Africa has a rich native culture made all the more diverse by global influences. Foods like boerewors (a type of sausage typically cooked at a BBQ or "braai") and vetkoeks (deep fried dough that's traditionally filled with curried mince) derive their names from the Dutch-evolved language of Afrikaans. I can confirm that both dishes are delicious!
Originating from the Cape Malay community of Asian settlers, the dish of bobotie – spiced ground beef topped with egg, and baked – is common throughout the country. In addition, you will routinely find restaurants serving up tasty game meat like kudu, impala, warthog, and ostrich.
For some of the best meat (game, and otherwise), head to Hussar Grill at Mouille Point, Cape Town and order from their award-winning menu. Or, if seafood is more your thing, Café Orca in Melkbosstrand (35km north of Cape Town) serves up amazing fresh and beautiful dishes with views to match. Cape Town in particular is home to a growing number of award-winning restaurants; it doesn't hurt that they tend to cost a fraction of what you'd spend back at home.
And if you're looking to get a little fancy, shack up in an award-winning cellar for some fine wine and chocolate tasting. Enjoy it on this trip, an 11-day adventure that also allows you the otherworldly experience of travelling by train from Johannesburg to Cape Town.
Ready to experience this dazzling country? Check out Intrepid's range of small group adventures in South Africa.
—
(Image credits from top to bottom: Intrepid Travel, Tristan Garland, Ellie Abraham, Intrepid Travel, Rish Kant, iStock/espiegle, Lindsay Pieterkosky, Samone Ellem, Intrepid Travel.)
Feeling inspired?