In June, I travelled on a group tour for the first time, Intrepid's Kruger and Coast trip. I must admit that I was skeptical about whether I needed to travel on a group tour. I was worried about how much free time I'd get, having to spend nine days with the same people, and concerned that instead of getting under the skin of a country; I'd just have to look at it through the truck windows.
This 9-day overland tour, from the game parks of Kruger, through Eswatini and the beaches of Mozambique, down to Durban completely changed my view of what a group tour can be. Here are five reasons why I'll also travel on a group tour the next time I head to Africa.
1. Getting around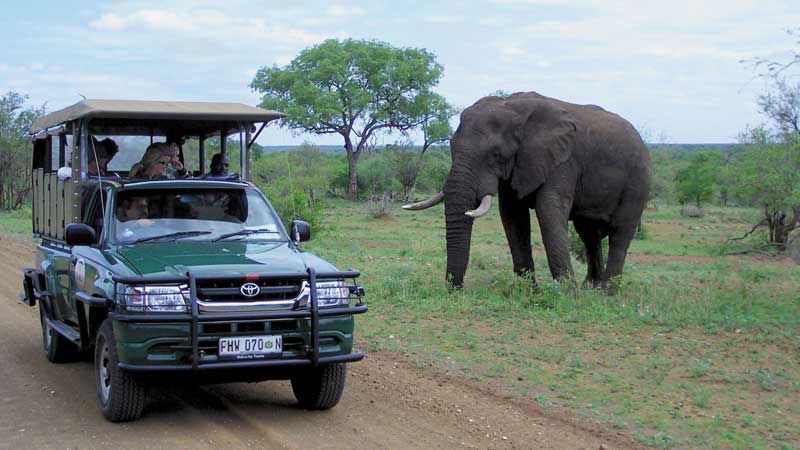 One of the official languages in South Africa is English, which definitely helps when travelling alone. However, public transport in South Africa is at best unreliable, sometimes non-existent, and at worst, quite dangerous. Even disregarding the safety concerns, it's the huge distances that you'll need to travel which can make travelling around Southern Africa arduous as an independent traveller.
The roads can be very poor, and our group visited some really off-track destinations – like the idyllic Mozambican beach camp nestled against the India Ocean – which, travelling on my own, I would never have even heard of, let alone have gotten to.
2. Save those rand
Life in Southern African is pretty cheap; eating out, drinking, and fun activities – think bungy jumping, white-water rafting and Great White Shark cage-diving – are all much cheaper than at home. But hiring a car as an independent traveller is definitely not cheap, and the cost of catching taxis alone soon adds up. In fact, the initial reason why I chose to go on a group tour was because it was the most cost effective way of getting around this hugely beautiful, but hugely huge, country.
Africa is about the open spaces, the bush and the veldt, and the cheapest way of exploring those endless horizons is to join a group tour. Our guide for the trip, Simbana (aka Simba) knew which bars sold the cheapest beers, which street stalls sold the cheapest Biltong, and when we should stock up at the supermarket rather than the relatively expensive gas stations.
IN PICTURES: WHAT IT'S LIKE TO GO ON SAFARI IN SOUTHERN AFRICA
3. Safety in numbers
South Africa has had a questionable reputation when it comes to travelling alone. The situation in cities like Jo'burg and Cape Town is improving, but there are definitely times when I was glad of being with 14 other people on a truck, and not waiting for a bus on my own, at night, in Johannesburg.
South Africa is one of those countries where trying be overly independent and macho 'just for the story' can end pretty badly, so travelling in the company of knowledgeable local guides, along with a few other like-minded travellers certainly put my mind at rest.
SUBSCRIBE TO INTREPID'S NEWSLETTER FOR INSPO, COMPETITIONS, GIVEAWAYS & MORE
4. Local knowledge
I like to think of myself as a pretty independent and experienced traveller, having backpacked around over 60 countries. But travelling around Africa is never straightforward. To quote Leonardo Di Caprio in Blood Diamond: 'TIA. This is Africa.' Our guide Simba couldn't have been more knowledgeable about the people, the places and the wildlife we encountered.
As anyone who has travelled around Africa will tell you, border crossings can be a nightmare. Travelling in the company of local guides who know the intricacies, languages and occasionally even the customs officers at border crossings make the whole process immeasurably smoother.
5. A ready-made group of friends
It's true that being a lone wolf provides limitless freedom, but everyone gets lonely from time to time. There are only so many times you can laugh to yourself about the day's events before wishing that someone would laugh with you. Travelling on a group tour was like adding boiling water to Super Noodles: I instantly met some ready-made friends. This is where choosing the right company to travel with is really important. I love meeting people from other countries, and by choosing a global company like Intrepid, I travelled with really diverse group like-minded people from all over the world, which led to plenty of fascinating conversations around the campfire. On my tour were people from Canada, Germany, Australia, New Zealand, Philippines, the US and a couple of fellow Brits.
The opportunities to sit next to, cook with, share a couple of beers with and explore the African bush with people from different cultures was one of the real highlights of the trip for me, and the group dynamic made these interactions completely natural and I now have a completely new set of friends for life.
Want to see South Africa at its best? Check out our South Africa group tours.

Feeling inspired?