We stuff our rucksacks and backpacks into lockers at the back of the overland vehicle (a converted truck) in preparation to hit the road out of Nairobi. I get into the truck last – it can seat 22 travellers, but on this tour there are 14 of us – and feel the dread of where to sit; it's comparable to my first day of high school.
I'm travelling on Intrepid's Serengeti Trail tour; an 8-day adventure through Kenya and Tanzania's incredible national parks, landscapes and villages. It's my first visit to Africa, but I know it won't be my last.
INTRIGUED BY AFRICA? CHECK OUT OUR RANGE OF SMALL GROUP ADVENTURES HERE
While many of my fellow travellers have a seat to themselves, I'm luckily forced to share with another. Lucky, because half the reason I'm here is to meet new people, and I strike up an instant comradery with a 26-year-old gym teacher from London, who's travelling with his parents and sister. He fills me in on what I've missed; the week before, part of the group travelled together through Kenya to places like Lake Nakuru and Masai Mara. His eyes light up when he tells me about a day and night they spent at a traditional Maasai village, where he traded stories around the campfire with a young male Maasai who had recently became a warrior.
An hour out of Nairobi, we hit the Great Rift Valley, a lowland region where the tectonic plates have moved apart thousands of years ago. This morning it has a thick fog that stretches across the flat plain as far as the eye can see.
It's April now, and coming towards the end of the rainy season in East Africa. The ground is bright green in contrast to the grey and blue sky, and Acacia trees dot the horizon; my imagination runs wild of the Africa I have learnt about in books, on the Discovery Channel, and watching the Lion King as a boy.
RELATED: EAST AFRICA'S WILDEBEEST MIGRATION: EVERYTHING YOU NEED TO KNOW
We pass locals sitting on the side of the road next to small fires, cooking corn on the cob to sell to drivers. We pass goat herders carrying long sticks, ushering their flock to the next patch of grass. These fleeting moments of beautiful landscapes are intertwined with the old grimy trucks bellowing thick black smoke into the air as we leave the busy surrounds of Nairobi.
We cross into Tanzania and set up camp next to the Musoma, a small town situated on the edge of the massive Lake Victoria. We're recommended a bike tour by our leader to get our bearings and to stretch our legs. We make some adjustments to the rickety old bikes and follow our young local guide.
Our first stop is at a food market, where we're overwhelmed with thick smells of rotting fruit and fresh fish as we walk down the tight isles. We swipe away flies as we test our newly learned Swahilli to buy some 'fresh foot', much to the amusement of the store owners and onlookers.
SUBSCRIBE TO INTREPID'S NEWSLETTER FOR TRAVEL TIPS, COMPETITIONS, GIVEAWAYS & MORE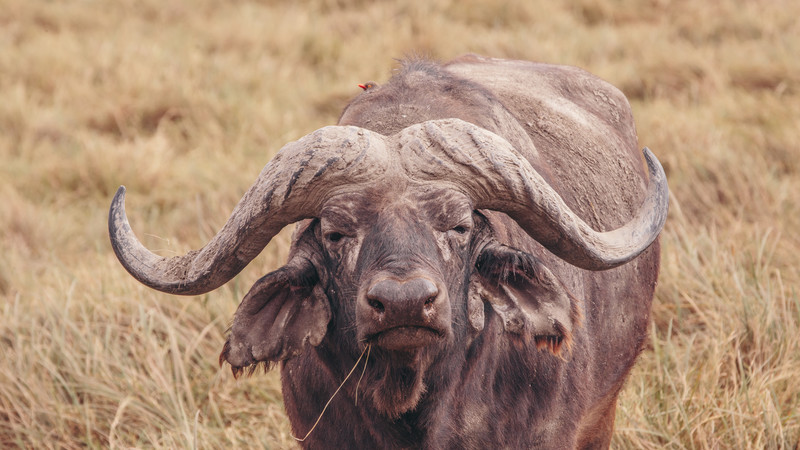 Back on the bikes and we ride through the small main street of town, passing young students full of brashness and freedom the ring of the final school bell brings. The bare-footed children, armed with smiles from ear to ear, chase us down the street, yelling "mzungu, mzungu, mzungu". A young woman in our group with strikingly blonde hair is swamped by school girls asking to stroke her hair and feel her skin, while the boys raise their hands for high fives as we pass.
Our guide takes a detour to show us his house and introduce us to his mother, who is welcoming his younger siblings home. We take the final descent from the town lookout, riding through the blinding setting sun, wind in our hair, with the carefree attitude that travel brings.
The next morning, we wake up early and excited: today we enter the Serengeti National Park. We arrive at the park gate in time for lunch; it's the third day of our trip, and our group is like a well-oiled machine, with everyone assisting in the lunch preparations.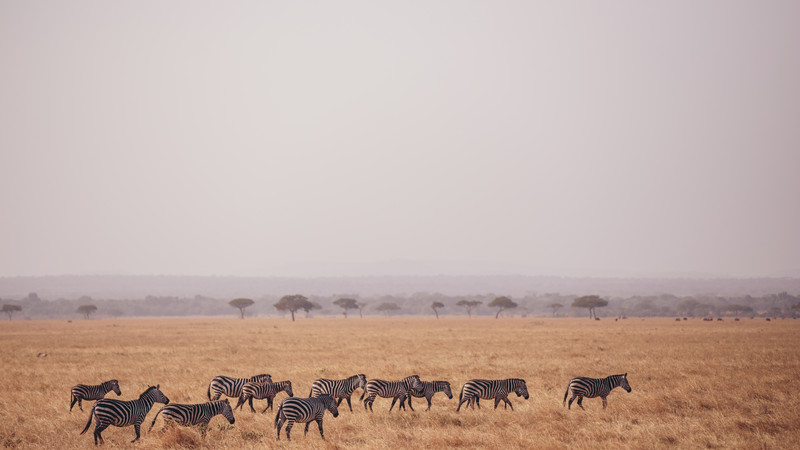 Although we enter the park in the heat of the day – not the best time for game viewing – for those of us who have only been in Africa a few days, our eyes are glued to the open wide savanna. A lone zebra, a male impala, and a pair of wildebeest are all met with excited reactions and the clicks of camera shutters. Those who have already travelled through Kenya and visited the Masai Mara are watching us rather than the animals, with wry smiles on their faces. 'Just you wait,' we can see them thinking.
RELATED: WHAT IT'S REALLY LIKE EXPLORING SOUTHERN AFRICA ON AN INTREPID TRIP
The next time we see a male impala he is with his harem of 30 or so females, apparently slowly losing all his manly energy before the next challenger takes leadership of the group. We stop at the sight of giraffes, some massive males and still-tall females. Their outline hits the horizon, criss-crossing each other as they walk strangely with their backwards knees.
The next time the overland vehicle stops, it's to admire a massive group of wildebeest and zebra stretched out over a vast area. Julius, our leader, tells of the unique relationship between the two animals, and how they help each other when travelling the long distances of the migration.
"Pumba pumba pumba," yells one of our group (more experienced in Swahili than the rest of us), and we watch two warthogs darting away from our truck. It strikes me they've been the only animal that seem to care about our large white truck passing by. I was unsure how we'd go on safari in a big overland vehicle, but I enjoy being able to stand up and see the animals through the truck's large windows when we stop.
RELATED: BOTSWANA IN PHOTOS: THE MAGIC OF AN INTREPID SAFARI
Then, boom! Relaxing under a small tree on the side of the road, we see the king of the jungle himself. Within metres of our truck, it feels like we could reach out and touch him. And he's not alone. The young male, yet to grow his full mane, is relaxing with a female; probably his sister, Julius tells us. We watch them breath, rest, snap at flies, and sleep away the heat of the day. We're absolutely transfixed by these massive cats. They couldn't care less about us and our excited whispers.
Writing this now, sitting in our unfenced camp within the Serengeti, I feel like that moment of my first lion sighting will stay with me forever. I chat with Julius, saying that if the next few days in the Serengeti and Ngorongoro Crater are anything like today's mind-blowing encounters, then we must be one of the luckiest groups ever. He lets out a laugh and says "This is Africa".
This is Africa indeed.
Eager to explore Africa on a small group wildlife safari? Check out our range of adventures here. 
Feeling inspired?