From the windy lookout point, Ngorongoro Crater isn't quite what I expected. Under the gloomy sky the crater floor looks bleached and barren, smeared with mineral lakes and mapped with the shadows of clouds. There's a hint of green and, in the distance, a thread of animals moves slowly across the basin. But aside from that, there's little sign of life.
Doubtfully, I turn to our local tour leader Florence. "It doesn't look very lush. How does anything survive down there?"
She laughs. "In the wet season, it's completely in green. But even now, the grass is good and the soil is salty. And the poombas (warthogs) are so fat! Don't worry, you'll see tomorrow."
I mean really, what would you expect a volcanic crater to look like? Certainly nothing this huge; at over 20 kilometres wide and more than 600 metres deep, Ngorongoro Crater is the largest unbroken, unflooded caldera in the world. On a gloomy day like today, it's hard to see from one side to the other.
The Heritage-listed crater is part of the greater Ngorongoro Conservation Area, which is home to some 25,000 wild animals, including a small population of endangered Black Rhinos and the densest concentration of lions in the world. With those stats, it's no wonder it's one of Tanzania's biggest drawcards. What all that looks like in real life – well, tomorrow would tell.
Down into the crater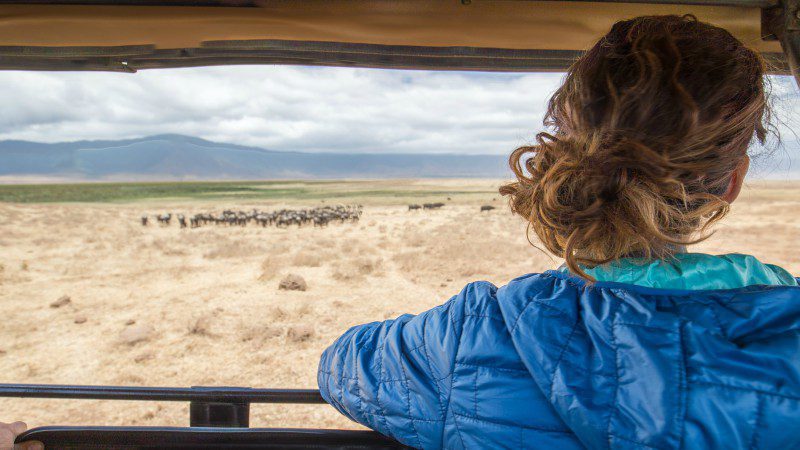 At dawn the next morning, we pack up our campsite, pile into 4x4s and whiz down the crater walls to the caldera floor. Everything is awash in orange-purple light, setting the shutterbug hearts of our group aflutter.
Our local guide's name is Zac. As he drives, Zac explains the caldera was formed three million years ago when a volcano bigger than Mt Kilimanjaro erupted and caved in on itself, leaving an environment rich with short grass, minerals and fertile volcanic soil known locally as 'black cotton'. In other words, food paradise.
Sure enough, when we get down there we find the crater flush with life. White-bearded wildebeest, greater and lesser flamingos, zebras, lions, Thomson's gazelles, spotted hyenas, African elephants, a vast array of birds… we see them all.
The landscape changes as we zip across the caldera floor – from gravelly plains to grassy savannas, ashy marshlands to patchy forest layered with liquorish allsort-like colours: pink flamingos, grey birds, zebras stamped in trippy black and white. We stop at a waterhole bloated with hippos and cruise past a hyena dragging the meaty spine of a wildebeest through the grass. We spy the skeletons of buffalo and the giant skull of an elephant. The whole thing is like something out of the Land Before Time, and for a few hours in that windy truck I feel like a kid again.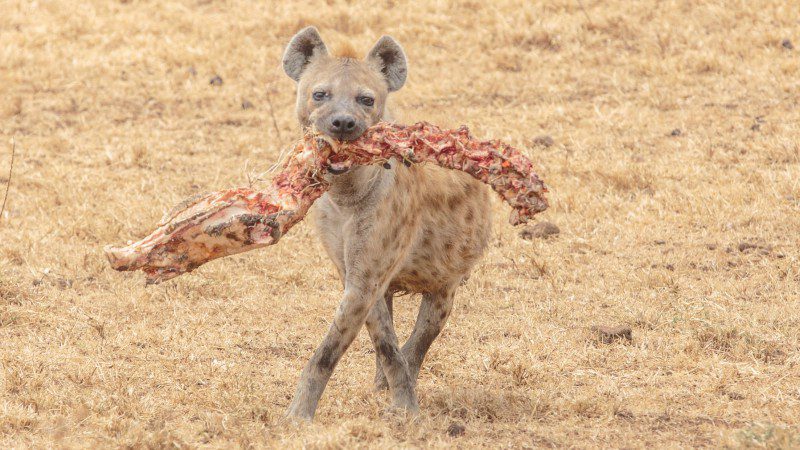 While many animals never leave the crater, deterred by the steep walls and satiated by the ample food supply, others drop by to visit. Ancient elephants come to retire and enjoy the soft grass. During our lunch break, an enormous African elephant appears through the trees and sways slowly towards us. Zac points to his left tusk, worn down after a lifetime of felling trees. "That's how we know he's left-handed." No-one breathes as the creature plods past our truck. Tell you what, this doesn't seem like a bad place to retire.

A migration
Finally, we come face-to-face with what I'd seen yesterday from the lookout point: a long, snaking line of wildebeest and zebras, plodding nose-to-tail along some invisible course. Zac kills the engine as the procession cuts in front of us – a real life zebra crossing! Mothers nudge skittish babies across the road. At a nearby patch of ground, the zebras drop to the ground one by one for a gleeful dust bath, holding up the queue behind them.
In the truck, we squirm with delight. We're finally seeing the Great Migration – the annual journey of over a million wildebeest and hundreds of thousands of zebras and Thomson's gazelles across the plains of East Africa. This is Attenborough-level stuff. But Zac soon sets us straight: these animals aren't technically part of the Great Migration. Instead, they're local residents, perpetually on the move in search of good grass and water on the caldera floor.
"Why do they stick together, the zebra and the wildebeest?" someone asks. "They're friends," says Zac. "The wildebeest are good at finding water because they have an excellent sense of smell, whereas the zebra are smarter and have better eyesight. They help each other survive."
Living in harmony
All too soon we're speeding towards the exit. In an effort to avoid crowding and protect the local environment, each safari vehicle is allowed a strict number of hours in the crater – and our time is up. Back along the rim, kids grin and wave to us from the roadside.
Ngorongoro is derived from the Maasai word El-Nkoronkoro, meaning 'gift of life'. The NCA is the only conservation area in Tanzania that protects wildlife while also allowing human habitation. Over 40,000 Maasai pastoralists call the region home, although they're no longer allowed to live inside the crater (just visit to feed and water their animals during the day). Their traditional way of life means they're seen as having little threat to the local environment.
On our way out, I ask Florence whether she thinks Ngorongoro has changed. She points to a Maasai house with a satellite dish on the roof. "That wasn't there last year. And it seems warmer here these days. Maybe things are changing."
Still, there are few places in the modern world where you'd find so many living things co-existing in such a small space. I look out the truck window and return the shy smile of a Maasai kid. In the distance, a family of giraffes stalk across the wide plains.
The author travelled on Intrepid's 8-day Serengeti Trail adventure. Discover the wildlife of Ngorongoro Crater on our range of small group trips to Tanzania. 

Feeling inspired?