In our humble opinion, Cape Town is one of the best cities in the world. There's just something about the way Table Mountain gently rolls down to the bay, decorated by the sprawl of the city and the pulse of a vibrant, multicultural melting-pot society that is totally awe-inspiring.
This city is basically a traveller's mecca: in one day you could hike up Table Mountain, stand in Mandela's former Robben island cell, float through some of the best beaches in the world, sip wine at Stellenbosch, and watch pastel colours streak the horizon at sunset in Camps Bay – and before your head hits the pillow there's world-class cuisine to enjoy at the V&A waterfront, or gin cocktails to sip in a secret gin bar hidden behind a chocolate shop on Long street (this is not a drill).
Oh yeah, and did we mention that it also has a super cool coffee culture that rivals anywhere in the world (yes, Melbourne coffee-snobs, including Melbourne), and street art that will blow your mind?!
In case you need more convincing, check out our top 10 cool spots to visit in Cape Town. (Then book that ticket)
Take in the view from Table Mountain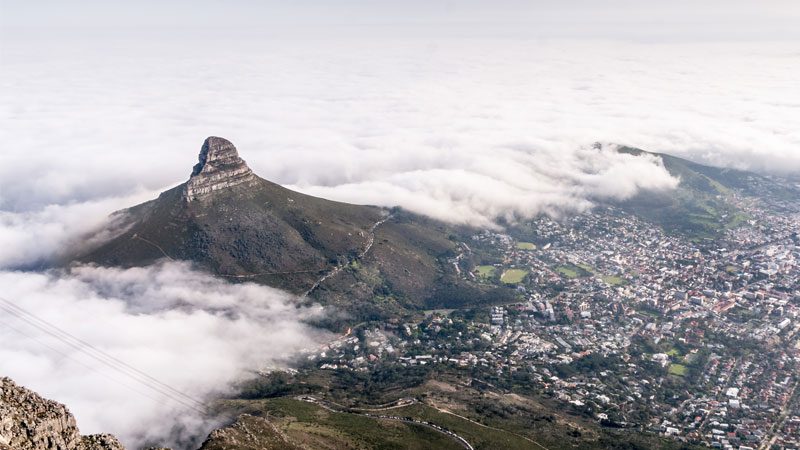 If you think the view of Table Mountain from Cape Town is epic, wait till you're standing on Table Mountain looking out over Cape Town and the city bowl!
You'll have to time your visit well, as the mountain's weather can be pretty unpredictable (it basically creates its own weather patterns). You'll quickly become familiar with the 'tablecloth' – a thick blanket of clouds that roll in over the top and block everything, so if you can see it rise from the city bowl with no clouds nearby – go, go, go!
The cableway to the top has a rotation floor which gives you incredible views as you go up and down. Otherwise, if you're looking to work off some of the amazing food and drink found in Cape Town (we're getting to that, hold on!), hike the 2.5hrs to the summit. It's a tough slog but well worth it.
Watch the sun rise from Lions Head, and the sun set from Camps Bay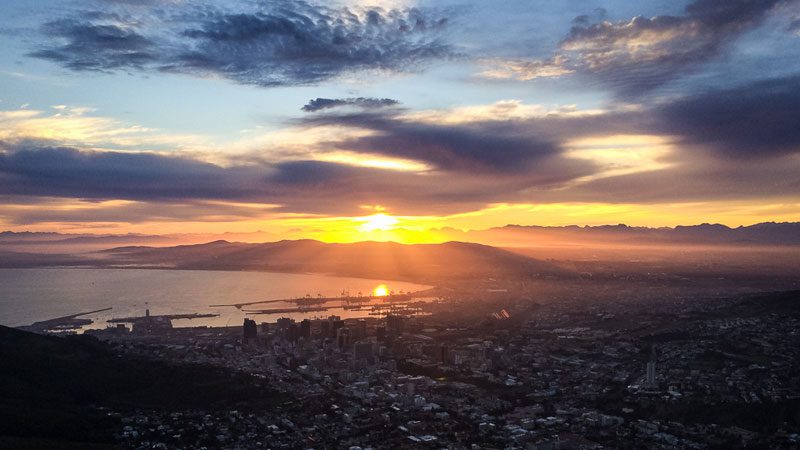 Sunrise anywhere in world is beautiful, but a sunrise from Lions Head is one of those rare uplifting sights that just makes you so grateful to be alive.
Hike to the top of Lion's Head, and watch as the wild beauty of Cape Town, the Atlantic seaboard, Table Mountain, and the far-off stretch of beach in the distance, Blouberg, come to life beneath you. Every yawn from your early morning start is worth it, we promise.
As if the world's best sunrise wasn't enough – watching the sun fall into the Atlantic ocean is also a Capetonian rite of passage (generally practiced with a sundowner firmly in hand!). Park yourself on the beach at Camps Bay, relax, and enjoy as the sky entertains you with a pastel light-show for the ages.
Lessons in South Africa's history
South Africa has a rich but extremely divisive history. To try and understand present day South Africa, you really need to take a visit to Robben Island and the District Six Museum.
Get an insight into the oppression of the apartheid regime, and the ultimate triumph against it that was symbolised by the indomitable Nelson Mandela, who spent 18 years incarcerated here.
The District Six Museum provides context to a time when this vibrant and multicultural community of freed slaves, artists, merchants, and immigrants was declared to be 'whites only' – and over 60,000 of it's residents were forcibly ejected from their homes. As they were moved to the Cape Flats shantytowns, their houses were reduced to rubble. It's honest, eye opening, and raw.
Street Art Walking Tour in Woodstock
Cape Town has an incredibly strong creative culture, and nowhere is it more evident than in Woodstock; a vibrant, up-and-coming suburb just out of the city.
Here, over 100 pieces of colourful street art adorn almost every corner; extremely talented works of art that also bring to life important political or environmental messages. Head out on a guided walking tour to understand who painted them and their meaning in this colourful, eclectic neighbourhood.
Explore the colourful streets of Bo-Kaap (and eat some Cape Malay cuisine)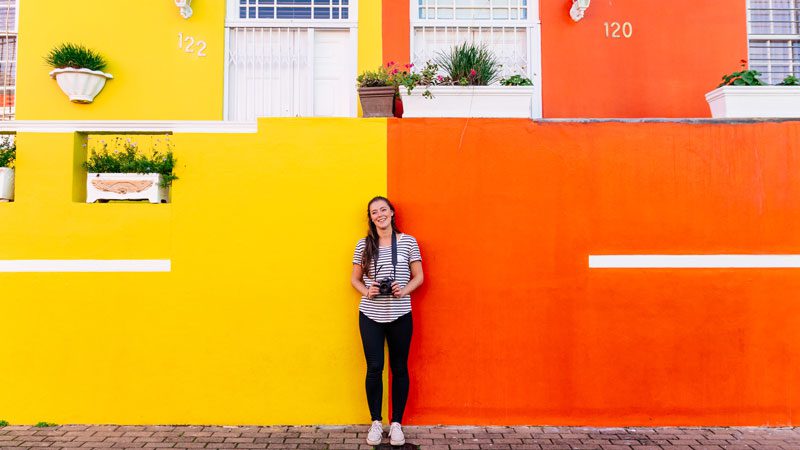 You probably won't have ever visited a suburb quite like Bo Kaap before.
Nestled under Signal Hill on the edge of the Cape Town CBD, the Malay Quarter of Cape Town could also be confused for a gigantic bag of exploded skittles. Really.
Each house is cheerily painted in vivid colours – pinks, blues, purples, green – transforming the suburb into one of the most Instagrammable places in the city.
It's also a melting pot of muslim culture, and with that comes scrumptious food! Enjoy the aromatic spices that waft through the air, join a cooking class and learn more about the distinct Malay culture – while mastering the delicious Cape Malay cuisine!
Embrace the Beaches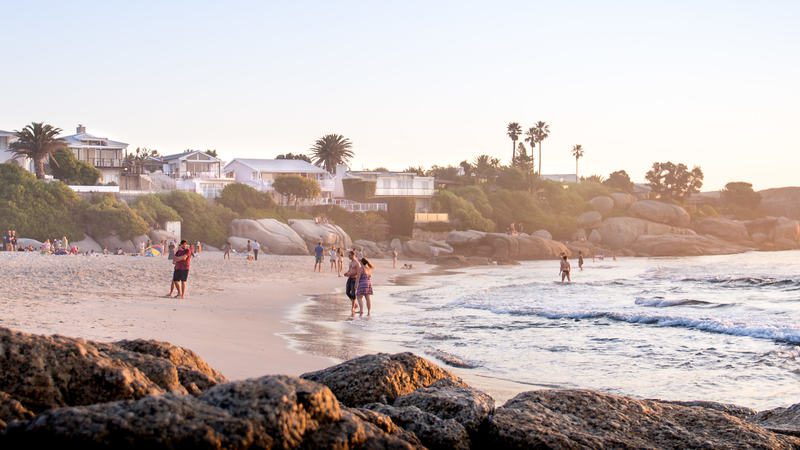 If surf, sand, and vitamin sea are your remedy, Cape Town is where you need to be.
There's a huge laidback surfer culture here, and for good reason – the beaches and surf are epic! Check out Clifton's four beaches – the beaches to see and be seen at and take it all in during summer.
Palm-fringed Camps Bay is equally busy, and also has a tonne of trendy cafes, restaurants, and bars just across the road. Did someone say cocktails in the sun?
Then there's Muizenberg with it's iconic colourful beach boxes, and Bloubergstrand with it's views back to Cape Town and Table Mountain if you have time for the drive.
Get your food and wine on
South Africa knows how to do wine, and if you're a person who enjoys places that do wine well (we like you already!) – you need to get yourself to the Cape Winelands.
Only a scenic hour's drive from Cape Town and home to many of South Africa's famous wine estates, the wine region is all rolling vineyards, towering mountains, and historic colonial architecture.
The most famous town of all, Stellenbosch, is beautiful and definitely worth a visit – but for an equally delicious day trip with as much eye-candy, we recommend spending more time in Franschhoek. One of South Africa's oldest towns, it's got splendid wines, delish food, epic scenery – and all minus the crowds of Stelly.
We can also promise you that Cape Town will never, ever, EVER leave you wanting for tasty food. We were stuck in an endless cycle of food heaven and food coma!
Walk the gardens of Kirstenbosch
Cape Town is extremely rich in biodiversity, and there's no better place to check some of this out than at one of the greatest botanical gardens of the world, Kirstenbosch.
Now home to over 7,000 plant species (many endangered) these gardens have been around since 1913, and are the only botanical garden to be housed within a UNESCO World Heritage Zone.
If you're lucky enough to visit Cape Town in Spring, the gardens are coated in a colorful blanket of cape wildflowers – a sight you don't want to miss! The amphitheatre is also a popular summer music spot for open air gigs.
Embrace quirky Kalk Bay
Kalk Bay might be a little fishing village at heart, but it's also one of Cape Town's trendiest seaside villages.
The pace of life is slower here, and beats with a chilled out, bohemian atmosphere and quirky street scene. Hip cafes serve amazing coffee, interesting antique shops sell you bargains you didn't even know you wanted, and chilled beach bars whisper to you to come enjoy that sundowner you've been craving all day.
Go right to the edge of Africa at Cape Point
Standing on the edge of a continent is a pretty boast-worthy claim, but here, at Cape Point, you're able to do just that, by planting your feet firmly on Africa's most southwesterly point – the Cape of Good Hope.
This is a full day's trip, so deter along Chapman's Peak drive and the western coast to take in some of the most beautiful scenery in all of Cape Town.
Want to explore Cape Town for yourself? Check out our South African small group adventures.
Words and images by The Common Wanderer.

Feeling inspired?