To walk the Camino alone or in a small group. That is the question.
Everyone has their reasons for walking the Camino de Santiago. Whatever it is you're seeking, this ancient walk promises to be a challenging yet unforgettable adventure. It's a chance to get out of your comfort zone, connect with like-minded travellers and discover some of Spain's most charming countryside along the way. But should you do a self-guided trip or go as part of a tour?
If you're thinking of crossing one of Europe's oldest pilgrimages off your bucket list, here are six reasons why you should do a guided walk instead of going alone.
1. Meet like-minded travellers
There's something pretty special about sharing new experiences with like-minded travellers. When you meet people on the road, it often forges a deeper connection that can be hard to find in 'normal' life. On a guided Camino tour, you'll have the opportunity to meet people from all walks of life – people who you probably never would've crossed paths with otherwise. You'll share the journey together (and the laughs, emotions and challenges that come with it). Who knows, your new walking buddies might even become lifelong friends.
READ MORE: WHAT I LEARNED ABOUT MYSELF ON AN INTREPID WALKING TOUR
2. Benefit from the inside knowledge of a local leader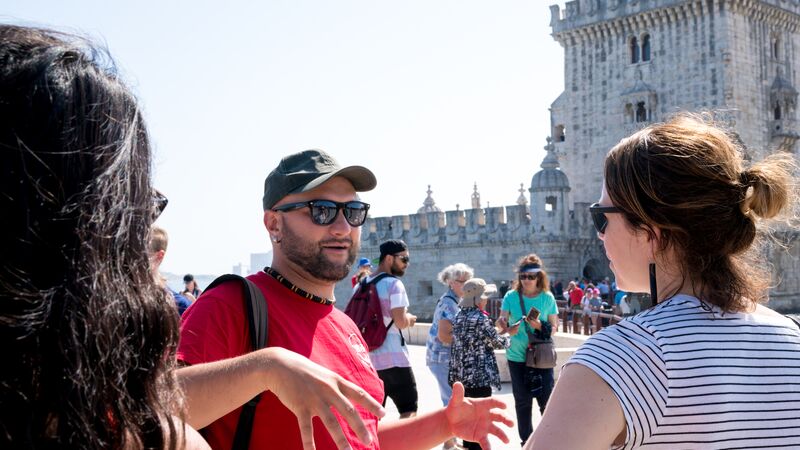 The Camino is well-signposted, so getting lost isn't usually a problem. But if you do a self-guided walk, you won't benefit from the amazing knowledge of a local leader. Whether it's the history of famous sites and landmarks, recommendations for local Galician delicacies and restaurants, funny anecdotes or moving stories, your guide will be there to support you every step of the way. Having to rely on a travel guidebook or Google doesn't compare to having a local by your side.
3. Take the load off (literally)
Forget about lugging your suitcase or rucksack around with you. On a guided tour with Intrepid, your bag will be taken to your accommodation each day. All you need to do is bring a small day bag big enough to carry your essentials (camera, water bottle, purse, etc). When you're walking this many kilometres every day, your feet will thank you for the lighter load.
READ MORE: WHY YOU SHOULD DO A GUIDED WALKING TOUR IN EUROPE (SOMETHING I LEARNED THE HARD WAY)
4. Get a good night's sleep
After walking up to 29 kilometres every day, it's likely you'll fall asleep as soon as your head hits the pillow (especially after a glass or two of wine). But if you're a light sleeper, or if you'd rather not risk losing a precious night of sleep in a noisy hostel, then a guided tour is the way to go. Accommodation will be organised for you each night in private hotels or guesthouses, so you'll be more likely to get a good night's sleep. Accommodation on the Camino trail gets booked up fast, particularly in the peak summer months, so you won't have to worry about securing rooms in time.
5. Eat the best local food
Torricado, tapas and tempranillo. Need we say more? The Spanish and Portuguese know how to eat, and a Camino tour is as much of a journey for your tastebuds as it is for your feet. Thanks to your local guide, you'll be fed and watered in the best local joints without having to traverse the streets a gazillion times trying to decide where to eat (we've all been there). Tuck into Galician specialties like polbo á feira (market-style octopus with olive oil and smoked paprika), creamy Arzúa Ulloa cheese or crispy pimientos de Padrón (Padron peppers) sprinkled with sea salt.
READ MORE: A CULINARY JOURNEY ACROSS NORTHERN SPAIN
6. Delegate the details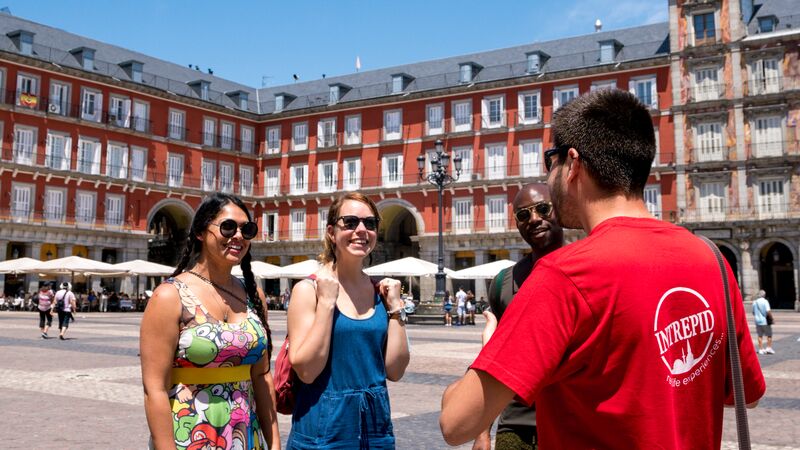 On a guided tour, everything is taken care of from airport and luggage transfers to accommodation and cultural activities. For some, organising every minor trip detail is all part of the fun, but if you do enough admin in everyday life and would rather switch off, pack your bag and hit the trail, you might enjoy a guided tour. Plus, you can use the time you'd usually spend planning to get excited about what you can eat and drink, or maybe even learn a few Spanish or Galician phrases.
The same goes for once you're walking the Camino. Your guide will take care of all the logistics, housekeeping and any potential hiccups so you can fully immerse yourself in your Camino experience.
Have you got itchy feet? Check out Intrepid's Camino de Santiago tours.
Feeling inspired?