If you were planning to take on one of the famous Great Walks of Europe, would you haphazardly pack, head on your way, and basically just wing it? Of course you wouldn't. You're smart.
This isn't your hiking pro's guide to hitting the trails. This is an account of three idiots who thought they'd try something 'outdoorsy' to balance out all their inevitable overeating and drinking on a seven-week Europe trip. Sometimes, winging it is okay. And sometimes, you should leave it to the experts.
Large luggage, little laneways
If my friends and I had booked a guided walking tour when we visited Cinque Terre – the five historic seaside villages perched above the Italian Riviera – there's a good chance we'd have been advised to pack more appropriately. Hauling our giant wheely suitcases across ancient cobblestones, along steep, winding laneways, and up approximately 12 flights of stairs from the station to our cliffside accommodation was a confronting start to the trip.
When you do a guided Great Walk of Europe like the Portuguese Camino tour, your luggage is transported between stops. Instead, we were doomed to almost dying of exhaustion each time we moved to a new town during our holiday. As we looked around and saw just about every other traveller with a sensible backpack, it was clear: we really didn't get the memo.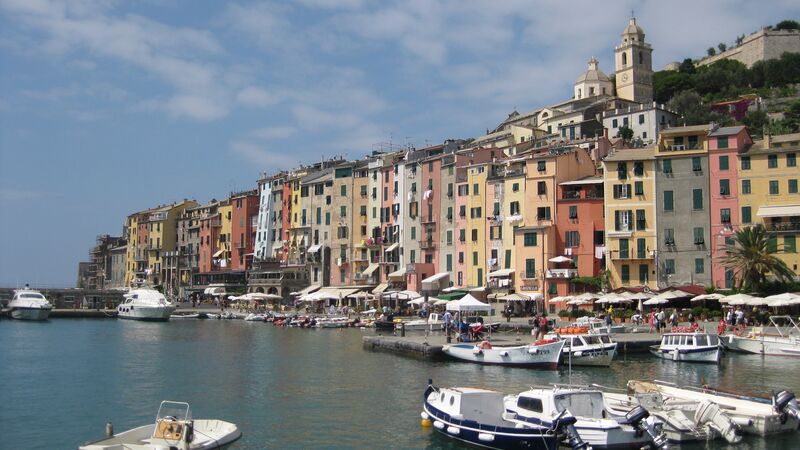 Did you know that trail closures are a common occurrence in Cinque Terre? We didn't. Landslides, dodgy weather, and upgrades and repairs can mean sections are closed for months or even years at a time. Of course, if we'd been booked on a guided tour, our leader would have shared that kind of useful info and suggested other routes we could take.
Instead, our approach involved spotting a scenic boardwalk from a distance and deciding it looked right up our alley (read: easy). Grabbing a takeaway coffee to enjoy along the way, plus one bottle of water between the three of us, we set off, excited to enjoy the gentle stroll along the beautiful La via dell'Amore to Manarola.
Except that didn't happen. Because – you guessed it – the route was closed. So, we came up with plan B. Following signs for an alternative path to Manarola, we started up what increasingly revealed itself to be a very steep hill climb. No turning back now!
Does it even need to be said? Bring water. Lots of water.
That's how I ended up trekking up a hill in the heat of the June sun with nothing but the milky dregs of a coffee to keep me hydrated. I might also take this moment to mention the highly impractical cheap canvas sneakers I'd chosen to wear, which, as we began to ascend the mountainside's steep steps and gravelly paths, provided no grip whatsoever.
On Intrepid's Hike the Rota Vicentina in Portugal tour, travellers are advised they'll be passing through remote and undeveloped parts of the landscape and need to bring a day pack to carry enough water and snacks for each day. They're also told to wear the right shoes. Just imagine having that kind of foresight.
LEARN MORE: DOING THE GREAT WALKS OF EUROPE WITH A GUIDE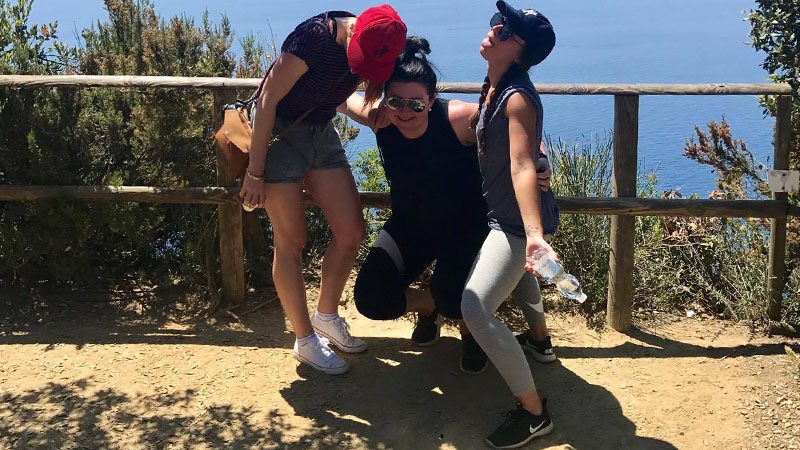 Turns out it's hard to grab onto the railing for support when you only have one free hand. There I was, looking like a misplaced Melbourne poser with my empty coffee cup and not a bin in sight. While my friends and I rationed sips from our one bottle of water, we couldn't help but exchange wistful 'if only someone had prepared us correctly' looks, as we staved off heat exhaustion under a tree.
When you hike popular trails in Europe like the Cinque Terre or the Lycian Way with a guide, you often set off early in the morning or later in the afternoon to avoid the heat. Not in the middle of the day when it's 'nice and sunny'. Lesson learned. Not surprisingly, we never even made it to Manarola that day. Let's just say the combination of the rocky downhill route, the searing heat, our jelly legs and crappy shoes meant we took the easier option of simply turning back.
But let me tell you, there's nothing quite as motivating as extreme thirst. I'll never forget the sweet relief of making it back to the local store and literally running to the drinks fridge to power-chug whatever icy-cold beverage I could get my hands on. I imagine what the polite woman who served us thought as she observed our sweaty red faces and delirious expressions was something along the lines of "Stupidi turisti!".
HIKE THE LYCIAN WAY WITH AN EXPERT GUIDE
A little knowledge goes a long way
I'm happy to say we did finally tick off a proper Cinque Terre walk before we left the region. After chatting to some helpful fellow travellers, we found out we could jump on board the Cinque Terre Express, a train that stops at each of the five villages,and start a walk from further along the trail. That took us to Corniglia, where we set out on the 1.5hr walk to Vernazza.
Better prepared this time with plenty of water, we were awed by ridiculously picture-perfect views along the way. It definitely wasn't an easy walk but even for non-hikers like us, it was doable. And we felt fully justified gorging on massive bowls of pasta in a Vernazza trattoria as a reward for all that walking.
I probably owe Cinque Terre a redo. But if I ever have visions of hiking another one of the Great Walks of Europe, I'm going to take a moment and get real with myself. I'm booking a group tour.
Feeling inspired?