Orchha might just be the greatest Indian town you've never heard of.
I can distinctly remember carefully looking over my Delhi to Kathmandu itinerary before departure, and having no discernable idea of where Orchha was, or why it might be worth including on an India itinerary.
Of course, I knew Delhi, Agra, Varanasi, Kathmandu, and other hotspots, but my mind just drew a blank when it came to Orchha. It's a wonderful thing, too, because when you have no preconceptions about a place, you're leaving the door wide open to be wowed.
Orchha, as it turns out, is a very different side of India, and one that I'm very happy I became acquainted with. In many ways, Orchha was the unsung hero of the trip, as it offered an intimate look into a different pace of life with a history that was both fascinating and captivating.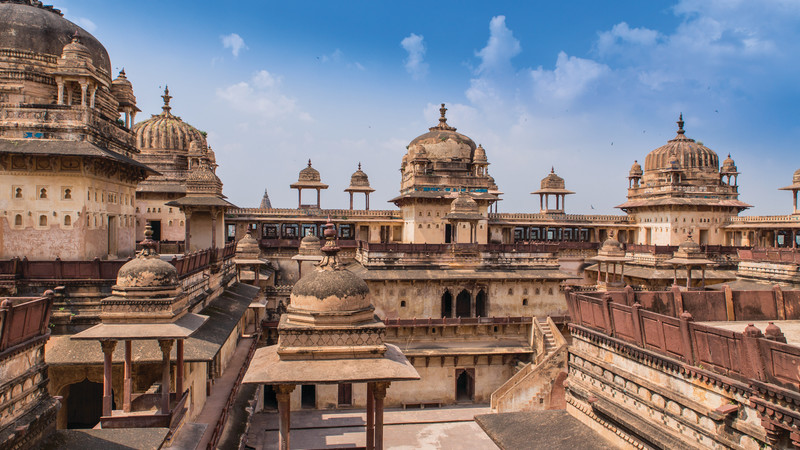 This town, one that's only recently been considered through the lens of tourism, offers something that few other places in India can which, for me, makes it a must-visit when in India.
Why come to Orchha?
Founded at the turn of the 16th century by Rudra Pratep Singh, Orchha quickly became of some importance because of the impressive and opulent fort that was built there during Singh's reign, as well as his own showing of independence and military might. He was a chief of Bundela Rajput descent who reigned over the city from 1501 to 1531, during which time he accomplished an awful lot.
What's remarkable about Orchha is that, compared to other Indian towns and cities, it remains very much unchanged from its original formation. The town has a distinct medieval aura that woos you with its charm. Sure, modern daily life swirls around the town, but the building blocks of the town are clearly and delightfully historical.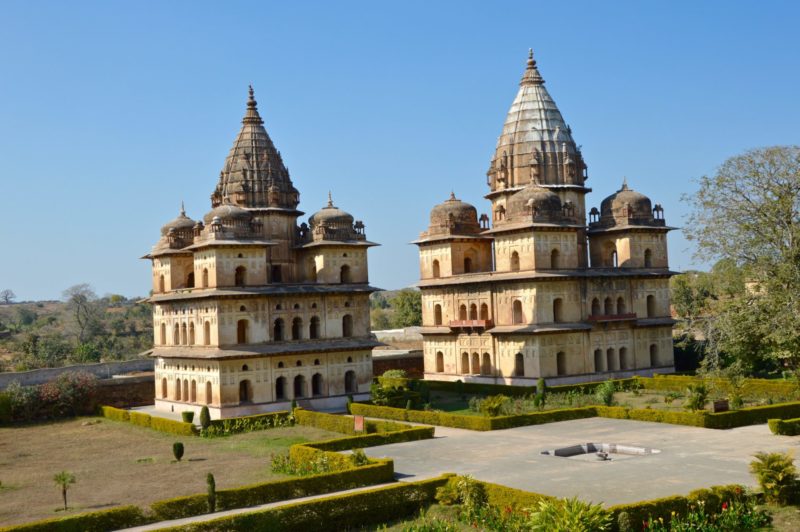 With a population of about 10,000 people, Orchha provides the perfect counterpoint to cities like Delhi which, quite literally, have populations thousands of times the size. I can speak from experience when noting this, as, among my group, Orchha was a clear crowd favourite, and I firmly believe that's because it's just so different from everything else we experienced in India.
GET OFF THE BEATEN PATH IN INDIA WITH INTREPID TRAVEL
What should I see and do in Orchha?
Orchha, due to its size, is a really manageable city from a tourist perspective. During our visit, Intrepid set up guided tours of major sights, but we also had a fair bit of time to explore on our own, which I actually really appreciated. This setup ensured that I covered my bases from a historical perspective, but that I also had some room to make this part of the trip "my own," and discover on my own terms.
Part of making "my own" trip ironically consisted of discovering with others in my group. John and I actually ended up bonding over our experience at Orchha's funerary temples (known as Chhatris), which wasn't on the itinerary, but meant a lot to both of us. We also ended up seeing some other members of our group there as well, and taking a few fun photos together, which only added to the experience.
Regardless of how you choose to tackle the town, here's what I'd recommend seeing:
Orchha Fort Complex
In Orchha, you simply won't be able to miss the Orchha Fort Complex, even if you wanted to. This sight dominates the skyline and the feeling of the town. The complex consists of the fort itself, but more broadly refers to the palaces and temples in the same area of the fort itself, as well as the gardens and pavilions.
READ MORE: THE MAGIC OF MOVING OUT OF YOUR COMFORT ZONE IN INDIA
The main palaces which are worth seeing are Raja Mahal (Raja Mandir), Jehangir Mahal, and Sheesh Mahal. Jehangir Mahal in particular is spectacular, and will likely resemble nothing you've seen previously in your life. If you're a fan of Indo-Islamic architecture, then you've hit the proverbial jackpot. It was built in the 17th century by the ruler Vir Singh Deo, who built it as a warm welcome for the visit of the Mughal Emperor Jahangir.
Apparently the welcome wasn't warm enough, as the two engaged in a bloody war shortly thereafter with Jahangir's troops coming out on top. However, it wasn't long before Vir Singh Deo again was back on top, and he remained a proud fugitive the rest of his life.
Chaturbhuj Temple
Like the Orchha Fort Complex, you couldn't avoid the Chaturbhuj Temple even if you wanted to. The spherical spires stretch nearly 350 feet into the air and are impressive and imposing to say the least. The temple was started by Madhukar Shah, but completed by his son, Vir Singh Deo in the 17th century. The temple is dedicated to the god Vishnu, which is exemplified by the name "chaturbhuj," which in sanskrit literally translates to "one who has four arms."
Looking at dates, it's clear the Bundela Rajputs went on an unprecedented building spree in the early 17th century and constructed an impressive collection of buildings and temples, most of which are still standing today.
SUBSCRIBE TO INTREPID'S NEWSLETTER FOR OFFERS, GIVEAWAYS, TRAVEL TIPS AND STORIES
Chhatris
These cenotaphs are living monuments which pay respect to Orchha's past royalty, including the likes of Vir Singh Deo, which is separated away from the rest of the cenotaphs near the water. As I mentioned before, during our afternoon off, myself and another participant, John, moseyed on down and were in awe when we got there. Chhatris, right on the banks of the Betwa River, is just a 10 or so minute walk from the center of the town, and I'd strongly recommend a visit.
A cooking class to remember

The cooking class which you can take part in with Intrepid might just have been the highlight of my time in India, if only because we were warmly welcomed into someone's home in Orchha for the experience. We learned about the local cuisine in an intimate cooking demonstration in a local family's home. The kids were working on their homework with dad, and mom graciously made a meal from scratch, then we were able to indulge, and it was scrumptious.
Understanding what went into the meal (which was, as it turns out, equal parts spice and love) altered my experience and appreciation for Indian cuisine. While I do love solo travel, I really don't see how I would have had this experience without Intrepid's support for and connection to the local community.
READ MORE ABOUT THIS MEMORABLE COOKING CLASS
Furthermore, our local leader, Chime, played a big part in elaborating upon and contextualizing the importance of cooking in Indian culture and, once again, served as an important bridge for our knowledge of India.
Oh to be in Orchha Again
More than big cities like Delhi and Kathmandu, I yearn to be back in Orchha. In many ways, Orchha is like one big outdoor museum, where you're immersed in the town's history and stories. That's what I keep coming back to with Orchha, the sense that you can get the story and see the town without much effort because almost all of the town is worth seeing.
However, I also know the value of going to a place like Orchha and putting in that effort to understand and appreciate what makes the town unique. They've got a proud heritage that you'd be remiss not to dive into while you're a guest in the town. It's a history that I didn't know that I'm now personally attached to, and I'm grateful for that.

Places like Orchha – smaller places that can sometimes get lost in the tourist fray – provide value because you don't have a set of expectations for the town or city to live up to. You get to arrive with an open mind and heart, and simply let yourself get swept away.
Do you want to be swept away by the magic of India? Check out Intrepid's range of small group tours.
—
(Image credits from top to bottom: Intrepid Travel x2, Christ Mitchell x5.)
Feeling inspired?