There's no doubting that Venice is one of the most touristic cities in Europe.
While the rest of the world regards Paris as the city of lovers, Parisians have reserved this title for Venice, meaning that it can be hard to escape the clichés that come along with it, especially in a city that's hardly even inhabited by native Venetians.
But in spite of its status as a living museum, with a bordering on cheesy reputation, there's something undeniably enticing about this place that draws people from all walks of life. After all, the prospect of meandering down Venice's narrow, waterlogged corridors, gelato in hand, is enough to appeal to most people's sense of wanderlust. That in mind, we're here to assure you that it is possible to have an authentic experience in Venice – here's how.
Getting the lay of the land
The number one key to escaping the gimmicks and the crowds is to put a bit of strategy in your approach to roaming the city. And don't believe the gondola hype – the best way to get a sense of Venice's essence is actually through wandering it on foot.
For starters, stay away from the main drags as much as possible. In fact, the farther you walk from these spots, the more magical the atmosphere will become. Ditch Google maps and get utterly lost for at least a couple hours. Pay attention to the details as you go: the fading foundations of buildings, the wrought iron handrails, the contrast of blue-green water against brightly colored buildings, the laundry hanging overhead as it sways in the breeze, the narrow passageways, and vacant plazas of lesser notoriety.
Naturally, there are certain points of interest that you just can't miss no matter how wary you are of the banal. Such places include the Plaza San Marco and the Grand Canal. Our recommendation? Wake at sunrise and walk to Plaza San Marco. You'll have this astounding place to yourself, save for a handful of lazy pigeons here and there.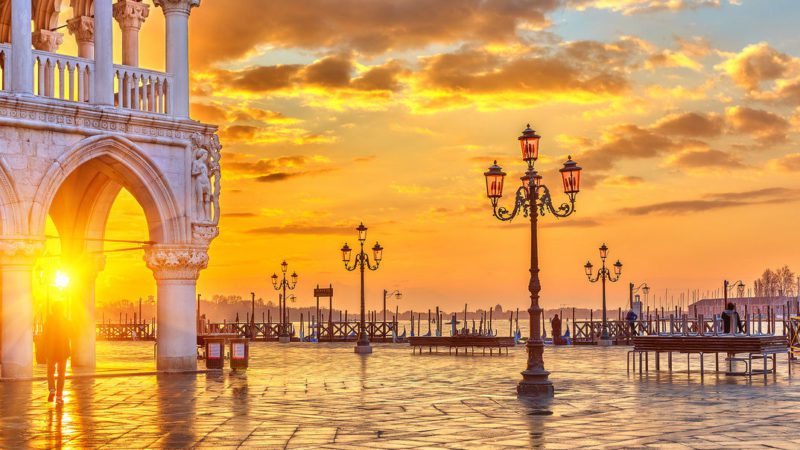 Admire the Venetian Gothic architecture displayed in Doge's Palace and the sprawling St. Saint Mark's Basilica, two of the city's most prominent landmarks. That said, don't limit your architectural exploration to these. For something a bit more unique and underrated, venture further up the Grand Canal to the resplendent gold and white Ca' d'Oro, one of the oldest palaces in the city.
Speaking of the Grand Canal, the view from the top of the Ponte dell'Academia bridge truly is something to behold. After all, the colorful palazzos lining waterfront promenades punctuated with the intricate domes of St Mark's are the scenes that made this city famous. Except, don't simply come here, snap some photos, and rush off to the next activity on your itinerary. Linger on by having a stroll through the surrounding Dorsoduro neighborhood as the streetlights go out and the city really awakens.
End your early morning tour down at the water's edge, taking in the gossamer fog ascending over the Venetian Lagoon. Venice really is a different city during the earliest hours of the day, and those who are able to rise in time to enjoy it will be duly rewarded. Then, time for an espresso!
The dream cuisine
Let's be honest, any proper vacation to Italy had better feature a solid portion of culinary decadence, no matter what other motivations you might have for visiting. While we've already advised staying off the beaten path, it's worth emphasizing this with regard to food and drink. The best spots are a bit more inland from say, the Grand Canal or the famed—and dare we say, overrated—Ponte Rialto.
One approach to delving into Venice's food scene is to seek out those inviting familial establishments where you're greeted warmly and fed heartily by people that make you feel like one of their own. This is a quintessentially Italian cultural experience, and nowhere pulls it off better than the Porta d'Acqua in the San Polo Sestieri. From start to finish, the meals here are superb and everything is made from scratch. With its rustic interior, jovial owner who makes a point of personally being at his patrons' service, and the best burrata you've ever had, you might be tempted to come here twice on your trip.
RELATED: 7 UNIQUE ITALIAN DISHES TO TRY, BY REGION
If you're in search of a similarly cozy and welcoming atmosphere for drinks, all'Amarone is the place to be. Family-owned, this spot is nestled on a small side street near Rialto and boasts a phenomenal selection of regional wines.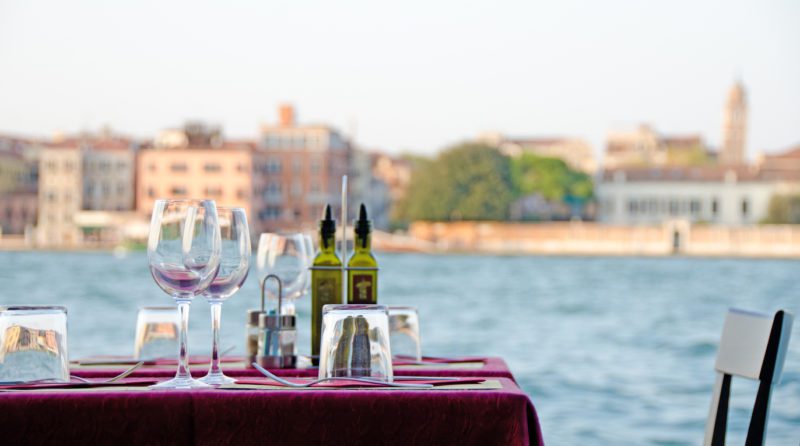 To explore new culinary territory as well as reconstructed Italian favorites, there are also a few establishments worth adding to your list. First and foremost, if your ideal vacation involves a bit of indulgence, an evening at PGs Restaurant and Bar will leave both you and a partner swooning. The interior features leather-upholstered chairs and sofas, fur throw blankets, two large bars and a cozy fireplace inside. The ambiance is superb, but the food definitely manages to surmount it. PGs offers a grand, multi-course tastings menu, complementary olive oil sampling, and the dishes are served with stunning presentation.
For an aperitif of equal appeal, ditch the tacky touristy bars and duck into the stylish Osteria Bancogiro in Rialto for an Aperol spritz.
SUBSCRIBE TO INTREPID'S NEWSLETTER FOR TRAVEL INSPO, COMPETITIONS, GIVEAWAYS & MORE
The art scene
It would be doing both the city and its curious visitors a disservice to gloss over Venetian art culture by merely referencing it in relation to food. For the art lovers among you, we've saved the best for last. Venice has long been known for its prestigious Biennale, but we wager that most travelers aren't coming exclusively for this event.
So, it's worth noting that there are some prized artistic gems to keep on your radar. Most travelers include a visit to Murano to see its famed glass-makers in action, but the island tends to be pretty overrun with tourists. The Peggy Guggenheim Museum on the other hand, really isn't something to be missed, as it is easily one of the best modern art collections in Europe. Located in Dorsoduro in the Palazzo Venier dei Leoni, the estate itself is equally elegant.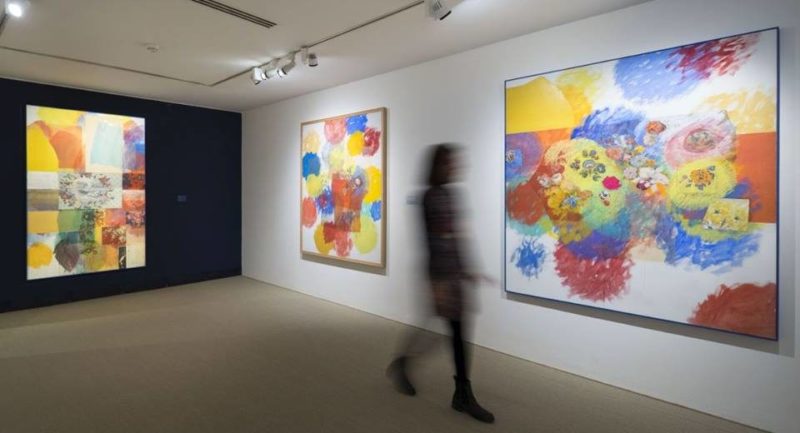 But don't confine your time simply to the traditional stuff. The experimental nature of the Biennale has also left its mark. Venice has a vibrant flair for contemporary art, and there are plenty of galleries awaiting those looking for a different brand of beauty and provocativeness. The gallery Teatrino di Palazzo Grassim, for example, hosts an ever-changing array of temporary exhibitions along with the permanent Francois Pinault Collection.
So there you have it. This antiquated port city still manages to excite all the senses with its rich past and cultural allure. Even though Venice has its fair share of tourist traps, a genuinely enchanting visit to this remarkable city is available for those who seek it.
Feeling in the mood for a trip to Venice? Check out Intrepid's 15-day trip that ends there. 
—
Image credits (top to bottom): Intrepid Travel (x3), Lily Cichanowicz, iStock, The Peggy Guggenheim Collection Facebook page.
Feeling inspired?