Pity the man who missed out on Miyajima while they were in Japan. It's not a saying, but it should be. No visit to the country can really be complete without witnessing the peaceful beauty that is Miyajima Island. Though it's risen in popularity recently, it remains a gem that can't be compared with any other part of Japan. Well, in my humble opinion at least…
It's particularly ideal for those visiting Hiroshima. From there, you simply take yourself to Miyajimaguchi Station and hop on a 10-minute ferry ride.
The main attractions of the island aren't far away from where you land – the first being the herd of deer relaxing amongst the trees. Extremely accustomed to humans, you can get very close and both pet and take selfies with them as they relax on the grass. But be warned: as cute as they are, these deer will likely follow you begging for food and it's best not to feed them.
Miyajima has three easy hiking trails that lead up to Mount Misen, its highest peak. The Daisho-in Trail comes the most recommended for its sweeping views of the Seto Sea 500 meters above sea level, as well as its relatively flat incline. The Momijidani and Omoto Trails are steeper and a great pick for those looking to wander through the forest.
SUBSCRIBE TO OUR NEWSLETTER FOR TRAVEL INSPO, GIVEAWAYS & MORE
All three take a maximum of two hours to complete, and lead the hiker to some of the oldest Buddhist and Shinto temples in Japan – and maybe a monkey or two, if you're lucky.
The visit is especially beautiful in September, when the Daisho-in temple is gloriously lit up for the Candle Festival.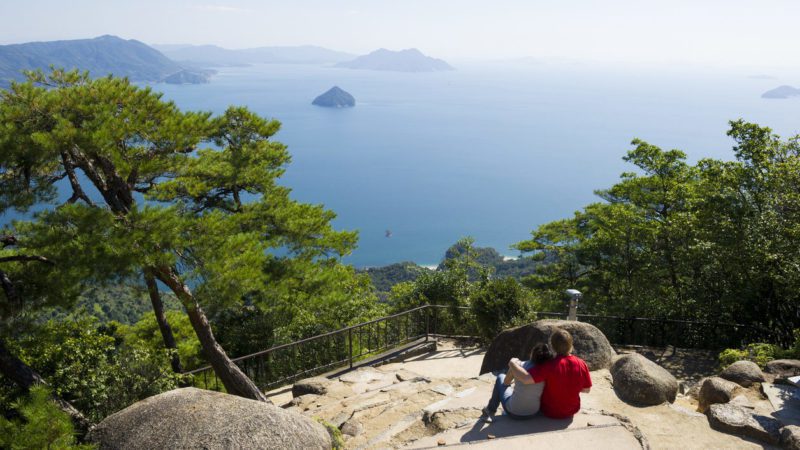 Once you've headed back down the mountain and into town, it's time to grab some bites. Known for its oysters, conger eel and momiji manju desserts, you can easily try all three by strolling through the main Omotesando Street and its side streets. While filled with tourists and souvenir shops, the town is definitely still worth a stroll for its street stalls.
RELATED: YOU CAN CHECK OUT MIYAJIMA ON OUR 14-DAY SMALL GROUP TOUR
Stop by Pettara Pottara for its oyster or eel-filled grilled rice balls, Kakiya for a sit-down oyster meal, and Momijidou for its maple-leaf shaped pastries stuffed with sweet bean paste (that come paired with complimentary cup of tea!). Make sure you amble around the Five Story Pagoda, an inspiring feat of wooden architecture rising into the blue skies.
With a full stomach, head on to the star attraction of Miyajima. The Itsukushima Shrine is a UNESCO site and is often cited as one of the three most gorgeous landmarks in all of Japan. The centuries-old building is composed of prayer halls, a main hall, multiple buildings, and a traditional noh theater, all standing on low stilts above the ground.
The real magic here happens in the late afternoon, when the tide rises and the sun starts to go down. Dip your feet in the clear waters on the shore, and watch the famous torii gate become 'submerged' in water and magically appear as if it's floating on the sea as the minutes pass by.
At sundown, a quiet crowd of people accumulate on the shores and admire the sight together in awe. Once you've seen this unforgettable sight, back-lit by the setting sun, you'll understand why Miyajima translates to "shrine island."
Want to see the beauty of Miyajima in person? Check out Intrepid's 14-day small group tour, Land of the Rising Sun.

Image Credits (top to bottom): Intrepid Travel, iStock, Intrepid Travel x2
Feeling inspired?