With its incredible natural landscapes, neon-lit cities and distinct culture, Japan is endlessly fascinating. Where else are ancient customs, craftsmanship and religion so intertwined with cutting-edge technology and fashion-forward style? One day you can be whisked from one end of the country to another on a high-speed train, the next you can gently cycle through the Land of the Rising Sun's quieter corners, with barely a soul in sight. And with exceptional food to boot, travellers heading here are in for a treat.
Everything in this amazing land is so different from Western norms, that you're bound to find yourself pleasantly disoriented as you attempt to navigate it. To help, we've pulled together a list of some of the places you shouldn't miss when you visit.
1. Osaka Castle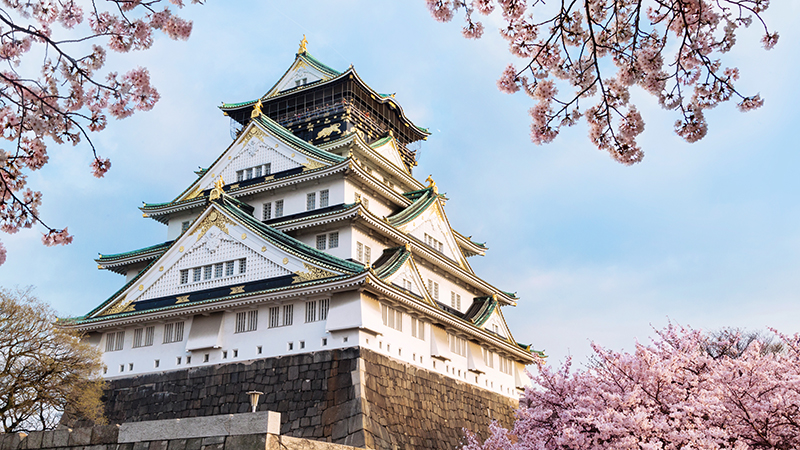 This wedding-cake-like castle looms dramatically over its surrounding moat and gardens. Japan's third-largest city, Osaka used to be the country's base for trade with Korea. Merchants would set up around the castle in the 16th century, before the city became the busy economic hub it is today. The castle you see now is actually a 1931 reconstruction of the original, built in 1583 by General Toyotomi Hideyoshi as a display of power. Marvel at the displays of art and armour inside, or simply cycle through the castle grounds to glimpse it from all angles.
2. Arashiyama Bamboo Grove
Crane your neck and look skywards as you enter a world made up of seemingly endless stalks of bamboo and dappled green light. This magical bamboo grove, in Western Kyoto, is sure to be unlike any forest you've ever encountered. The grove runs from the north gate of Tenryu-ji to just below Okochi Sanso villa.
RELATED READING: WHAT IT'S LIKE TO TRAVEL IN JAPAN AS A SOLO TRAVELLER
3. Gion
Kyoto is the capital of the geisha world. And the city's Gion district, a warren of narrow cobbled lanes lined with well-preserved wooden buildings, is geisha central. Strictly speaking, in Kyoto, geisha are actually called 'geiko', or 'maiko' if they are still in their five-year apprenticeship. Wander through certain streets in Gion at around 5.30pm, when the maikos and geikos are walking to work, and you might catch sight of these beautiful red-lipped, kimono-clad entertainers.
4. Ryoan-ji Temple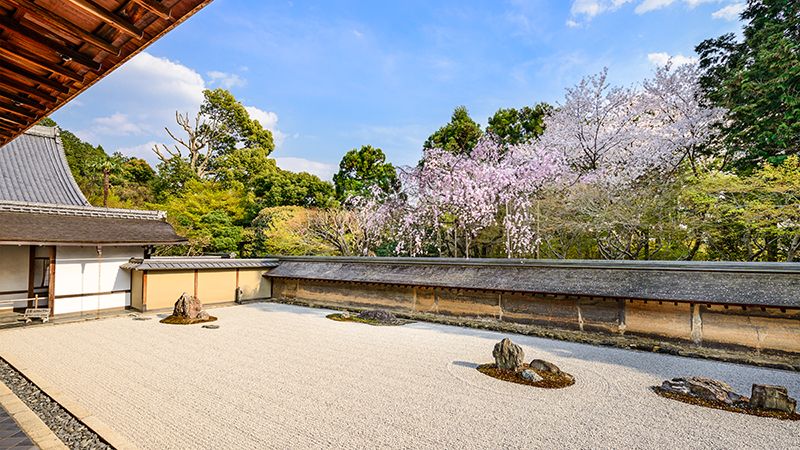 Crunch through the gravel as you stroll past a lilypond in the grounds of this Zen temple, founded in 1450. Here you'll find a rock garden – one of the symbols of Kyoto and one of Japan's best-known sights. Sit in quiet contemplation as you gaze at the oblong of sand, with a collection of 15 carefully placed rocks, seemingly adrift in the sea of sand. The design – by an unknown artist – has long baffled historians and entranced visitors.

5. Nara
Prepare to meet some very important deer as you enter Nara, which is easy to visit as a side trip from Kyoto. Here, some 1200 deer roam Nara-kōen, a fine park in the east of the city. In pre-Buddhist times, the deer were considered sacred messengers of the gods, and killing one was punishable by death until 1637. Now they enjoy National Treasure status and stalls sell deer food for ¥150. Tear yourself away from them to gaze at one of Japan's most impressive sights, the Daibutsu (Great Buddha). Housed inside the impressive Todai-ji temple, it's the world's largest bronze Buddha statue.
6. Kenroku-en Garden
Located in Kanazawa, this Edo-period garden is ranked as one of Japan's top three gardens. Beautiful in all seasons, it's home to teahouses, pagodas and the country's oldest fountain, which operates using natural water pressure from the pond above. The Kotoji Toro, a two-legged stone lantern on the edge of the mirror-flat Kasumi Pond, is one of the best-known symbols of the park. Go early to avoid the crowds and maximise your chances of peaceful reflection.
RELATED READING: WHY KANAZAWA IS JAPAN'S BEST KEPT SECRET
7. Senmaida Rice Terraces
On the Noto Peninsula, Senmaida, which translates as 'One Thousand Rice Fields', snakes up the hillside beside the Sea of Japan. There are actually 1004 terraced rice paddies, illuminated with 21,000 solar LEDs after the harvest (mid-October until mid-March). Once a common sight in Japan, this ancient method of farming is vanishing.
8. Tsukiji Market
You can't leave Japan without visiting one of its many fish markets. Some figures say the Japanese account for 10% of the world's fish consumption. And it's easy to see why when you wander through Nishiki Market in Kyoto and Tsukiji Market in Tokyo. Fist-sized oysters, severed fish heads, bright red octopus and eel skewers are all on display. This is one of Tokyo's best spots for a sushi lunch – it doesn't get much fresher – and jetlagged travellers should ward off grogginess by heading to Tsukiji's famous tuna auction, which kicks off around 5am.
SPOIL YOUR SENSES ON OUR REAL FOOD ADVENTURE FROM TOKYO TO KYOTO
 9. Shibuya Crossing
 This is the Tokyo of your imagination. Crowds of people rushing past you, neon lights, giant video screens – and the world's busiest pedestrian crossing. Also known as 'The Scramble', this intersection, in front of Shibuya Station, sees over a thousand people come from all directions at once at every slight change. Here you're well-placed to discover the teen culture vibe of this area, centred around the bright and lively pedestrian street Center-gai, lined with restaurants and high street fashion shops.
10. Senso-ji
Soak up the atmosphere at Tokyo's most visited temple, which you enter via the vibrant red Kaminarimon, or 'Thunder Gate', with its lantern and statues. The path towards the temple is lined with stalls selling everything from tourist trinkets to food. There's also a 55m Five Storey Pagoda – each level representing the five elements of earth, water, fire, air and heaven. The temple itself enshrines the golden image of Kannon, the Buddhist goddess of mercy, that was allegedly pulled out of the nearby Sumida River by two fishermen in AD 628.
Feeling tempted to visit these spots yourself? Check out our range of small-group Japan adventures today! 
NOTE: This post was inspired by our 14-day Cycle Japan tour
All images c/o – Shutterstock unless otherwise stated
Feeling inspired?