Japan is a dream destination for many travellers, yet all too often people delay or put off their trips entirely because of one looming fear: the cost.
Perhaps it's the image of Japan as a futuristic tech hub, the Lost in Translation-esque city view bars where the cocktail prices are enough to warrant another ATM visit, or the idea of those $100 department store melons that seem to make the rounds of the Internet every so often.
The first time I visited Japan, I came with the same stereotypical expectations. I thought Japan was going to burn a hole through my pocket, and in some ways it did, simply because, as a tourist new to the country, I didn't know the local alternatives.
After 8 years based here, I can say that Japan rivals many developed nations with its budget friendliness, and today I'm on a mission to show you just how affordable it can be with some of my favorite travel hacks for sightseeing and dining. So let's travel Japan on a budget.
Take advantage of free attractions and events
It may come as a surprise, but a lot of major attractions in Japan are actually free. With the notable exception of Kyoto, most temples and shrines around the country are free of charge. As are most natural sightseeing spots – like the deer park in Nara, the bamboo forest near Kyoto, cherry blossom viewing areas, and even Mt. Fuji.
Traditional festivals are free too and are a fascinating window into Japanese culture. Summer is peak festival season, but you can find them all year round.
READ: THE ULTIMATE GUIDE TO 7 DAYS IN JAPAN
BOOK: A BUDGET-FRIENDLY EXPRESS TOUR OF JAPAN
Sightseeing combo tickets & special offers for foreign tourists
Japan has an insane number of sightseeing tickets that include discounted transportation, and even entry tickets, meals or other services as a combo deal. There are some that run year round, while others change depending on the season or during special events.
A great place to start your search is by checking the 'free passes' available. They aren't actually free but they usually refer to unlimited travel within certain areas. One of the most popular is the Hakone Free Pass, which allows you to explore the this popular hot spring area near Mt. Fuji with unlimited use of Odakyu-affiliated buses, trains, boats (it looks like a pirate ship, by the way!), cable cars and ropeways, and also includes discounts on various attractions.
To find out about the multitude of deals on offer, head into one of the tourist information offices or ticket centers at or near train stations. Many of the best discounts are foreign tourist specific, so remember to bring your passport with you to prove you are visiting Japan as a tourist.
SUBSCRIBE TO INTREPID'S NEWSLETTER FOR TRAVEL HACKS, INSPO, COMPETITIONS, GIVEAWAYS & MORE
Skip paid towers and go to free observation decks instead
The thing about popular towers is that they can be expensive, you often spend ages in line and then the view is so weather dependent.
Instead of Tokyo Skytree or Tokyo Tower, head to the Tokyo Metropolitan Government Building for a free city view instead – go to the south tower for the best panoramic view. In Kyoto, consider the station's free Sky Garden, rather than the paid Kyoto Tower across the road. Bonus: you can capture these towers in your photos!
Visit attractions on free admission days or at a discount
Many museums will have a free admission day, either once a month or for special holidays or events. It's worthwhile checking the websites of the places you want to visit and planning your sightseeing around free days or discounted times.
Insider tip: If you're short on time but are looking for an authentic cultural experience, check out Urban Adventures for a local-led day tour. They have itineraries in Tokyo, Kyoto and Osaka!
High quality Japanese food at a good price
When I'm hungry and want to eat good quality Japanese food, I love to go to Ootoya. It serves delicious teishoku style food – a traditional Japanese set meal with rice, miso soup and pickles – and is a must-try on any trip to Japan. One of my favorite dishes is the black vinegar chicken and vegetables. You can expect to pay around $8-10 for a meal here in a comfortable, restaurant-style setting.
If you're really hungry or just a big eater, request your rice oomori for a larger than average serving of rice at no extra cost. Ootoya is a chain that you can find all over the country.
Take advantage of lunchtime specials
Lunchtime is king for good-value meal deals. Japanese restaurants are renowned for having multiple menus. Be sure to sift through them all and locate the one with the daily lunch specials – usually called higawari ranchi. You can often find a set meal that also includes a drink and maybe even a small dessert for $5-7.
LOVE JAPANESE FOOD? CHECK OUT THIS 12-DAY CULINARY TOUR OF THE COUNTRY
Grab a ticket for a cheap meal
For a cheap meal on-the-go, you can try a vending machine restaurant.
Simply buy a ticket at the machine and then present it to the staff in exchange for your meal. Popular dishes at such restaurants include udon and soba noodles, and Japanese curry. You can find them everywhere and can easily get a meal for $3-4.
Here's an example of a typical set meal you can find at vending machine restaurants. It is a cold soba (great for the hot summer season!) with tempura prawns.
Did someone say free beer?
Yep, you can even try alcohol for free by taking advantage of the various free tours offered by Japanese breweries and distilleries. One example is the Suntory tour in Tokyo where you can get a free tour of the beer factory (in Japanese) that concludes with a tasting of three of their beers.
A free shuttle bus is even provided from the south side of Bubaigawara train station, near the horse-mounted samurai statue.
RELATED: 13 JAPANESE SNACKS YOU HAVE TO TRY
Conveyor belt sushi restaurants
For a sushi fix that won't break the bank, head to a conveyor belt sushi restaurant, where you can get a plate for around $1.
Plates usually include two pieces of sushi and allow you to try all kinds of sushi varieties that you may not have the chance to experience back home. I never spend more than $10, including a drink and miso soup, and always leave extremely satisfied.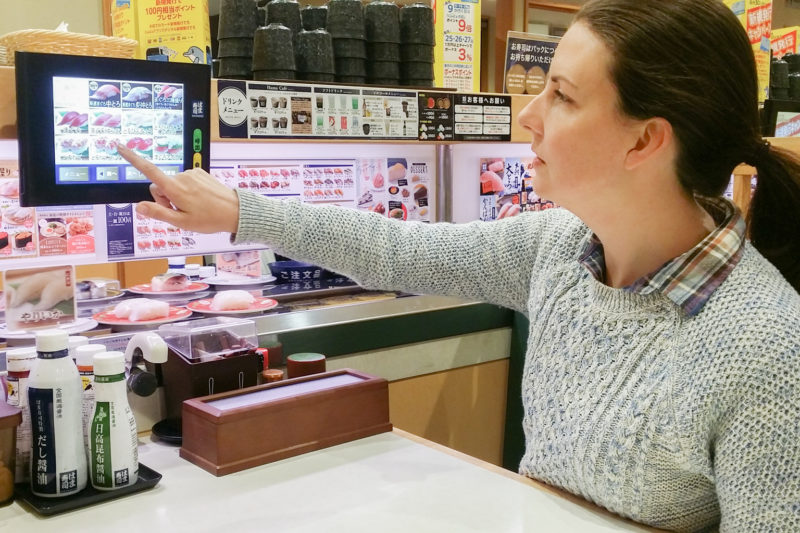 Part of the fun of visiting chain conveyor belt sushi restaurants is ordering your food via electronic screen. Just before your order reaches you, it will start playing a tune so you know it's yours for the taking!
ANOTHER INCREDIBLE JAPANESE CULINARY EXPERIENCE: CONVENIENCE STORE FOOD
Eat street food
Grabbing a bite at street food stalls is not only fairly friendly on the wallet, but it allows you to literally taste Japan through its variety of snack foods. Osaka is one of the best places for street food in the country. (Check out this definitive guide to Osaka's food scene.)
You absolutely cannot leave without trying takoyaki, balls of batter filled with octopus, and okonomiyaki, a savory Japanese-style pancake. Expect to pay around $5 for a light meal.
The experience is made all the more interesting with the gaudy, singing and moving sign displays along and around the Dotonbori shopping strip.
Go to "family" restaurants & get the drink bar
Famiri resu are not just for families. They are often bustling at lunch and dinnertime with students, workers and couples because they provide some of the best value meals around. My favorite one is Italian style Saizeriya, where you can get pizza and pasta for less than 4 bucks a pop.
For less than $2, you can add the drink bar, which you'll find at similar restaurants all over the country. This allows you unlimited soft drinks, juices, teas and coffees, including machine brews like lattes and cappuccinos.
Saizeriya also have the cheapest restaurant alcohol I've found anywhere – a glass of the house white or red is less than a dollar and 500ml decanters are around $3.60. Share a bottle of some of their 'nicer' wines with friends for just $10.
—
Tempted to visit this awe-inspiring country (even on a budget)? Check out our range of small group adventures in Japan.
—
(Hero image c/o Luke Attard. All other images c/o Jessica Korteman at notesofnomads.com)
Feeling inspired?