Craft communities and villages are becoming harder to find these days in Bangkok after decades of rapid urbanisation have taken their toll on the city's traditional living spaces. But there are still a few centres for crafts made by street-side vendors, using traditional methods and materials. This is one of the last.
On a narrow side street in Bangkok called Soi Ban Baat, just south of Wat Saket, the temple known as Golden Mountain, there's one of them: a small community of three families of artisans, popularly known as "Monk's Alms Bowl Village." For centuries these families have manufactured alms bowls used by monks to gather food offerings.
The families today say they have continued working "in the right place" and using almost the exact same methods as the previous generations, using only their hands and a hammer as tools. One artisan, who is 61 years old, explains: "I am part of the fourth generation in the family trade. The tools have evolved; for example, before they were using fire and now we have a blowtorch. But the result is almost the same."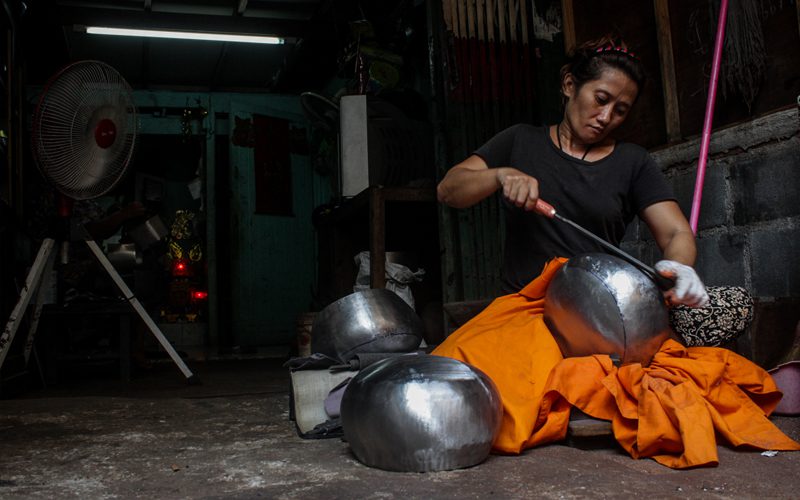 The community, which has 40 workers, uses a rough assembly line model. Once a monk places an order, there are nine different steps along the manufacturing process.
"Everyone plays a part. Then we split the benefits between us," says the craftsman.
The process is not simple and it takes about five days to complete each alms bowl, even for those who have spent many years on the job. The artisans must be strong men and women since each of the bowls, made of metal, can weigh around two kilos. The cups can be made of stone, metal or clay, and are then glazed to make them waterproof.
Finding the neighbourhood, on the corner of Bumrungmuang and Boriphat roads, is a little bit tricky, as it's sadly been diminishing over the years. The community has also been hampered by the expanding metropolis, making this area one of the many mazes of alleyways where traditional life continues.
To manufacture the bowls, two strips of steel are welded in a cross representing the cardinal points. They are then attached to a ring to shape the structure. Gaps are filled with individual pieces of steel and hammered before applying the protective varnish or enamel. The sound of the hammering is deafening and sometimes hinders the routine life of some of their neighbours who are trying to chat or watch TV.
One of the workers of this community, a 35-year-old, says that the trade is dying out among the younger generation, with the youngest worker being 30 years old.
"In my case I am lucky, because I will continue the work with my nephew," she says.
Other families, she laments, have stopped doing this work because they do not have older generations from which to learn. There used to be over 100 families here, but now there are just three left. But the manufacturing of these bowls is still a good and much-needed business. Many new alms bowls are mass-produced, but the more traditional monks will still only use handmade ones, and some temples do not accept bowls arriving from the factories.
"We produce a total of 10,000 bowls every year," says another worker. "They are of good quality and last a long time."
In recent years the villagers have also seen a new business opportunity through tourism. "We also sell to foreigners," the worker says, pointing to some of the finished pieces on display in a glass case. This neighbourhood isn't exclusive to monks. Many visitors come here and enjoy the history of the place, passing their experience on by word-of-mouth to other travellers.
Some of the bowls for sale are over 50 years old and buyers of these relics are rewarded with a demonstration of how the bowls are made. Bowls can be purchased during the community's working hours from 9am to 5pm, and the price of a bowl is around THB1,900, depending on its size and complexity. The most popular styles are Manao (lime), Look Jaan (Thai fruit) and Hua Hara (tiger head) whose price can reach 3,000 baht.
It's good to know some old traditions are still alive in the big city.
This article was originally published on Coconuts Bangkok. Words by Ana Salva. Feature image c/o Anthony Bouch, Flickr
Feeling inspired?