You've walked through the busy French Markets, surprised your tastebuds with Creole flavours, squeezed in a stroll through Saint Louis Cemetery, and even found some time to spook yourself in front of Madame Delpine's haunted mansion.
There's only one thing left for you to do on your final night in the south: party the night away New Orleans-style. But where will you do it?
Hollywood films and every 'top things to do' list will tell you to head right on over to the ever-popular Bourbon Street, however, any local will advise you differently.
EXPLORE OUR RANGE OF ADVENTURES THROUGH NEW ORLEANS NOW
"Frenchman Street is better," they'll say.
Better? How could this street you've never heard of possibly be 'better' than the famous Bourbon Street? Well, it's not necessarily 'better' but it is vastly different. It's a whole other side to New Orleans nightlife, one that you may want to consider ticking off on your next trip down south. Here's why:
1. Tourists v Locals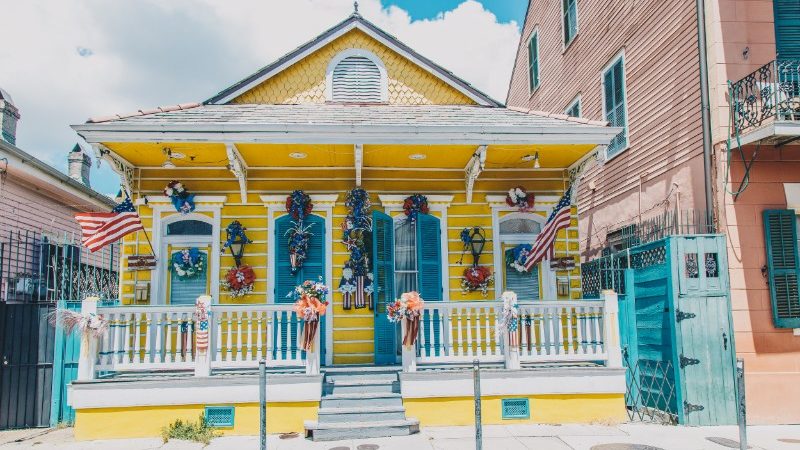 As a regular feature in most movies and TV shows set in New Orleans, Bourbon Street, unsurprisingly, attracts a lot of tourists. A LOT. There are international honeymooners, out-of-state hens and bucks parties, and late teens on Spring Break. Aside from those working at the clubs and bars, Bourbon Street doesn't see many locals. It's mostly alcohol-happy tourists.
HEAD OUT ON THE GREAT AMERICAN ROAD TRIP ON ONE OF THESE SMALL GROUP ADVENTURES
A short 15-minute walk away, it's almost a completely difference scene.
Frenchmen Street isn't entirely free of international and domestic visitors, but it does attract a mix of locals and travellers. This combination means that although everyone is having fun, they're doing it in a slightly more conservative and less 'let loose' type of way.
2. Clubs v Jazz bars
Bourbon Street is essentially one street-long rager. The party begins with a stop by Big Easy Daiquiris for an over-sized frozen cocktail – there's literally a wall of flavours to choose from. From there, the party continues with a visit to one of the live-band venues such as 'Friztels', where the music isn't as appreciated as much as the next round of drinks. Once ready, move to 'Cats Karaoke' aka 'the world's best Karaoke Bar', where a loud and overactive MC hypes the crowd with pop classics, country ballads and hip hop hits. When you're all sung-out, 'Fat Catz' will call you over to the dance floor with its 90s and new school R&B jams.
SUBSCRIBE TO INTREPID'S NEWSLETTER FOR TRAVEL TIPS, COMPETITIONS, GIVEAWAYS & MORE
If there's one thing that Frenchmen Street has in common with its supercharged competitor, it's that it too is one long street party, except this party begins with a southern dinner at one of the destination's sit-down venues. Restaurants such as Marigny Brasserie will fill you up on truffle fries, gumbo and red beans and rice, while Adolfo's offers familiar western dishes with its traditional Italian menu.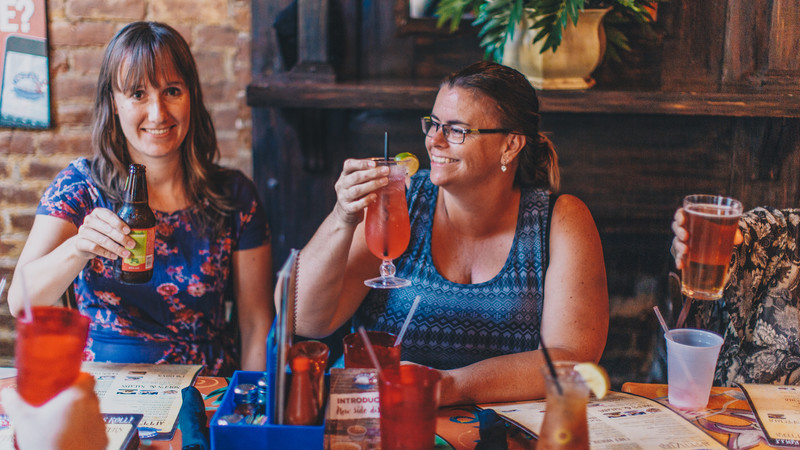 When every last bite has been consumed, the street itself turns into a jam session, thanks to talented street performers. You'll find musicians covering all genres, from jazz to hip hop and even country. When you're ready for a Sazerac (New Orleans' local cocktail, made up of whiskey, bitters, sugar and water), pop into one of the MANY live venue bars such as the Blue Nile, The Spotted Cat Music Club or D.B.A. Although Frenchmen Street may seem like a tame evening out in New Orleans, the party can go on all night with several clubs and bars open until the early hours of the morning.
3. Kitschy items v Local craft
What type of souvenir do you prefer to take home after your travels? A shot glass with the city's name sprawled across the rim, or a handmade piece of art?
If the former sounds like the perfect takeaway, then head on over to Bourbon Street where souvenir stores stay open well past midnight. Late night shoppers can pop into one of the many retailers to purchase kitschy (and sometimes cringe-worthy) mementos such as pop culture-inspired voodoo dolls, skeleton magnets and mask key chains.
RELATED: 5 OF THE USA'S BEST ROAD TRIPS (AND WHY YOU SHOULD DO THEM)
Those who prefer one-of-a-kind keepsakes can visit the Palace Market on Frenchmen Street where locals set up stalls to sell handmade crafts. The markets aren't open as late as the Bourbon Street souvenir stores but they are a cool place for couples, friends and families to walk about, chat with New Orleanians and purchase jewellery, mugs, paintings and more.
4. Fast food v Dining in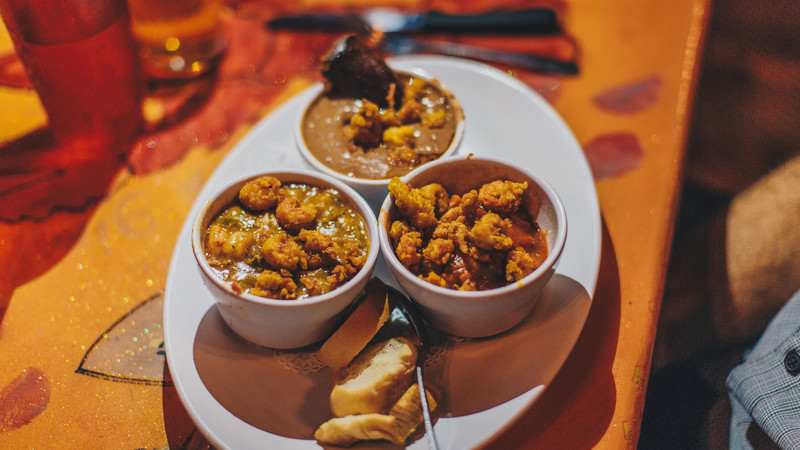 On Bourbon Street, the food scene caters to those with a fast food craving. Giant pizza slices can be purchased from Crescent City Pizza Works throughout the night until 6.00am, while Willie's Chicken Shack is open a little after midnight for those hanging for fried chicken.
The dining experience on Frenchmen Street is made up of multicultural a la carte restaurants. You can find get your fill of Louisiana flavours, Italian, Korean, pub food, Brazilian, and more.
5. Random street acts v Talented musicians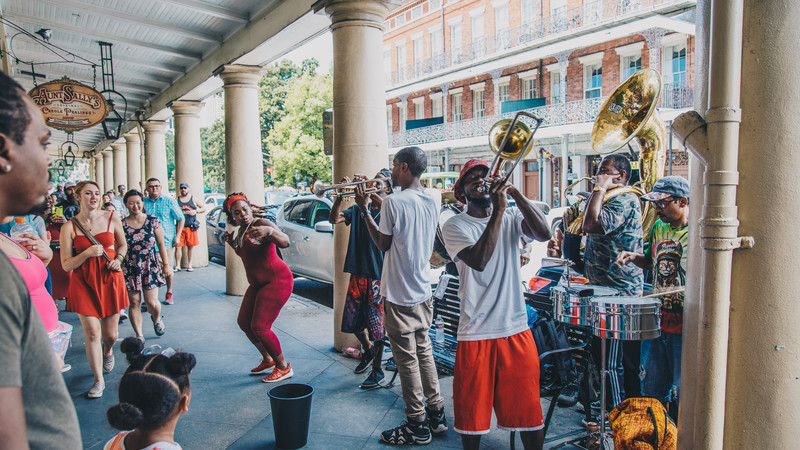 Men with Big Balls (literally, giant ornaments swinging from their necks), faux mobile fortune-tellers and human statues – that's the kind of entertainment you can expect to see up and down Bourbon Street.
RELATED: 6 REASONS TO DO A GROUP TOUR IN AMERICA (FROM AN AMERICAN GROUP TOUR SKEPTIC)
Meanwhile, over on Frenchmen Street, it's all about showcasing local talent. Not to undervalue the skill required to stand still for hours while painted head-to-toe, the vocal and musical gifts displayed along Frenchmen Street will actually leave you in awe and have you believing that New Orleans is home to the best vocalists on the planet.
Talented local musicians, southern flavours as well as multicultural dining, PLUS locally-made souvenirs – Frenchmen Street may not be 'better' or wilder than Bourbon Street, but it's definitely worth the short journey to discover a side of French New Orleans nightlife you don't see in the movies.
Explore New Orleans – and beyond – on a small group adventure with Intrepid now. 
All images by Ryan Bolton. 
Feeling inspired?