When deciding to have a child, I always knew I wanted her to travel the world. "Why wouldn't she want to?" I asked myself. 
She took her first flight when she was six months old and had a passport by the time she was one. We did a few trips overseas and within Australia but decided to embark on a Southeast Asia adventure for five weeks. After much thought and discussion we decided on Singapore, Borneo, Thailand and Indonesia.
Beatrice (who was five years old) was excited! There were going to be elephants, turtles, orangutans, new foods to try, beaches and temples. All she talked about was the overnight train in Thailand. "Where would we put our luggage?" was asked over and over leading up to the trip.
Before leaving for the trip I was a little worried about the length of time we were away. Would Beatrice be able to cope with some long travelling days? Spending time in the heat of a jungle?  The short answer: she was fine! I was fine! The trip allowed me to appreciate what it is like to see a country through her eyes. Take her excitement over the train which I usually treated as just a means of transport.
We travelled on Intrepid Travel's 11-day Borneo Family Holiday and 12-day Thailand Family Holiday. The trips gave us access to hotels with pools after hot days of sightseeing, free time when we needed it and wonderful leaders to show us around their amazing countries.
All of our guides were parents themselves so could easily relate to Beatrice – she adored them!
Here's what the experience taught me:
They are more resilient than you think!
We often forget children can nap anywhere anytime they are tired. This skill helps them on long travelling days. Keeping this in mind will help dissipate any angst you have about whether they'll cope with all the travel.
At a recent jungle camp stay in Borneo on the Borneo Family Holiday trip, we had no electricity or running water. Our beds were thin mattress on the floor of a basic hut. Did my child blink an eyelid about the conditions? No! Of course she didn't. She took it in her stride and loved using her head torch and not having to have a shower.
Epic meltdowns will occur
Just because you are travelling doesn't mean they stop. Though it may be obvious: you are still parenting…just in another country.
The key was to factor in some downtime/quiet time into our itinerary. Whether it be once a day or every two to three days, it's vital for everyone's sanity that the kids get a rest to recharge their batteries.
KEEP MELTDOWNS TO A MINIMUM ON ONE OF INTREPID TRAVEL'S TRIPS FOR FAMILIES
Snacks are the key to life!
On our five-week adventure around Southeast Asia we took nine flights! YES! Nine of them. Snacks become very important on flights (because, let's face it, airplane food is not good for anyone involved – particularly children). Eating snacks helped with air pressure on the ears for takeoff and landing, to fill in some time and for the most important reason: to combat hungry tummies.
I learnt to pack lots and to always source them ahead of time. Snacks on bus journeys, trains or any other type of transportation is a must.
Travel builds confidence
Who doesn't want confident children? Travelling enables your child to learn new things every day. Whether it be navigating a new city, travelling on new transportation for the first time (overnight trains really did conjure up a load of questions) or being understood in a different language. Your child learns to manage their way through different situations, which builds confidence.
READ MORE: 6 TOTALLY UNTRUE MYTHS ABOUT FAMILY TRAVEL
They ask a lot of questions! A LOT!
Travelling with kids ensures you learn more than you would imagine. As adults, we don't ask as many questions as kids. They teach us to ask the "why" and to constantly learn about the place and people we are visiting.
It's rewarding for both parent and child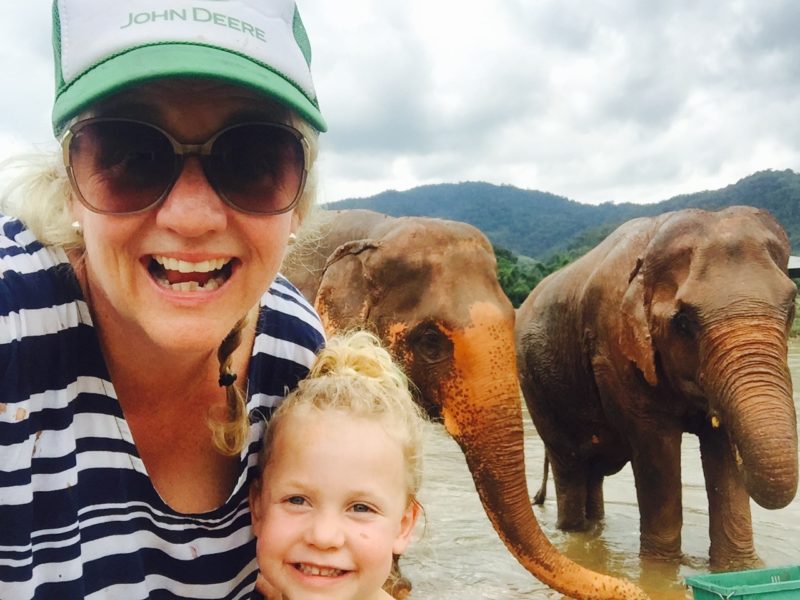 My most important lesson: I always thought travelling with my child would be hard and less rewarding for me personally as the focus would be always on them. I was completely wrong! I love seeing places I have visited before through her eyes and the wonder she gets out of the smallest things. I also loved visiting new places together for the first time.
While travelling has changed (read: no more late nights on rooftop bars partaking in adult beverages with no place to be), it has changed in a way that is still rewarding and special. We are creating memories and experiences that only we share.
The big question for us now is where to next?
Intrepid Travel have a whole range of trips just for families. Check them out.
—
(All images c/o Dyan Mckie.)
Feeling inspired?