They might be on different continents, but these two middle eastern countries promise the holiday of a lifetime – if only you could decide which one to go to.
You've chosen the general vicinity of your holiday but now it's time to pick between Egypt and Jordan, except, how does one actually do that? You've got Egypt, full of pyramids and Sphinxes. And Jordan with its breathtaking city of Petra and magical Wadi Rum desert. Then Egypt has the Nile River and the Sahara Desert. But Jordan has the mineral-rich Dead Sea and its generous Bedouin hospitality.
I get it; it's very overwhelming. Both countries have more world-heritage listed sites (read: must-see places) than they have any right to and both feature on your bucket list somewhere (probably near the top). So, this decision will be a tough one. The best part? You won't have to make it alone.
I've put together this blog comparing both countries' cities, cuisine, landscapes and weather in the hopes that you'll know exactly where to go once the last syllables have left your mouth (does anyone read aloud anymore?) or once your eyes have scanned the last word. Fingers crossed anyway.
Discover our Egypt & Jordan trips
Cuisine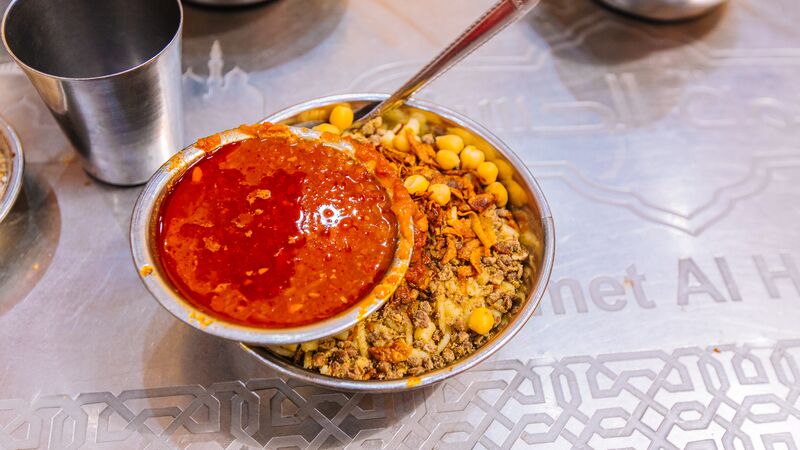 A trip to Egypt isn't complete without a visit to the pyramids…or devouring a bowl of kushari, a blend of rice, spaghetti, macaroni and lentils in a tomato-y, vinegar-y sauce. In fact, there's plenty of delicious delicacies you must try on your travels to Egypt if you want to say you've fully experienced this ancient monument-filled country.
With a focus on beans, legumes, lentils and vegetables (supplied by Egypt's rich river regions), Egyptian cuisine draws on flavours from neigbouring middle eastern countries while also retaining its colourful history – some dishes have roots that date as far back as 2500BC. Some menu items to look out for include ful medames (fava beans), ta'meya (felafel type chickpea ball) and mulukhiya (a cooked vegetable dish).
Jordanian cuisine might not be as well known as Italian or Chinese, but it's still no less mouthwatering with Levantine flavours bursting out of foods such as falafel and shish kebabs (Jordan's version of meatballs). Influenced by their middle eastern neighbours (Palestine, Lebanon and Syria), traditional meals usually consist of ingredients like olive oil (which makes sense as one of the world's largest producers), lemon, garlic, onion and an array of herbs.
If you're travelling to the Wadi Rum Desert (which should be everyone), you'll also get a glimpse into what a typical Jordanian barbeque looks like – think meat and vegetables being slow-cooked over hot coals under the sand. It's truly a once-in-a-lifetime dining experience, especially since you get to sit back and watch your hosts uncover the feast as stars fill up the night sky.
RELATED: WHAT TO EAT IN JORDAN
Landscapes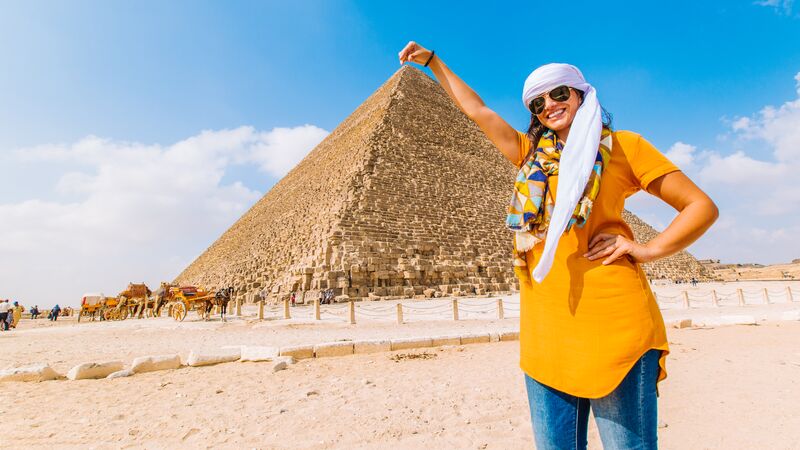 When it comes to magnificent landscapes, Egypt has plenty. There's Abu Simbel with its impressive hand-carved structures and remarkable interiors. There's Luxor, or as it's more affectionately known, "Egypt's open-air museum". And then there's the Nile River where a traditional felucca boat awaits to take you on an unforgettable sailing adventure. Oh, and the pyramids of Giza.
Consisting of the Great Pyramid, the Pyramid of Khafre, the Pyramid of Menkaure and the Great Sphinx, this mind-blowing complex was built in the fourth dynasty of the Old Kingdom of ancient Egypt somewhere between 2600 and 2500BC. My brain literally can't comprehend how long ago that was. Make your way around the complex with an expert local guide and listen to your very own on-site history lesson while discovering the secrets of this fascinating civilisation.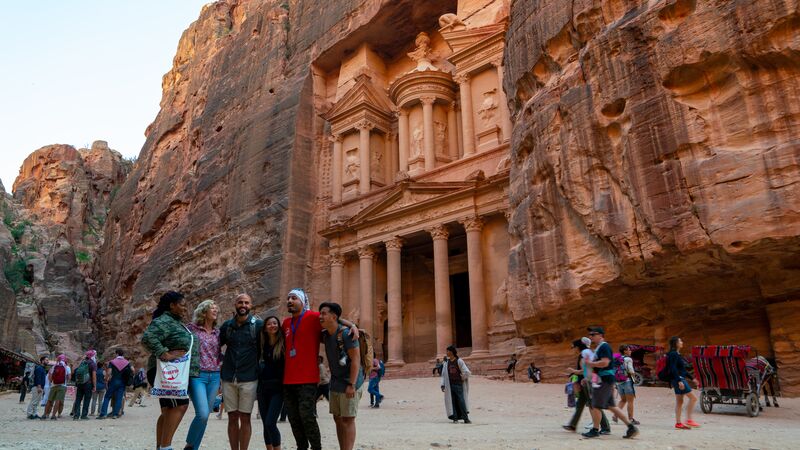 Floating in the salt-ridden Dead Sea and watching the stars twinkle over the Wadi Rum desert might be cool and everything but usually if you're travelling to Jordan, you want to see Petra in all of its spectacular glory. Once the ancestral capital of the thriving Arabian Nabataean civilisation, this sandstone-carved city is now a wonder of the world thanks to its famous archeological monuments. Explore the complex on your own and with a local guide to make the most out of this bucket list experience.
But Jordan offers plenty more where that came from. If you're after a change of scenery, head to Jordan's backcountry in search of Mujib Nature Reserve and its winding river valleys and dusty gorges. Or, if that nature reserve didn't tickle your adventure-loving fancy, check out Dana Nature Reserve for its chiseled peaks and a rare insight into the lifestyles of the folk who live there.
Cities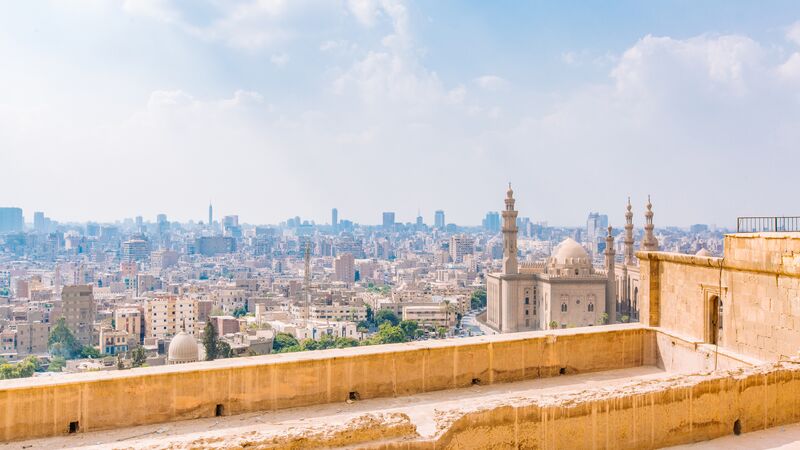 While you might come to Egypt for the pyramids, most travellers stay for the challenging to navigate but oh-so-worth-it streets of Cairo, the luxurious and modern yet history-laden city of Luxor, the palm tree packed Aswan sitting on the banks of the Nile and the once glorious but still beautiful coastal city of Alexandria.
On an Egypt tour with Intrepid, visit the Khan al-Khalili bazaar as the sun sets and get accustomed to daily life by speaking to local merchants and winding through the souk's walkways in Cairo. Marvel at the unfinished obelisk and the High Dam before joining a Nubian family for dinner in Aswan. Try to take in the majesty of Luxor's Valley of the Kings and spot the reminders of the once mighty Pharaohs everywhere you look. In terms of city drawcards, this country has plenty to offer.
It might look like Egypt's got this category in the bag, but Jordan also has its own fair share of concrete jungles to explore. From Jerash with its ancient temples, plazas and theatres to Al-Karak with its fascinating museums and the Citadel of Kerak, there's lots to keep you busy if you're travelling around the country, either on a small group tour or on your own.
But this country's sparkling jewel is Amman, Jordan's capital city. Filled with archaeological sites and calm neighbourhoods where you can stop for a second and take in the beauty of this modern metropolis, Amman is a must-visit destination for every history-lover and avid traveller. Check out the city's crumbling citadel and the trendy promenade of Rainbow Street with its trendy rooftop bars and streetside cafes.
Weather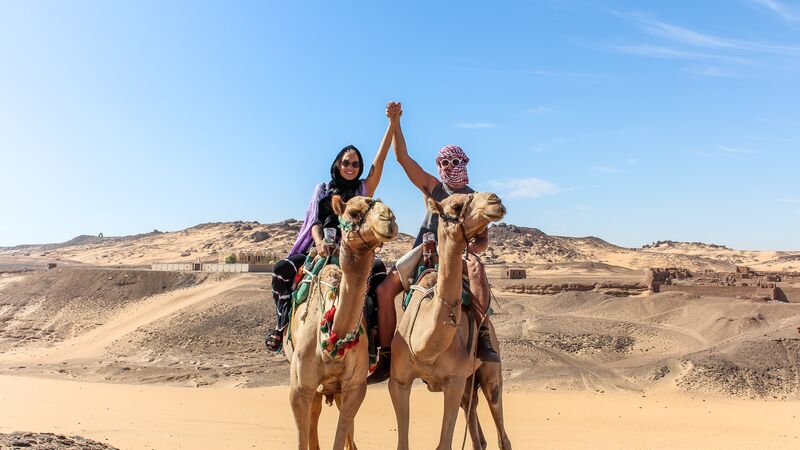 Egypt enjoys an arid desert climate meaning that temperatures are unlikely to fall below freezing during the day (but will reach lows of -10°C once the sun sets) and rainfall is minimal throughout the year. This makes Egypt one of the best destinations for year-round travel – as long as you bring layers for those chilly winter nights.
The most popular time to visit Egypt is between November and February when the temperatures are at their coolest but Cairo and various regions along the Nile might experience some rainfall during this time.
The summer months of June, July and August see temperatures soar to sweat-inducing highs of 51°C so if you want to travel comfortably, try doing so in the shoulder seasons of spring (March – May) or autumn (September – November) when temperatures are lower but there's still plenty of sunshine.
Jordan's climate is similar to that of Egypt's with the middle eastern country experiencing mostly subtropical arid weather patterns. However, there are distinct climate zones within the country, ranging from Mediterranean in the west to desert in the east and south. This leads to wildly different temperatures throughout the seasons with eye-watering highs experienced along the Dead Sea coast in June, July and August and freezing lows in desert regions during winter.
The best time to visit Jordan is during spring and autumn when temperatures are at their most comfortable and rainfall is minimal, but with optimal weather conditions comes large crowds and increased accommodation prices so take that into account when planning out your trip. Try travelling in either March or November if you want the best of both worlds (nice weather without all of the tourists).
The verdict
This might just be the toughest comparison blog I've had to write (and declare a winner for). Egypt and Jordan are extraordinary in their own ways but they both exude magic of the historical kind with ancient archeological sites likely to feature in your favourite memories and on your Instagram profiles.
Luckily, they are located extremely close to each other so if you didn't want to choose, you could opt for one of Intrepid's combo trips. Sounds like a win/win to me but if you're forcing me to decide, I'd go with Egypt. It's the pyramids. They get me every time.
Discover our Egypt & Jordan trips