We get it, this is a tough one…
Ever wanted to step into a living open-air museum? Or maybe you're drawn to a sensory wonderland of spices, souks and sunshine. Luckily for you, there are two places in this great wide world of ours where you can experience both. Well, there's probably more, but for the sake of a simpler blog, we'll cover just two: Egypt and Morocco.
So, how do you choose between the Giza pyramids and the Marrakesh Medina? Or the Valley of the Kings and the Blue City of Chefchaouen? Ultimately, it comes down to what activities and sights you're keen to see and what tasty foods you want to fill up on in between jaunts.
Before you throw a dart at a map on the wall, let's take a closer look at these ancient treasure troves and help you get on your way (no darts needed).
Our Egypt and Morocco tours
History
There are only several places on earth that have such a widely known history as Egypt. As such, you've probably known about Egypt since you first saw a picture of the pyramids in school. Ancient Egypt was one of the world's most powerful civilisations and lasted for approximately 3000 years. It was so significant that the Pyramid of Giza is the only one of the Seven Wonders of the ancient world that is still standing today. However, this era is only one part of its lengthy history.
While it's hard for any place to match up to the might of Ancient Egypt, Morocco definitely gives it a fair go. Currently an Islamic Monarchy belonging to the 'Alawi dynasty, Morocco has previously been subject to migration from the Phoenicians of the Mediterranean, an invasion from the Ancient Romans, the Arab conquest and the French Colonial Rule, among others.
It's also been the ancestral home of the Amazighs (Berbers), a pre-Arab indigenous ethnic group who've been residents of North Africa since around 3000 BCE. With all this history, it now stands as a country of multicultural architecture, food and religion. You're likely to see an intricate patchwork of human history wherever you go.
Explore ancient Egypt
Culture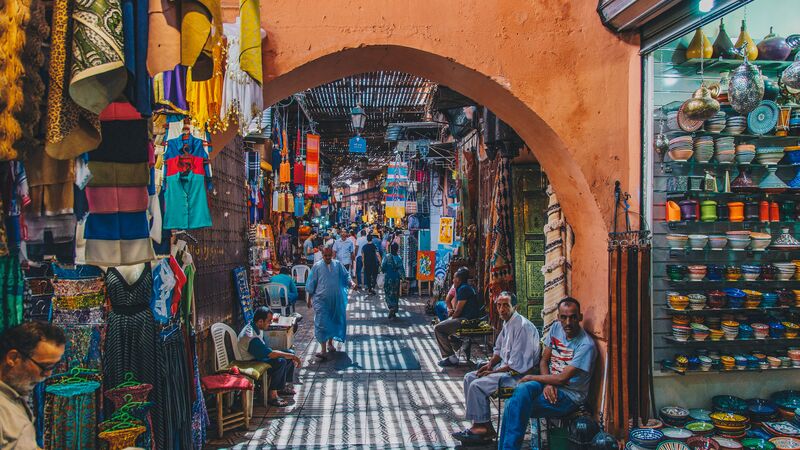 Both Egypt and Morocco are predominantly Islamic countries and as such, many people practise daily prayers, celebrate Ramadan and uphold traditional values. As with most Muslim countries, the majority of locals don't consume alcohol and many will take Fridays off for worship. If you're planning to visit during a ceremonial time, such as Ramadan, be aware that there'll be reduced business hours and limited services.
Related: Best time to visit Morocco & Best time to visit Egypt
Outside of the religious culture of the region, there's a general sense of warmth and hospitality in both countries. Sharing and inviting guests in for drinks, namely tea, is an integral part of everyday life, especially in Morocco. Meals are usually served in a communal way which is a perfect encapsulation of the generosity and welcoming nature of Moroccans.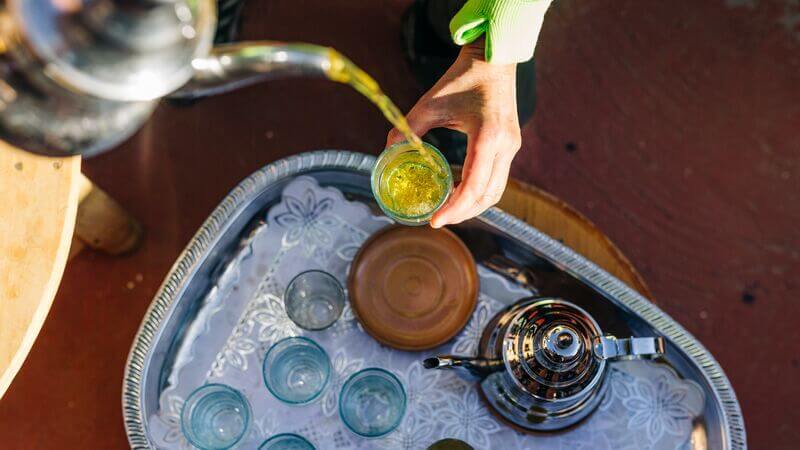 Similarly, in Egypt, while they're no strangers to travellers, you'll find that many locals are very grateful to those who visit. Egyptians are known to be very proud of their culture and enjoy sharing it with others. When walking through markets, people will typically be warm and inviting, asking you if you need help or simply welcoming you to their country.
Cultural considerations
It's worth mentioning that because of the Islamic prevalence in both countries, people act and dress discreetly in public. This means there's no public affection between couples and people dress conservatively, wearing loose clothing that covers the shoulders, knees and chest specifically. In more rural areas, covering the arms and legs is also common for locals and travellers.
Please note that both Egypt and Morocco are not safe destinations for LGBTQIA+ travellers, especially those who are open about their sexuality and gender identity. In Morocco, homosexuality is illegal and punishable by prison time. In Egypt, although it is not officially outlawed, LGBTQIA+-identifying individuals have been prosecuted with other charges. Because of the danger, it is strongly advised that travellers use discretion while in these countries.
Related: LGBTQIA+ culture in Egypt & LGBTQIA+ travel in Morocco
Landscapes
Morocco isn't the desert landscape most people might think it is. Bordered by the Atlantic Ocean, the Mediterranean Sea and the Sahara Desert, you'll find beaches, desert sand dunes, lush green valleys and even snowy mountain peaks.
But yes, the desert landscape you're likely picturing for Egypt is correct. If not for the Nile River providing a water source across the country, the entire landscape would be just an arid desert. Aside from sandy dunes, the south of Egypt is home to mountains while the north has fertile valleys that sit aside the Mediterranean Sea. And although it's a lesser-known side of the country, Egypt is also home to stunning beaches that attract surfers, divers, windsurfers and even dolphins.
Journey through the heart of Morocco
Cuisine
Moroccan cuisine has been influenced by many cultures, ranging from French and Andalusian Spain to Arabia. Morocco is famous for slow-cooked stews called tajines alongside its national dish couscous (traditionally eaten on Fridays), hummus and "Berber whiskey" (mint tea). The taste of Moroccan cuisine is well summarised by their most popular spices which are ginger, turmeric, black pepper and cumin.
Get a taste of Morocco on a Real Food Adventure
Egyptian cuisine, on the other hand, favours breads, falafels and salads with popular flavours being saffron, dill, coriander, bay leaves and cumin spices. Notable dishes include hamam mahshi (roasted and stuffed pigeon), koshery/koshari (rice, pasta and beans mixture) and ful medames (slow-cooked fava beans).
As both nations are predominantly Muslim, there isn't a huge amount of alcohol consumed or available. Instead, there's a thriving tea culture that's so well-loved that it's both countries' national drink! Morocco's signature drink is mint tea while Egyptians enjoy hibiscus tea (karkade). Fresh and tasty fruit juices are also found everywhere, perfect for a refreshing sugar hit. Egyptians enjoy sugarcane juice, known as asab, while freshly squeezed orange juice is a favourite for Moroccans. Coffee is also popular, with regional favourites including the nous nous drink in Morocco (half milk, half espresso) and kanaka-brewed coffee in Egypt that is served 'mazbuuta (just the right amount of sugar) and sometimes combined with spices like cardamon.
Weather
Just warning you, it'll be hot in Egypt. Being a desert country, Egypt gets very little rain and a whole lot of sun – so those temps can soar. It's wetter along the northern coast, specifically the city of Alexandria where it can get over 200mm of rain each year, but mostly in the winter months (November to April). Aside from the mountains on the Sinai Peninsula, it's hot with not much of a breeze most of the year, except for the yearly wind known as 'khamsin'. This hot wind usually affects North Africa causing sandstorms and disruption around March to May.
The Egyptian summer months begin in May and last until October. The average maximum temperature sits around 30°C, although, in some desert regions, it can hit 50°C. Temperatures vary depending on where you are, however, the further you move into the country from the Mediterranean Coast, the hotter it'll be. And just like other deserts, it gets very cold at night, sometimes reaching freezing temperatures.
While Morocco is also part desert, the weather is more Mediterranean with cool breezes off both the Atlantic Ocean and the Mediterranean Sea. Morocco also has a mountain range that can have very different weather to the rest of the country. The Rif Mountains in the north experience the most rain and the Atlas Mountains will have snow most of the year.
Coastal weather is largely mild and pleasant. On the Atlantic coast, there can be flooding caused by intense winter rains while the Mediterranean coastline can get sudden temperature rises from desert winds. Marrakesh has a hot summer with an average high of 38°C in July but throughout the rest of the year, temps sit around 13-27°C. Around the rest of the country, Casablanca and Fez don't get quite as hot in summer with highs of around 27°C in August.
Cruise the Nile in Egypt
Activities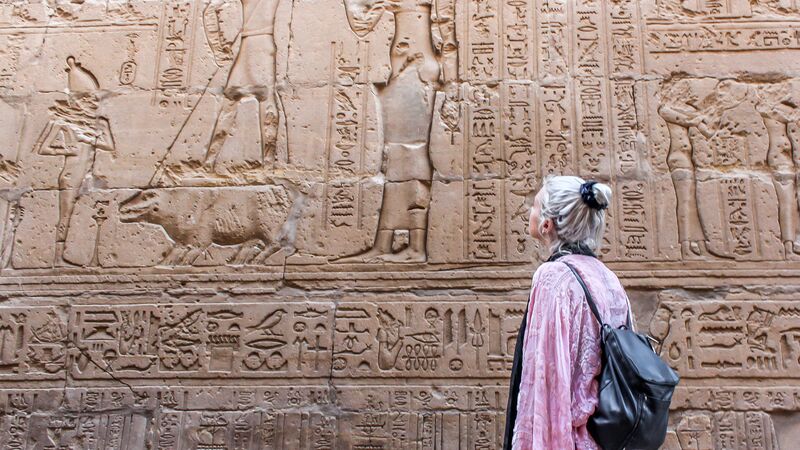 It probably goes without saying that the pyramids are the marquee attraction of Egypt. No matter your age, nationality or interests, seeing the might of such famous landmarks for yourself is pretty epic. There's also another few thousand years of culture to see throughout the country. So, it's rather easy to fill up a trip itinerary.
If you're not up for a journey into the heart of the Great Pyramid – don't worry, not everyone is. An exterior tour of the pyramids and Sphinx by camel is a great alternative. For a glimpse at some of the excavated treasures of ancient Egypt, stop by the Egyptian Museum in Cairo for all things pharaohs, mummies and hieroglyphics.
Around the rest of the country, impressive sights include the Temple of Isis in Aswan, the four statues of Ramses at Abu Simbel, the Valley of the Kings (a great way to see it is via donkey ride) and the intricate Karnak Temple Complex. When you need a break from history, take a felucca (traditional boat) cruise down the Nile, duck into a souk to haggle and shop or stop by one of the many stunning beaches to cool off. You can find some high-quality snorkelling here too.
On the other side of Africa, Morocco draws people from far and wide looking for a glimpse of its one-of-a-kind charms. Well-known spots include the city of Marrakech for its medinas and bustling souqs, the blue city of Chefchaouen (notable of Instagram fame), Casablanca (of Casablanca fame), Tangier and the Islamic and French-inspired capital city, Rabat.
Morocco also boasts beautiful historical locations such as the part-excavated city of Volubilis, Fez's old city and the sights of Ait Benhaddou, Essaouira and Ouarzazate, among countless others. Natural sights worth viewing include the Todra Gorge (great for rock climbing), the High Atlas Mountains and the Sahara Desert, best experienced on camel by sunset.
Due to the unbelievable beauty and picture-ready scenery, you'll probably feel like you're walking through some of your favourite films while you're in Morocco. Because as it happens, you are! Some iconic films shot here have included Lawrence of Arabia, Gladiator, The Mummy, Sex and the City 2 and Hitchcock's The Man Who Knew Too Much. Hilariously, Casablanca wasn't actually filmed in Casablanca. But we won't stop you from having a 'here's looking at you kid' moment anyway.
The verdict
Okay, now that the facts have been laid out, it's time to get to the bottom of our concern, Morocco or Egypt?
Well, since this isn't the Olympics, we don't actually have to give out a gold medal. Which is lucky for us because this is tough competition – and it comes down to the basics. Like, do you want to see a history book come to life or would you prefer to meander through vibrant sets of colour and centuries worth of creativity and culture? We guess it's going to be a heads-or-tails kinda situation.
So, even though we can't provide you with a detailed scoreboard, I hope at least you've been able to narrow down the decision. If that's not the case, we might've just made it even harder to pick! Oh, well. How about both?
Inspired for a new adventure? Check out Intrepid's small group tours in Morocco and Egypt.
See our Egypt and Morocco trips