NOTE: This article was inspired by our 8-day Egypt Adventure trip.
Egypt is known for many things – The Great Pyramids of Giza, Cleopatra, The Nile River, you name it – but there's so much more to this country than meets the eye.
My Intrepid tour took me beyond "iconic" Egypt and gave me a more local perspective, allowing me to not only see the country, but to feel part of it. While it's tough to tour the highlights of any country in 7 days, it's not impossible.
Intrepid offers several tours through Egypt, and I joined one of their week-long trips. Whether you're dreaming of a felucca sail along the Nile or eager to hit up the bustling souks, here is your ultimate guide to touring Egypt in one week.
Day 1: Cairo
Cairo is (likely) your first stop in Egypt, and there's so much to see and do here. As the country's capital city, it's a hub for culture: museums, cuisine, architecture and more. Depending on when you arrive, you may have time to explore your neighborhood on foot. And to get to grips with the fantastic food scene.
If you're eager to do a mini solo adventure before your tour begins, consider flying to Cairo a day or two early. This is what I did, as I had a couple of friends living locally and I wanted to catch up with them before joining the group. It also gave me time to stock up on some essentials that I had left at home, like sunscreen, a hat and an extra scarf.
LOOKING FOR A LOCAL-LED DAY TOUR OF CAIRO? CHECK OUT INTREPID'S SISTER COMPANY URBAN ADVENTURES
Try make time to visit Cairo's oldest section, the Christian Coptic sector. This area encompasses the Babylon Fortress, the Hanging Church, the Coptic Museum, and more.
Day 2: The Pyramids of Giza
After a full night's rest, you're ready to hit the ground running. Kick off your day with a private transfer to Giza, the home of some of the world's most iconic sights. Our Intrepid group toured the Pyramids of Giza and the Sphinx by camel, which is one of the most magical experiences I've had to date. Getting on the camel was a little tricky, but definitely a fun learning process. (You need to lean back, and then forward.)
READ MORE: EVERYTHING YOU NEED TO KNOW ABOUT TRAVEL IN EGYPT
Like most travelers, I had seen countless postcard photos of The Pyramids of Giza but nothing quite prepared me for the real life version. Yes, it's a little dusty and yes, there will be other tourists, but definitely an activity to tick off your travel bucket-list. These structures have stood for 4,500 years, and for a small fee, you can go inside the Great Pyramid of Khufu.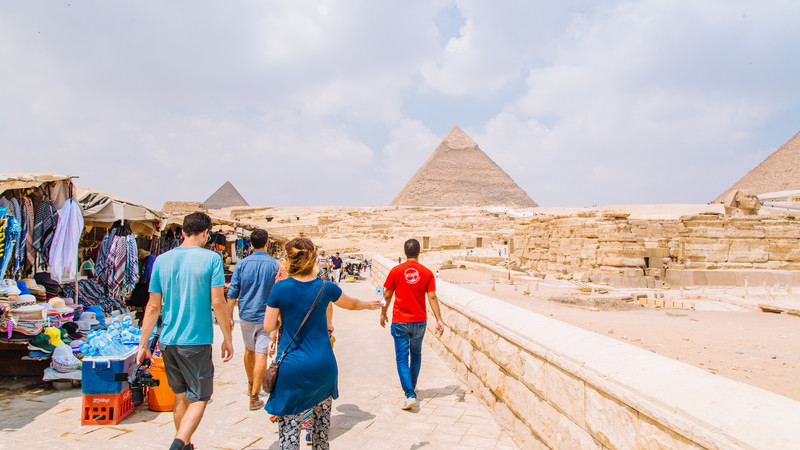 Next, head to the Egyptian Museum, where some of the world's greatest collections of antiquities are housed. Our leader gave us a guided tour as we walked through the museum, but if you prefer to explore at your own pace, just ask. I opted to go into the Mummies Hall where I saw several of the country's most prominent deceased queens and pharaohs.
In the evening, take a sleeper train to Aswan. While it might sound scary, it's actually a really smart way to travel. The accommodations are basic, but a ticket includes bedding, dinner and an air-conditioned cabin. Plus, it saves you time. I was a little hesitant to try the food, but it wasn't bad! Again, fairly basic but tasty.
CHECK OUT INTREPID'S RANGE OF SMALL GROUP ADVENTURES IN EGYPT
Day 3: Aswan
Aswan is Egypt's southernmost city. Its easygoing charm is due in no small part to its large Nubian population. Consider this a "free" day to explore Aswan as you please. There are so many cultural options—from the Nubian Bazaar and the unfinished obelisk to the High Dam and the Nubian Museum. I visited the Temple of Isis (the Goddess of health, marriage and wisdom), and truly felt transported to another time.
For dinner, my Intrepid group visited a local Nubian family and had dinner at their house. Even though we needed our tour guide to translate (Nubian people don't speak Arabic), it was such a special experience. Later, we went to Philae Temple for their sound and light show. It's about an extra 100 Egyptian pounds, and so worth it.
SUBSCRIBE TO INTREPID'S NEWSLETTER FOR TRAVEL TIPS, INSPIRATIONAL STORIES, GIVEAWAYS & MORE
Day 4: Abu Simbel
By day 4, you might start feeling tired but don't let that stop you from making the trek to Abu Simbel. Hands down, this was my favorite excursion in Egypt and it was also completely optional. Upon arriving, you'll see four gargantuan statues of Ramses guarding the Great Temple. Each statue is carved directly out of the mountain and it's just incredible. You can reach Abu Simbel by plane or bus (we did the latter).
If you're simply too tired to make the three hour journey by coach, that's okay! I suggest taking a sailboat ride around the islands (the botanical gardens on Kitchener's Island is really nice), visiting the now-abandoned 7th century Monastery of St Simeon, or shopping for souvenirs at the local souk.
READ MORE: WHY YOU SHOULD IGNORE THE HEADLINES AND VISIT EGYPT NOW
Day 5: The Nile
Sailing along the Nile River by felucca boat is a must, and you'll remember it for years to come. I know from experience! As you're more than half-way through the trip, the sail is a chance to rest, relax and simply take in the view. My group opted for a slightly more expensive boat that included an on-board toilet but there are others feluccas with fewer "frills."
The sailing crew takes care of all the meals on board, and you'll get to taste some of the local delicacies of the area. There aren't any cabins on board; instead, you'll sleep on mattresses on the deck, under a star-filled sky. It may sound like you're "roughing it" but it felt more like a sleepover with friends to me.
Pro tip: It can get chilly at night, so pack some warmer clothes.
READ MORE: 7 EXPERIENCES EVERY TRAVELER SHOULD HAVE IN EGYPT
Day 6: The Valley of the Kings, Luxor
After ample time in Aswan, you're ready to explore another Egyptian city that's equally rooted in culture: Luxor. Head to the open air museum of Luxor where you'll see everything from the temple complex of Karnak to the Valley of the Kings. There are several ways to tour the Valley of the Kings, and our group opted for a donkey ride. Karnak is just as impressive. It took over 200 years to build and it features pylons, obelisks and chapels .
Pro tip: If you have time, I suggest stopping by the Temple of Edfu on the way, as it's dedicated to Horus, the falcon-headed God, and is very important in Egyptian mythology.  
Day 7: Luxor
It's your last full day in Egypt, so make the most of it. I decided to splurge on a sunrise hot air balloon ride over the Valley of the Kings. It was an early wake-up call for sure, but I'd do it again in a heartbeat. The actual hot air balloon ride is about an hour, not that you'll be looking at your clock. Your pilot will point out all the major sites along the West Bank, so pay attention!
READ MORE: MEET EMAN, ONE OF INTREPID'S INSPIRING FEMALE LEADER IN EGYPT
That afternoon, we drove to ancient Thebes, stopping first at the Colossi of Memnon. Carved from granite blocks, they represent the Pharaoh Amenhotep III and were once part of an impressive colonnade. From October to May, you can take a donkey ride through the villages and sugar cane fields.
After a whirlwind trip it'll be time to make your way back to Cairo for your flight home. Consider taking the train and spend the time reflecting on a week like no other.
Ready for the trip of a lifetime? Check out Intrepid's range of small group tours in Egypt.
—
(All images courtesy of Intrepid Travel.)
Feeling inspired?