Europe's varied geography lends itself to hundreds of day walks that require nothing more than an average level of fitness and good shoes.
Here are five of the most scenic and most accessible. The majority of visitors can enjoy these walks, and because of their location in the southern part of the continent, three of them can be undertaken year-round. Spring and fall are especially good times, when the weather is more temperate and the crowds thinner.
I have listed the walks in order of increasing difficulty. All that's left to do is read about them and then plan your dream trip…
Plitvice, Croatia
Croatia's Plitvice Lakes National Park is unlike anything you've ever seen before. 16 interconnected lakes in hues of blue, green and turquoise sit on two levels and are connected by cascades and waterfalls, including 256-feet (78 meters) high Veliki Slap. Wooden boardwalks curve around and over the water, giving the landscape a fairy tale-like appearance.
The surrounding rocky outcrops, mostly dolomite and limestone, harbor some caves that can also be visited.
You'll probably spend more time than anticipated snapping photos of this water wonderland, so plan for an entire day, especially if coming from Zagreb, the capital.
The park is huge at nearly 115 square miles (300 square kilometers) and you could spend several days here, using the small train and low-noise electric boats to move between different parts.
There is an admission fee of 180 kunas (about US$29) for one day, in high season — less at other times of year. This includes transportation within the park, which also has cafés.
CYCLE, SAIL OR EAT YOUR WAY THROUGH CROATIA ON ONE OF OUR TRIPS THERE
Lake Bohinj, Slovenia
Part of Triglav National Park in northwestern Slovenia, Lake Bohinj is the largest permanent lake in the country. Less busy than Lake Bled, and arguably even more beautiful, Bohinj is only a two-hour bus ride (one hour by car) from the capital Ljubljana. Yet it feels remote, surrounded as it is by the forested peaks of the Julian Alps.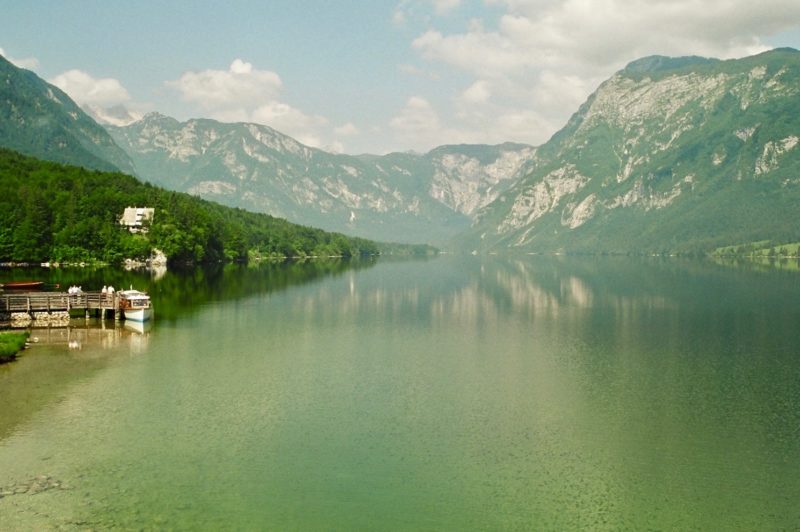 The trail around the lake is 7 miles (12 kilometers) long, and can be undertaken by anybody with good walking shoes. You may want to take a picnic and perhaps a swimsuit in summer, when the crystal-clear aquamarine waters are warm enough to swim.
You'll walk on a combination of (sometimes rocky) forested trails and paved paths, through a constantly changing landscape of meadows, forests, and gorgeous lake views, with the mountains as a backdrop.
READ MORE: 10 REASONS SLOVENIA SHOULD BE YOUR NEXT BIG EUROTRIP
Various other trails take you up to waterfalls and into the mountains. You can also take a boat ride across the lake, and a cable car up Mount Vogel for views.
Cinque Terre, Italy
The Cinque Terre area consists of five colorful villages strung along the Italian Riviera, south of Genoa. The villages perch on the edge of cliffs and are linked by the Sentiero Azzuro (Blue Trail) as well as a train line. Since the floods of 2011, parts of the trail are periodically closed, so check with the Cinque Terre National Park Office first.
VISIT THE CINQUE TERRE ON THIS EPIC 8-DAY ADVENTURE
The hiking is not difficult and only requires good walking shoes to deal with uneven steps and rocks. There is a little elevation gain, especially around the middle village of Corniglia and the viewpoint above Vernazza. The total length of the trail is only 9 miles (15 kilometers) so you can hike it in one day. However, if you want enough time to visit all the villages, you may consider doing it in segments.
Along the path, you will admire sweeping sea vistas, terraced vineyards, forests, wildflowers, and of course the villages themselves. Vernazza and Manarola are probably the prettiest, Corniglia the quietest, Riomaggiore the largest, while Monterosso is the only one with a real beach.
READ MORE: A GUIDE TO VISITING CINQUE TERRE WITHOUT THE CROWDS
Lac Blanc, France
The walk to Lac Blanc has to be one of the most scenic day hikes in the French Alps. It is also one of the easiest because it's mostly downhill.
Taking a cable car from Chamonix to La Flégère, then a chairlift to the Index, you start the hike at 8514 feet (2595 meters), and walk downhill (with a few small climbs) to Lac Blanc, continuing back down to La Flégère mid-station. The path is quite rocky, so you will need hiking shoes, but the trail is sign-posted and the altitude shouldn't cause problems.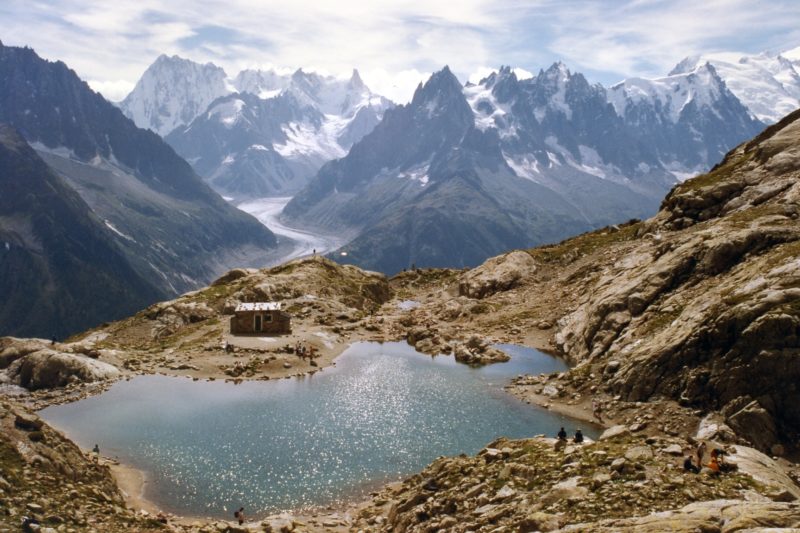 The views up there are amazing, the whole horizon filled with snow-covered peaks, even in summer. Give yourself about two and a half hours for the hike, plus time to enjoy the views. The vegetation is sparse around the lake, but becomes thicker as you approach La Flégère at 6158 feet (1877 meters). I really enjoyed this hike for its ease and stupendous views.
The best time to hike this path is from the beginning of June to the end of October, as the lift does not operate under snowy conditions.
SUBSCRIBE TO INTREPID'S NEWSLETTER FOR TRAVEL INSPO, COMPETITIONS, GIVEAWAYS & MORE
Samaria Gorge, Greece
At 16 kilometers from end to end, Samaria is one of the longest gorges in Europe, and a highlight of any visit to Crete. From Xyloskalo, the entrance to the gorge, you must buy a 5€ ticket to access the National Park.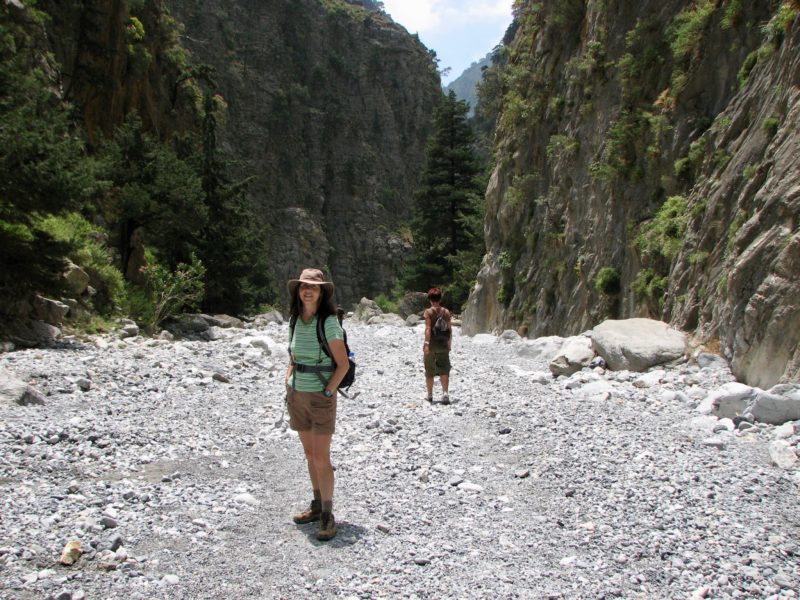 The hike starts with a 3280 feet (1000 meters) descent down a steep zigzagging path with wooden handrails, which is tough on the calves. Although the bottom is mostly flat, the stony ground is very uneven so you need rugged footwear with thick soles and some ankle support.
VISITING GREECE? READ MORE:
A GUIDE TO ATHENS
A GUIDE TO THE FOOD SCENE
Pink oleander bushes grow everywhere in the gorge, and the trail crosses and re-crosses the stream over wooden planks and carefully placed stepping-stones. Sheer rock walls rise on each side, reaching 1640 feet (500 meters) in height. The narrowest point of the gorge is only 10 feet (3 meters) wide, and you may have to wade through water in the springtime.
Expect to walk from four to six hours. Several rest stops are equipped with picnic tables and toilets, and you can refill your water bottle at many springs along the way. No food is sold in the park.
The Samaria Gorge is only open from early May to late October and can get really hot in high summer. An easier alternative is the Imbros Gorge, accessed from the nearby village of Imbros. At half the length and half the depth, it is open year-round.
Tempted to go explore this stunning continent? Check out our range of small group adventures in Europe.
—
Hero image c/o Intrepid Travel. All other images c/o Marie-France Roy at bigtravelnut.com
Feeling inspired?