There are some things people generally assume about Belize. They assume it's sunny, that the vibes are always good, and that the ceviche is the best ceviche ever.
Take it from me, all of the above applies, but tenfold in Caye Caulker.
This island is the beachy paradise in Belize where the vibes are REAL good, and even if a temporary storm decides to make it rain, you have so many reasons to smile.
Having recently been on Intrepid's 8-day Land Of Belize tour – which spends three magical days in Caye Caulker – here are my top reasons why it's a highlight of the country:
The vibes
I'll elaborate on what I mean by the word 'vibes'…
Vibes: the lifted state of euphoria and contentment your heart finds itself in when it feels like the universe and all those within it are really just conspiring to ensure you a good day. Once your heart is in that place, you just emit these sun rays that no one can see but can feel because they feel it too just from looking at you.
In Caye Caulker, the vibes are coming from the guy selling the catch of the day, the vibes are coming from the guides leading diving and snorkeling tours, the vibes are coming from the turtles and the fish in the sea, the vibes are coming from the palm trees, the guy making necklaces out of conch shells, the people hanging out watching the sunset .
The. vibes. are. everywhere.
You know that exhale you when you just know you've landed somewhere that's basically heaven on Earth? That's the exhale I'm talking about when you jump off the water taxi onto this Central American gem.
READ MORE: 6 REASONS TO VISIT BELIZE BEFORE THE CROWDS DO
The ocean (and all her friends)
This may go without saying, but you're likely visiting Caye Caulker due to its proximity to the Belize Barrier Reef and the Blue Hole. A dream for divers, snorkelers, swimmers and flounder-ers from all corners of the world, everything you read, see and watch about this attraction is truly that and much more. The Blue Hole, the largest sea hole in the world, boasts depths that exceed 400ft and is one of the best dive destinations in the world.
While my overall wish and hope is that if you find yourself on the idyllic island of Caye Caulker, I also hope you find the time to take on the reef and surrounding areas. There's nothing like swimming with turtles, seahorses and manatees.
I also hope that you do this with a eco-friendly company like Intrepid Travel, which does not feed the wildlife in the ocean and simply allows you interact from a distance. I promise the magic is still  the same. Look for a company that serves you lunch with zero waste and uses reusable cups, instead of plastic water bottles and disposable containers.
Having been to Belize twice, where snorkeling the reef is definitely a highlight, believe my nature–loving heart when it says that you feel so much more connected to the wild knowing you did your part as a responsible traveler.
EXPLORE BELIZE ON A SMALL GROUP ADVENTURE WITH INTREPID
The food
I could definitely spend the entire article talking about fresh fruit and seafood on Caye Caulker because it's my take-home message to everyone who asks me what Belize is like. If you like lobster and ceviche, this is basically where all your dreams come true.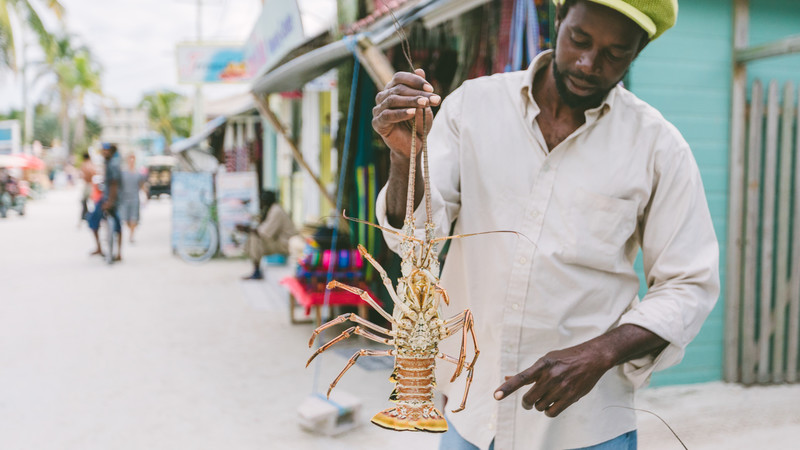 A lovely soul on my tour (who became a dear friend based solely on how we'd eat FRESH ceviche multiple times a day just because we could), ordered lobster every night. (And she always saved a bite for me, bless her heart.)
Did it ever get old? Definitely not. Each local spot had its own way of adding their signature to lobster and I take pride in knowing that Lauren and I covered some serious ground trying all the flavors. A friendship based on similar food palates and love for local cuisine is a ship that isn't sinking any time soon!
5 MUST-VISIT MAYA RUINS IN NORTH AND CENTRAL AMERICA (WITH AN ENTRY FROM BELIZE!)
The location!
Imagine a tiny little piece of land where you could walk from one side to the other in 15 minutes and wherever you ended up, you'd be able to see the sunset. Caye Caulker is this exact clump of magic in the middle of the ocean. And you get to see the sun explode on the horizon from somewhere different every night.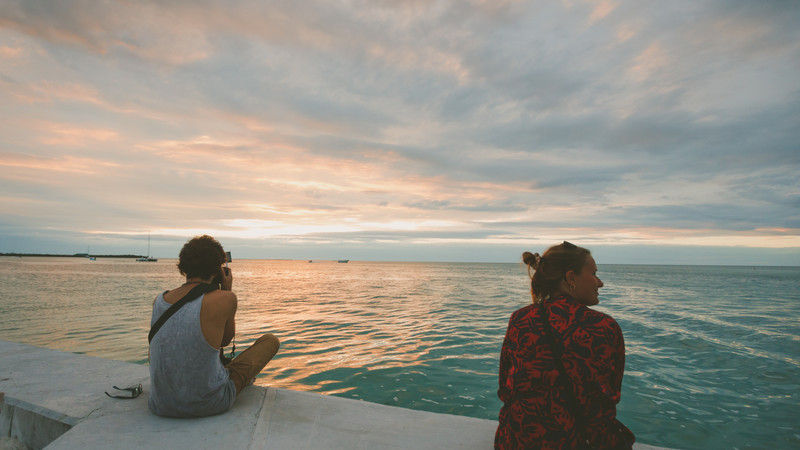 That's a selling point for anyone that's like me and lives somewhere where sunsets on ocean horizons are few and far between.
SUBSCRIBE TO INTREPID'S NEWSLETTER FOR TRAVEL TIPS, COMPETITIONS, GIVEAWAYS & MORE
The guide(s)
Something that every seasoned traveler knows is that the guide on whatever excursion you may be on is everything. The guides you encounter on your tour are not only crucial to the local economy and the health of community relationships, they are also the ones who provide you with local expertise.
They know where to enjoy the coldest beer, the freshest ceviche, the fastest route to the bathroom and how to support sustainable local businesses. Intrepid's guide fulfilled all this, and more.
What else is there left to say about this island paradise? Not much… Visit Belize with Intrepid ASAP!
—
(All images taken by Mirae Campbell on Intrepid's Land of Belize tour.)
Feeling inspired?