Belize isn't big, but in terms of travel, it packs a punch. While the tourist hoards head to Mexico's Yucatan Peninsula each year and battle Playa del Carmen for the last deck chair, savvy travelers are starting to realize: Belize is better. With a foot in Central America and at least a few toes in the Caribbean, tiny Belize combines the best of both worlds: Maya ruins shrouded by jungle, world-class diving and a spicy fusion of Belizean, Creole and Mestizo culture.
And the best bit? The rest of the world still hasn't caught on. Central America's little-country-that-could is due for a tourism boom, but if you hurry, you can still beat the crowds. You better Belize it.
1. The world's second largest barrier reef
Who knew, right? Belize comes in right behind Queensland for the world's biggest and best barrier reef. With over 100 types of coral, 500 species of fish, sea turtles, underwater caves and sinkholes, it's quickly getting a rep as one of the world's premier dive sights (Jacques Cousteau was already giving Belize a big rap in 1971 – it just took the international community a little longer to catch on). Avid divers and snorkelers should head to Glover's Reef, the southernmost of Belize's three atolls – a picturesque mix of patch reefs, sand flats and drop offs.
2. Wildlife spotting galore
Belize is probably best known for its coastline, but its no jungle pushover either. Head inland, away from the unspoiled strips of white sand, and you'll find a massive (by Belizean standards) stretch of national parks and wildlife sanctuaries, home to a variety of animals that rivals the cloud forests of Costa Rica or the Ecuadorian Amazon. This is something the rest of the Caribbean can't really offer – world-class wildlife spotting within an hour or two of the coast. Cutter ants, Baird's tapir (Belize's national animal), 570 species of birdlife, spider monkeys, howler monkeys, peccaries, iguanas and jaguars – Belize has them all. Don't forget those binoculars.
3. Action & adventure
Central America doesn't usually leap to mind when people think of action-packed adventure sports. Belize probably doesn't register at all. That's probably because the smart adventure junkies have been keeping quiet for the last few years. Well, we're here to spill the beans: Belize could be Central America's adventure capital. Obviously there's top-notch diving on the various atolls off the coast, but there's also river rafting in the Cayo District, zip-lining in Cayo and the southern jungles, horseback riding in the Mayflower National Park and the Cockscomb Basin Wildlife Sanctuary (our personal favourite), or, for the really adventurous, waterfall rappelling near the coastal town of Dangriga.
4. A spicy culture mix
Belize's history has been one of conquest and colonialism, with different groups moving in and settling from all over Central America and Europe. This has lead to a really interesting cultural mix, one you won't find anywhere else in the Caribbean: Maya descendants like the Yucatec, Creoles from West Africa, the Spanish-speaking Mestizos, even German Mennonites. How does this affect travelers? The food! Belizean cuisine is what fusion is all about. There's flour tortillas and cheesy fry-jacks, hot panades filled with beans or fish, jerk chicken, and coconut milk. Most lunches are going to be a combination of rice, beans and meat, with a side of Belizean potato salad and fried plantains. Trust us, it's delicious.
5. Mayan ruins to rival Mexico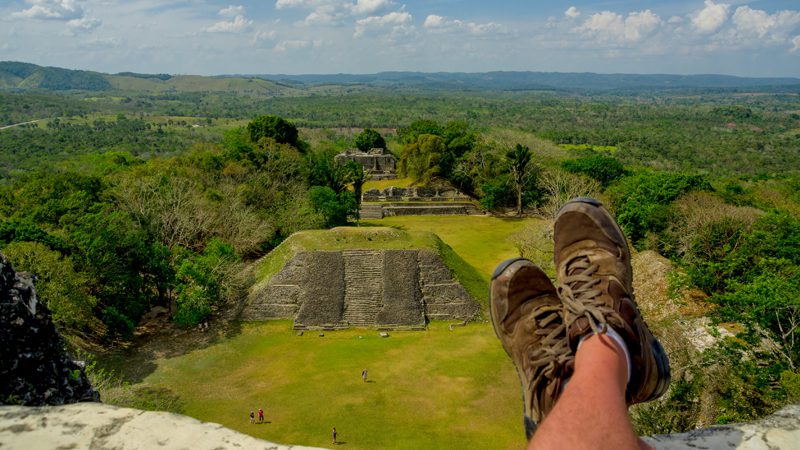 The Maya left stepped pyramids all over Central America, but Mexico and Guatemala usually grab the headlines when it comes to spectacular ruins. Belize has managed to stay off the radar, which, as everyone knows, is travel gold. The Cayo District and Toledo's Deep South in particular are scattered with archeological sites like Caracol, a crumbling ruin deep in the forest near that Guatemalan border and once a major Maya capital. Xunantunich and Altun Ha are equally impressive, but the drive to Caracol is incredibly beautiful. It's home to 140-foot Canaa – aka the 'Sky Place' – the largest pyramid in Belize. Unlike Maya sites in Mexico, like Chichen Itza, Belize's ruins are largely crowd-free, especially if you travel in a shoulder month like May or December.
6. Beaches to die for
People often think the Caribbean has an edge over Central America when it comes to beaches, but it's hard to reconcile that when you're sitting on the white sands of Ambergris Caye or Placencia. With 240 miles of coastline in its back pocket, along with uncountable islands, atolls and sand-bars, Belizean beaches can mix it with the best in the world any day. The Placencia Peninsula is the country's most popular coastal strip, and has the restaurant and bar scene to match, but for something a bit more remote, try Hopkins Village Beach or the ridiculous Half Moon Caye, a crescent-shaped strip of sand dotted with coconut palms and a protected turtle-nesting site.
7. The Great Blue Hole (just Google it)
You've probably seen pictures of the Great Blue Hole on National Geographic or some David Attenborough documentary and thought 'That looks pretty cool, I wonder where it is.' Well, it's in Belize. At the center of Lighthouse Reef is a genuine natural wonder: a 1000-foot diameter sinkhole that drops 430 feet towards the ocean floor. This is the Great Blue Hole, one of the world's premier dive sites. Experienced divers will tell you that the real show is actually Lighthouse Reef itself, but a trip to the Blue Hole is sort of mandatory, if only from a Bucket List perspective. You don't have to have a scuba license to enjoy the site either – snorkelers can see hundreds of fish species around the shallow edges of the reef, and there's plenty of dive companies that run day tours from Caye Caulker or San Pedro.
Now it's your turn – explore Belize on an Intrepid small group adventure. If you live in the UK, you can also get 10% OFF Central America tours.
Feature image c/o dee3nah, Flickr 
Feeling inspired?