It was 6am on the first morning of my tour when I woke to a sharp tapping sound just outside my tent; one that I'd never heard before. Tap-tap-tap-tap-tap-tap. Whatever it was – a small creature, maybe even a human – the noise showed no mercy for the fact that the sun was yet to rise.
Turns out, the repetitive tapping sound was caused by an innocent, tiny woodpecker, hard at work searching for breakfast.
As someone who always thought this bird existed only as a cartoon character in children's shows (there's certainly no woodpeckers in Australia, where I grew up), this early morning disturbance was actually pretty exciting for me, and is just one of the many reasons why booking a camping tour through the Canadian Rockies was one of the best decisions I've ever made. Just imagine how excited I was when we saw our first brown bear AND a huge moose walking along the road!
After experiencing this one-of-a-kind adventure first hand, allow me to share why a camping tour is the only way to explore the Rockies.
1. Getting to know your group is much easier when there's no Wi-Fi at the campsite
Taking a break from our hyper-connected world and being genuinely present is a total joy when surrounded by some of the best national parks in the world and new-found friends. Having booked on the Real Canada tour for 18-29s, we had travellers in our group aged 19, and others aged 29, and myself somewhere in the middle, which meant that we could relate to each other's experiences and stories about travel, work, life, and more, due to our similar ages. Aside from the age factor, each one of us opted to book a camping tour so, by default, we all had a common interest (camping, of course) to discuss. And without Wi-Fi, there were no distractions to get in the way of forming those new friendships.

Disclaimer: if the thought of no Wi-Fi sends you into a panic, know that you can access the world wide web at some campsites for a small cost, or throughout the day at various stops.
EXPLORE OUR RANGE OF SMALL GROUP ADVENTURES FOR 18 TO 29-YEAR-OLDS NOW
2. You'll become a campsite culinary expert in no time
Nothing brings a group together like working as a team to prepare dinner each night. If you don't know how to peel a potato or cook rice, you've got no choice but to learn on a camping trip – otherwise, you run the risk of having no food on the table. Not only will you celebrate the success (or fail!) of cooking together, you'll learn even more about your group with each and every meal.
CHECK OUT OUR SMALL GROUP ADVENTURES IN CANADA HERE
3. No need to worry about camping gear
After moving to Toronto from Melbourne, I wasn't able to ship over my camping gear from home – nor did I have a car – so a tour through the Rockies was a no-brainer. By booking a camping adventure, I was able to enjoy the very best that Mother Nature has to offer, and all I had to do was turn up on day one with my sleeping bag, while everything else – my tent, cooking equipment, tables, chairs, and more – were all supplied. If you've never been camping before, consider this the perfect chance to experience a whole new travel style, minus the stress and hassle of a solo camping adventure.
RELATED: 10 ESSENTIAL WINTER ACTIVITIES TO TRY IN CANADA
4. See why everyone raves about the iconic lakes in Canada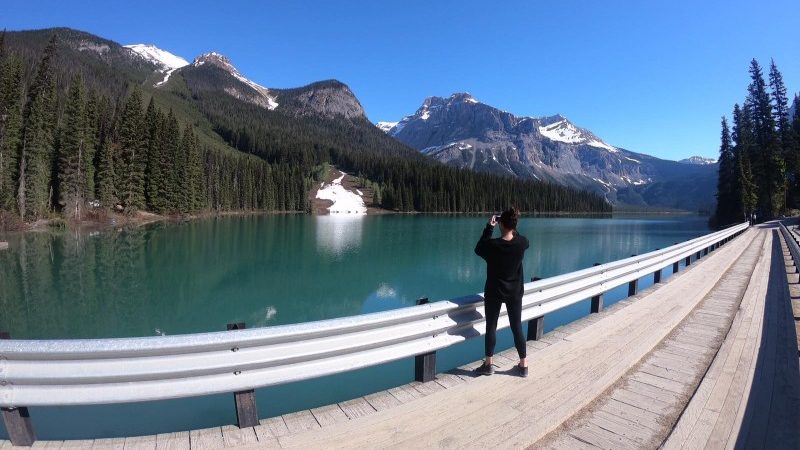 From Moraine Lake, Peyto Lake, Emerald Lake, and of course, Lake Louise, every glacial lake is as jaw-droppingly beautiful as you'd expect; but nothing compares to experiencing the striking landscapes first hand. If you're feeling brave, you can even take a dip in some of the cold lakes. And for the not-so-brave, there were plenty of opportunities to go canoeing or rafting at a gentle pace.
5. Spot more animals than a David Attenborough documentary
Think about it, where else in the world might you spot a grizzly bear hunting for food, a moose walking along the side of the road, a bald eagle keeping a watchful eye over its nest, a coyote searching for food, beavers building a dam, or even a wolf on the prowl all in the same day? The answer: only in the Canadian Rockies.
RELATED: 8 INCREDIBLE ANIMALS YOU'LL FIND IN CANADA
6. Uncover the best (secret) hiking trails on the West Coast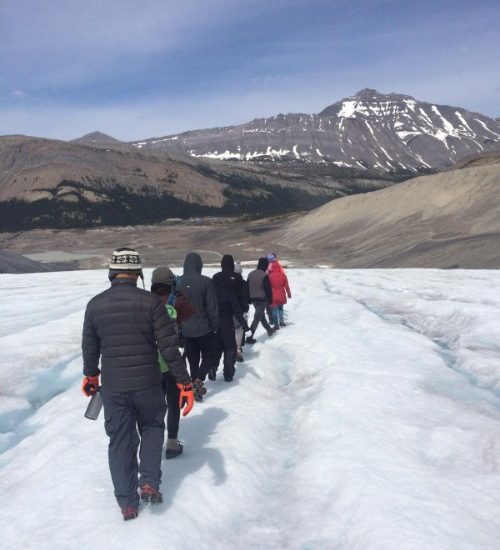 Our group seriously hit the jackpot with our tour leader, Michelle. Born and raised in Canada, Michelle loved hiking, and conveniently, so did our entire group. Every time we had a free morning or afternoon, we always wound up hiking together exploring the best popular trails, and hidden spots that only locals know.
By the way, bear safety in the Rockies is no joke and yes, 'Bear Spray' is a real thing, but thanks to Michelle, we were able to travel through the Rockies with the knowledge of what to do in case we crossed paths with an angry grizzly bear. Thankfully, we only saw small brown bears while in the safety of our vehicle.
SUBSCRIBE TO INTREPID'S NEWSLETTER FOR TRAVEL TIPS, COMPETITIONS, GIVEAWAYS & MORE
7. Learn how to summon a moose from the wild with a 'moose call'
Okay, I'm totally kidding, but Michelle had our group convinced that we would learn how to summon a moose to suddenly appear from the forest if we followed her attempt at making 'moose noises'. For future reference, if any tour leader tries to teach you how to call for a moose in the wild, remember that there's no such thing.
Up for the challenge? Learn more about Intrepid's 18 to 29s small group adventures here.
Feeling inspired?