In this digital day and age, shopping can sometimes seem like a chore that's best done with the click of a mouse.
But there's no replacement for exploring a local market when travelling. It can be one of the best ways to get a taste of local culture (not to mention local street eats). You might even discover things about shopping you never knew could be fun – like getting lost in a maze of shops while trying to find the perfect hand-woven rug or waking up before dawn to watch fishmongers bid on the biggest tuna. Trust me, weaving through colourful stalls beats weighing the pros and cons of express shipping any day.
Prepare to dive in and fully immerse yourself in the hustle and bustle of daily local life, absorbing the unique sights, smells and sounds that surround you along the way. It's places like these that offer the perfect chance to interact with locals, sample homemade delicacies, learn about the regional traditions and customs, and give back to the communities we visit by supporting the local economy.
It's time to embrace the frenetic atmosphere and brush up on your haggling skills!
9. Old City Market, Acre, Israel
Wander down the many winding alleyways of Acre (Akko) and you're bound to stumble upon the Old City Market. Set on a route once used by the Crusaders and surrounded by stunning old architecture, it's an area totally immersed in history. Come here for a real taste of Middle Eastern life as you shop together with the locals, browsing the many stalls of fresh fish, Arabic sweets like knafeh and baklava, locally made jewellery and spices. Look out for charming cafes and hummus restaurants as you go.
8. Chandni Chowk, Delhi, India
As one of the most antiquated and busy markets in Old Delhi, the Chandni Chowk is shrouded in history. Built in the 17th century by Mughal Emperor Shah Jahan, it was designed by his favourite daughter Jahanara. Translated as the Moonlight Square, it was once split by canals that reflected lunar rays. Chandni Chowk houses the Red Fort, ancient mansions, halwais or confectioners and more. Be sure to try the jalebis here, these sugary deep-fried snacks are irresistible.
7. Cai Rang Floating Market, Can Tho, Vietnam
Swarms of boats sprawl along this half kilometre stretch of the Can Tho River to make Cai Rang the most extensive floating market in the Mekong Delta. Sellers begin to gather here at dawn, giving the river a colourful facelift as they pepper the waters with their vibrant tropical crops. Soaking up the setting from the water is good fun, but to grasp a real idea of its scale take to the Cai Rang Bridge for amazing aerial views.
6. Khan Al-Khalili Market – Cairo, Egypt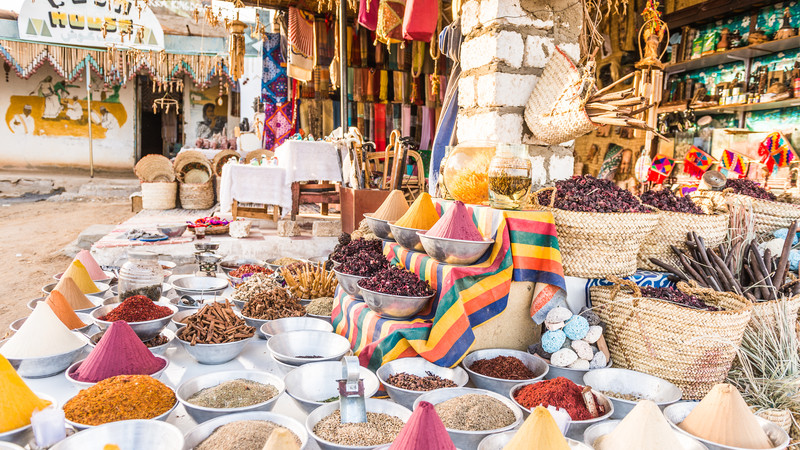 Often referred to simply as "the Khan", this market in Egypt dates back to the 14th century when it was a hub for trading gold, copper, spices and more. Nowadays, you can buy everything from jewellery, to decorative tents, to toy camels amid the winding lanes filled with over 900 shops. It's located right in the heart of Cairo and is one of the oldest open-air markets in the region. After a day of bargaining and haggling, relax with a cup of strong coffee in the oldest cafe in Cairo – Fishawi's Coffee Shop, which has been serving market-goers since 1773.
How to visit: Check out Intrepid's range of small group tours in Egypt.
Related read: Cairo vs Alexandria: a guide to Egypt's largest cities. 
5. Viennese Christmas Market – Vienna, Austria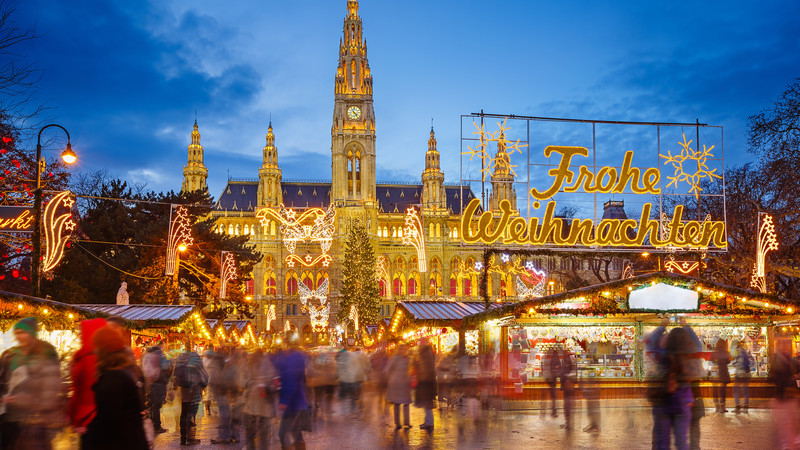 During the most wonderful time of the year, the square in front of Vienna's city hall transforms into a winter wonderland. Austria's capital has over 20 markets to choose from, but this is one of the most popular. Here you can browse booths selling Christmas decorations, as well as mulled wine and roasted chestnuts. Children will delight in taking a ride on a reindeer, telling Christkindl their wishes and making cookies and candles. People of all ages can enjoy traditional nativity scenes, Christmas choirs and skating on the nearby ice rink.
How to visit: Visit all of Central Europe's best Christmas markets on this 8-day tour.
Related read: Unusual Christmas traditions from around the world.
SUBSCRIBE TO OUR NEWSLETTER FOR ALL THE LATEST OFFERS, NEWS AND GIVEAWAYS
4. Chatuchak Market – Bangkok, Thailand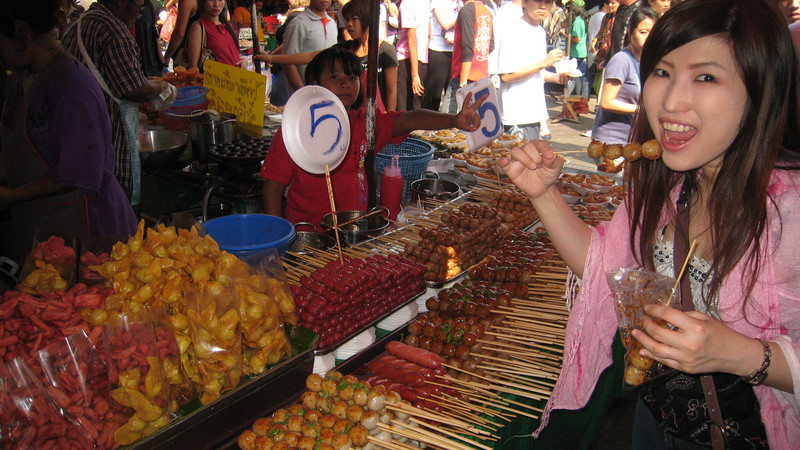 The Chatuchak Weekend Market is the biggest market in Thailand and one of the biggest markets in the world. Be sure to grab a map to help you navigate the 35 acres and 15,000 stalls that are divided into 27 (not-so-strictly) organized sections such as food, antiques, pets and clothing. Despite the name, many of the stalls are open every day, but for the full experience, visit on the weekend and you'll be able to buy everything under the sun. Arrive early in the morning to avoid the biggest crowds and get ready to shop till you drop!
How to visit: Browse Intrepid's wide range of tours in Thailand.
Related read: An essential guide to Bangkok's floating markets.
3. The Marrackech Souks – Marrakech, Morocco
Due to its central location, Marrakech has always been a centre for trade. To this day, Morocco's most well-known city remains a cultural and economic hub in Morocco, and nowhere demonstrates this better than the bustling souks. The Marrakech souks, the traditional markets that border Jemaa el-Fnaa (the main square in Marrakech) create a veritable maze filled with merchants peddling wares such a leather goods, spices and clothing. And when darkness falls, the main square itself turns into a night market where you can eat your fill of kebab, tajine and other street food. Getting lost amid the alleys and the rows of stalls is the perfect way to spend a Moroccan evening.
How to visit: Take a trip to Morocco with Intrepid.
Related read: A guide to the tastiest street food in Morocco. 
2. Grand Bazaar – Istanbul, Turkey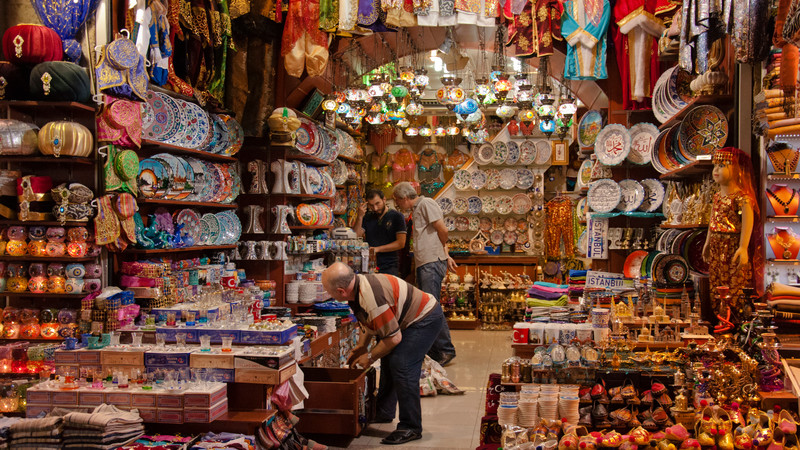 One of the oldest and largest covered markets in Turkey and in the world, Istanbul's Grand Bazaar was originally founded in 1461. It was once the centre of trade for the entire Ottoman Empire and guarded by soldiers every night. As time went on, the market expanded into the patchwork, labyrinthine mall that it is today. Nowadays, it's a colourful and chaotic marketplace where you can snack on Turkish delight and baklava as you barter for textiles, spices and pottery and more. Some cynics may call it a tourist trap, but the fact that the locals still frequent it, the goods are of excellent quality and there are great deals to be had (if you bargain hard), makes it an excellent way to gain insight into Istanbul.
How to visit: See the sights of Turkey on an Intrepid group tour.
Related read: The ultimate guide to Istanbul's must-dos and hidden gems.
1. Tsukiji Fish Market – Tokyo, Japan
Japan's Tsukiji Fish Market is the largest fish market in the world and is perhaps the best place to buy seafood, sushi and other groceries. And even if you're not into eating the seafood, the sheer spectacle of three blocks dedicated to buying and selling fish is certainly worth a visit. You'll have to get up early if you want to catch the daily tuna auction. Only 120 visitors are permitted to watch, and line-ups start well before 5am. To make the most of your visit be sure to wear appropriate footwear (flip-flops, heels and the like are not allowed), bring a sweater if you're attending the fish auction (the waiting room is unheated) and take cash if you're planning on buying from the vendors.
How to visit: Eat your way through Japan on this 12-day food trip.
Related read: How to eat and drink like a local in Japan. 
Ready to explore the sights and delights of these top markets? Check out Intrepid's top destinations and trips.
—
(Image credits from top to bottom: Intrepid Travel x3, Marthalia Lauw, Intrepid Travel, Joshua Tagicakibau, iStock/Nayomiee.)
Feeling inspired?