If I was given the choice to spend an eternity in one city and one city only, I would pause ever so slightly, then wholeheartedly reply, "Istanbul."
I lived in Istanbul for three years, and then returned back to my current home of Toronto in late 2017. Though, Istanbul isn't a city that you leave behind, it's a city that you carry with you. It's a deep and powerful place. You can't feel indifferent about it.
Thankfully, I'm very confident that if you arrive in the city with the right mindset and advice, you'll leave as I did – knowing you'll go back, but feeling blessed that you arrived in the first place. In three years, I learned a lot about the city (and myself). I spent every available moment chasing stories and moments that led me from the dim of the narrow streets to the wide breadth of the Bosphorus Strait.
With this, I want to share what I've learned, so you too can appreciate what I wouldn't hesitate to call the world's greatest city (and all this coming from a traveller who has been to thousands.) I could write a guide that would take you several years to read, but for posterity sake, I'm going to tell you what you need to tackle if you've got a few days in the city!
The Istanbul essentials
If you've only got a couple of days to spare in my beloved Istanbul, then it's fair to assume that a large swath of that time will be spent in the area of Sultanahmet. I could certainly think of worse places to spend my time, I'll tell you that much. Let me run down what I wouldn't miss in general, while highlighting Sultanahmet.
The Blue Mosque
Perhaps I'm biased after living in Istanbul for several years, but I would contend that the Blue Mosque is the most aesthetically appealing building on the planet. I wouldn't want to calculate the sum total of time that I've spent admiring this building. There's actually a fountain directly between the Hagia Sophia and the Blue Mosque that I'd recommend standing at and giving yourself the opportunity to go into sheer admiration mode (of both buildings for that matter.)
I would contend that the exterior is in fact more impressive than the interior, but it is still worth going inside to understand the scale of the building, and to pay your respects to the fact that it's still an important functioning mosque in the city to this day.
Hagia Sophia
The Hagia Sophia (pronounced aya sofya), is an ancient orthodox church turned mosque turned museum. You'd be remiss to not visit simply because there's just nowhere else like it on the planet, and that's worth something. It's a building that is said to epitomize Byzantine architecture, and yet many would argue that no other building more epitomizes modern day Istanbul.
Though there's typically a fair bit of restoration work going on inside nowadays, it's very much worth it to go in and check it out. Perhaps no other building epitomizes the history of this city and its transition from ancient Christianity to modern Islamic than the Hagia Sophia.
CHECK OUT INTREPID'S RANGE OF SMALL GROUP TOURS IN TURKEY
The Basilica Cistern
The Basilica Cistern, not far from the other two above aforementioned sights, is probably my favourite site in the city, and not just because the James Bond film From Russia with Love was filmed there. It's an ancient water cistern that has all the right lighting, and with its columns and symmetry it's a photographer's dream.
Topkapı Palace
It's now a museum, but it once served as the headquarters of the Ottoman Empire, which you'll note was rather large in its heydey. That's precisely what their collection of goods on site suggests, that they hand their hands all over the planet, and brought back enough spoils to fill a palace. There is, quite literally, a building called the Fatıh Köşkü, which translates to Conqueror's Pavilion. It's a collection fit for a king, or perhaps I should say "a sultan."  
The Bosphorus
In my opinion, you've got to find a way to get out on the Bosphorus Strait, one of the prettiest bodies of water on the planet. Bosphorus cruises galore are offered throughout the area of Sultanahmet, and they're typically fairly decent and reasonably priced. Realistically, it doesn't really matter what means you take to get out and see what's known as the Golden Horn (where many of Istanbul's major sights are).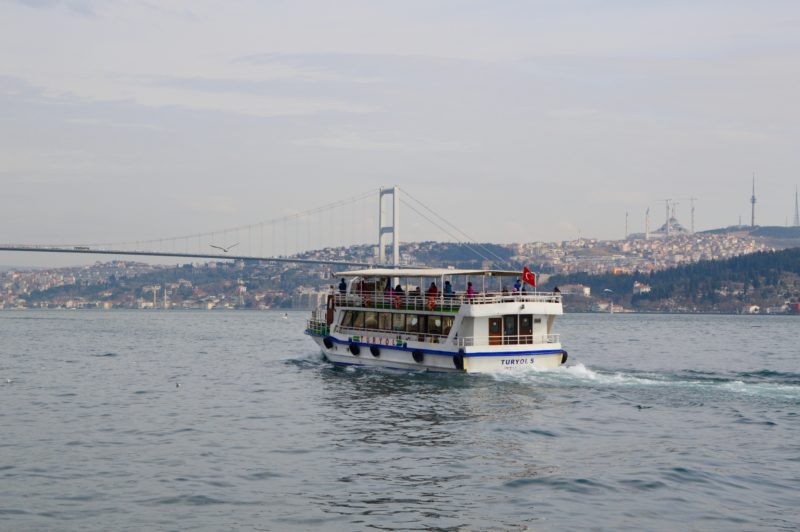 If you've got the time to spare, I would personally take the tram from Sultanahmet all the way down to Karaköy, which should take roughly 30 minutes. From there, you can hop on a ferry that will take you over to the Asian side, and specifically to an area known as Kadıköy. The ferry ride itself offers absolutely brilliant views of the city, but beyond that, I tend to think that Kadıköy is one of the most dynamic areas in the city.
If you've got the time to spare, I'd walk around Kadıköy and check out their thriving cafe scene. Taking a stroll down the infamous "bar street" might also be of interest to you – I know it was for me on more than one occasion!
SUBSCRIBE TO INTREPID'S NEWSLETTER FOR TRAVEL TIPS, COMPETITIONS, GIVEAWAYS & MORE
Also worth a glance around Istanbul
Traditional Bosphorus neighbourhoods
A lot of people come to Istanbul, and they never really see what I would deem to be the true Bosphorus. It's totally understandable considering how much there is to see in an area like Sultanahmet.  
When I had friends come to visit, I had many tell me that their favourite memories were created walking through some of the seaside neighbourhoods I'm about to mention.
My suggestion would be to start in the area of Ortaköy, and head down to the water to see the ever impressive Ortaköy Mosque. The idea is to walk (or cab/uber) down the entirety of the shoreline until you get to a neighbourhood called Bebek. Basically, just take a morning or afternoon and start in Ortaköy then head towards Arnavutköy, which I would contend might be Istanbul's prettiest neighbourhood. If you're feeling thirsty, there's a top floor bar in this neighbourhood with unstoppable views of the Bosphorus known as Alexandra. Just keep walking up the stairs, you'll know when you're where you need to be.
Not long after that you'll end up in Bebek, where you'll see beautiful homes across the hillside. A small note here that the Starbucks in Bebek is probably the most incredible I've seen on the planet, so don't forget to stop there! You can't miss it. In Bebek, you'll see fishermen adorning the shoreline, and people swimming and laughing. On a sunny day in Bebek, the tourism rush of Sultanahmet will feel a world away, trust me.
Karaköy
It would be fair to say that Karaköy is Istanbul's most "Instagrammable neighbourhood." You've got posh and funky restaurants galore intermixed with healthy portions of design and graffiti. One street in particular has umbrellas above you filling the streets and it makes for some marvelous photography and colourful moments. If you've got the time, it's worth spending a few hours here. I'd personally recommend a cafe called "Karabatak" or the ever funky "Han Karaköy."
A must-visit neighbourhood according to Jen Hartin, Intrepid's Istanbul-based Destination Manager for the Middle East:
I am lucky enough to live in Balat which is full of funky cafes, colourful houses and lots of cats! It is full of history and has a village-like feel. The architecture is Greek Ottoman and it's great for a wander.
LOOKING FOR A DAY TRIP IN ISTANBUL? YOU'LL LOVE INTREPID'S SISTER COMPANY, URBAN ADVENTURES
Highlights from Istanbul's cuisine
Turkish Breakfast
Turkish Breakfast or Kahvası is my single favourite meal on the planet. I mean that. It's a beautiful combination of breads, jams, eggs, meats and more that will have you waking up without an alarm. In my humble opinion, the two best spots for breakfast are Nezi in the Bebek neighbourhood, and the more central Cafe Privato which you can find in the Galata neighbourhood.
Bahklava
It's sweet and it's delicious. If you're looking to get your hands on some good quality stuff, there's a fleet of stores called Faruk Güllüoğlu that does things right. You can actually find one in Taksim Square if you're around that area.
Turkish Delight
My advice here is to eat as much Turkish delight as humanly possible while you're in Istanbul because you'll miss it. Try it anywhere and try it everywhere, then decide what's best for you. Turkish delight comes in all shapes and sizes, my friend, and most of them are delicious. There's a lesson about humanity tangled up in there somewhere.
READ MORE: 6 DELICIOUS DISHES TO TRY IN TURKEY
Çay (tea) / Turk Kahvası (turkish coffee)
Despite the fact that Turkish coffee is considerably better known worldwide, I would say that tea is significantly more popular. I had friends in Istanbul that would have up to 30 cups of çay per day, and start each one by popping a cube of sugar in their mouth – now that is dedication. Tea is part of the lifeblood of Istanbul and Turkey at large, and you wouldn't go wrong to dive in. That being said, as a tourist, you might get more out of the coffee which packs a seriously caffeinated punch. Drink both in droves.
Foodie tips from Jen Hartin, Intrepid's Istanbul-based Destination Manager for the Middle East:
I love Akin Restoran. Based in Halic, it's such a gem that few very expats know about it. The food is good local produce. Don't leave without trying Ayranasi Corba (cold yogurt soup full of cracked wheat, chickpeas and mint) and Baldiz Tatlisi (rolls of crispy pastry filled with helva). If you like the idea of a Turkish BBQ, you'll also love ocakbasi restaurants – one of my favourites is Zubeyir.
Day trips from Istanbul
With Turkish Air being based in Istanbul (naturally), you're very well connected to the country, but for most destinations (Cappadocia, Ephesus, Bodrum etc.), I'd recommend more than a day. In light of that, my favourite "day trip" as it relates to Istanbul is a trip to the Princes' Islands. You're taking boats so you don't have to worry about that devastating Istanbul traffic, and you feel like you're in another world altogether.
The Princes' Islands
The Princes' Islands are just a lovely ferry ride away from Istanbul, all of them reachable in less than an hour. Typically, there are a handful of islands that people go to. There's Büyükada or "Big Island," Heybeliada  or "Saddlebag Island," Burgazada or "Fortress Island", and Kınalıada or "Henna Island."
Personally, I'm very partial to Heybeliada which has the perfect combination of civilization and nature. You can go out for a perfect lunch, then retire at the beach for the afternoon and leave the hustle and bustle of Istanbul well behind you.
How to tackle Istanbul in a few days, in sum
The truth is, you won't. It's a city that goes so deep – I spent three years there, and I still have a lifetime of exploration to do. But isn't that just a marvelous problem to have? I've spent three hours in some places and felt like I had read every page of their book a dozen times. Isn't it incredible that I spent over a thousand days in Istanbul, and I feel like I need ten thousand more?
Istanbul is one of the world's great cities, there's no question about it. I'm biased, but I've also been lucky to set foot in a lot of different cities, and there's something special about this city. There's no city like Istanbul and I, for one, couldn't be happier about that. So go there, and go back, it's the city that keeps on giving, and you just need to put out your hand.  
Ready to explore this unique and wonderful city? Check out Intrepid's range of small group tours in Turkey.
—
(Image credits from top to bottom: Intrepid Travel, Chris Mitchell, Intrepid Travel, Chris Mitchell x7.)
Feeling inspired?