Japan can be a dizzying place to make food choices.
You're trying to tick everything off your wish list while revisiting favourites, and being on the lookout for unknown gems – all against a backdrop of indecipherable menus, shop protocol ("OK, now I have this ticket from the vending machine, how do I get my food?"), venue evaluation (tiny "homely" restaurant vs. someone's living room), and locational logistics (up an elevator, down an escalator, into a train station restaurant strip, down an alleyway off an alleyway). And the immensity of the dining scene is not just numbers of places, but of people: walk home at 2am and you'll still see restaurants packed.
This list of things to eat in Japan (we've focussed on Tokyo) is by no means exhaustive, but one with a bit of tradition and local culture behind it:
1. Take the edge off at a combini
Unlike convenience stores in many other countries, the food at Japanese "combini" can be quite healthy and surprisingly good: there are bento boxes, salads, snacks, gyoza, and plenty of ready-made meals like soups and noodles. They're an excellent way to familiarise yourself with Japan's culinary offerings in one hit, and with around 50,000 combini across Japan, you won't be pushed to find one.
Try: Onigiri aka rice triangles, a ubiquitous snack and one of the staples of Japanese cuisine. They come in a range variations – wrapped in nori, dipped in sesame seeds, in a circular shape, and fillings – tuna mayo, salmon, pickled plum, bonito flakes, fish roe, seaweed, all for 100-130 yen.
RELATED: CONVENIENCE STORE FOOD: JAPAN'S WORLD-BEATING CULINARY EXPERIENCE
2. Find a coffee
Bounce your way along the full caffeine spectrum in Tokyo from 100-yen vending machine cans (hot and cold – what they lack in actual caffeine they make up for in novelty) to 100-yen combini coffees, traditional kissaten (retro cafes, some dating back 50 years or more) to third-wave coffee shops.
For old-worldly kissaten: Kabaya Coffee (Yanaka), Coffee Seibu (Shinjuku), Tricolor Honten (Ginza), Chatei Hatou (Shibuya)
For third-wave coffee: Streamer (multiple locations), Fuglen (Yoyogi), About Life Coffee (Shibuya), Onibus (Nakameguro), Blue Bottle (multiple locations).
3. Try a traditional breakfast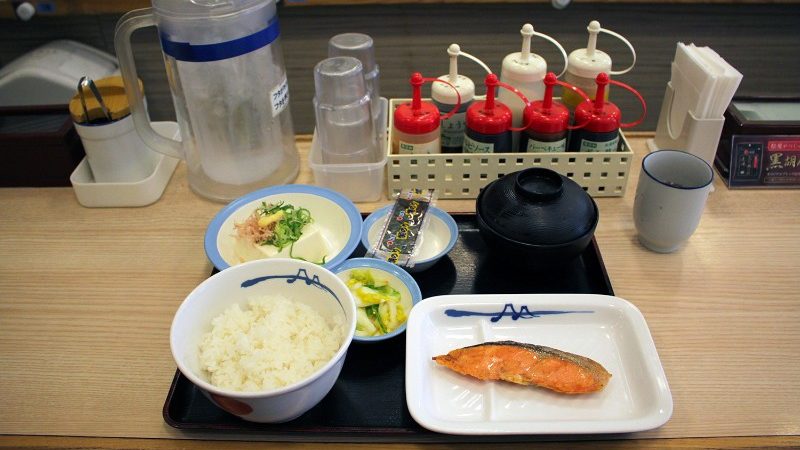 Traditional-style breakfasts differ in grandeur depending on whether you're at an upmarket hotel or fancy ryokan (Japanese-style inn), or at a more pragmatic restaurant chain, where you'll be rubbing shoulders with office workers on their way to work.
At its very basic, you can expect: rice, miso soup, grilled fish, pickles. Extra side dishes include chilled tofu, raw or soft-boiled eggs, natto (fermented soy beans), and a range of seasonal dishes like pumpkin cooked in dashi, green beans dressed with sesame sauce, and seaweed salads.
For a reliable chain: Yoshinoya (multiple locations, approx 500 yen), Matsuya (multiple locations, approx 500 yen)
For something more upmarket: Claska Hotel (Meguro, 1,500 yen), Girandole (Park Hyatt, Shinjuku, 4,200 yen), Kanetanaka Sou (Cerulean Tower, Shibuya, 3,370 yen), Nadaman (Imperial Hotel, Ginza, 3,240 yen).
INDULGE IN A TRADITIONAL JAPANESE BREAKFAST ON ANY OF THESE JAPANESE ADVENTURES
4. Make a bakery stop
Bread might not seem like the first thing you'd think of eating in Japan, but to forgo bakeries in Tokyo would mean missing out. Think fun fusions like mentaiko furansu pan (a baguette filled with cod roe mayonnaise), kare-pan (crumbed donuts filled with Japanese curry), mugwort croissants, pretzels filled with red bean paste, pastry cubes filled with black bean and soy milk cream, and focaccias topped with lotus root, yuzu paste and cheese.
For domestic chains and foreign imports: Little Mermaid, Anderson, City Bakery  (usually found around train stations and department store food courts)
For craft bakeries: Katane (Yoyogi-Nishihara), Trasparente (Nakameguro, Daikanyama), 365 Jour (Shibuya), Sawamura (Hiroo and Shinjuku).
5. Get a wagashi pick-me-up, preferably paired with freshly whisked matcha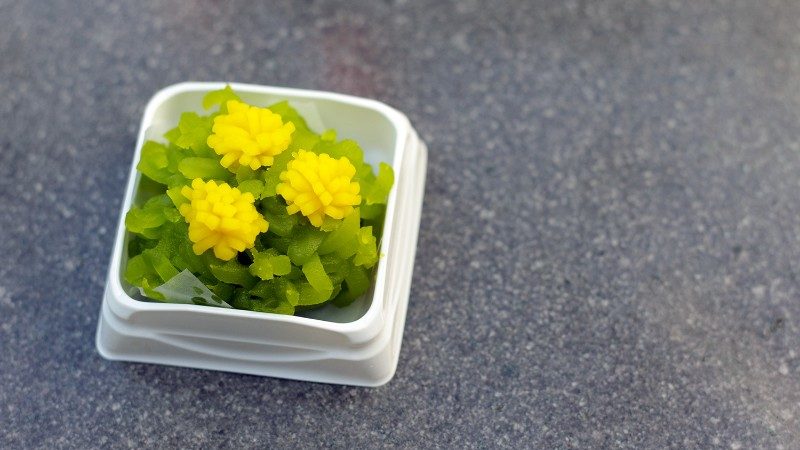 Wagashi are traditional Japanese sweets, which were originally served as an accompaniment during tea ceremonies, and are made from natural ingredients like sweet bean paste, glutinous rice, nuts, dried fruit, and soy bean powder. They're like little edible treasures, with designs inspired by folk stories and nature: "Tsukimi dango" ("moon-viewing dango") are eaten while watching the Autumn harvest moon, and have a round white shape; "uguisu mochi" (warbler bird mochi) have an abstract bird-like shape and are dusted in green soy bean powder, said to resemble the bird resting in the bushes in spring.
For easy-to-access wagashi: Supermarkets, convenience stores, Shinkansen gift sections and department stores
For a more enchanting experience: Higashiya (Ginza), Toraya cafe (Roppongi, Hibiya, Maronouchi), Kuriya Kashi Kurogi (Ochanomizu), Kosoan (Meguro), Yakumo Saryo (Meguro).
RELATED: EVERYTHING YOU NEED TO KNOW ABOUT ETIQUETTE IN JAPAN
6. Pick up a bento from a depachika (and browse all other offerings)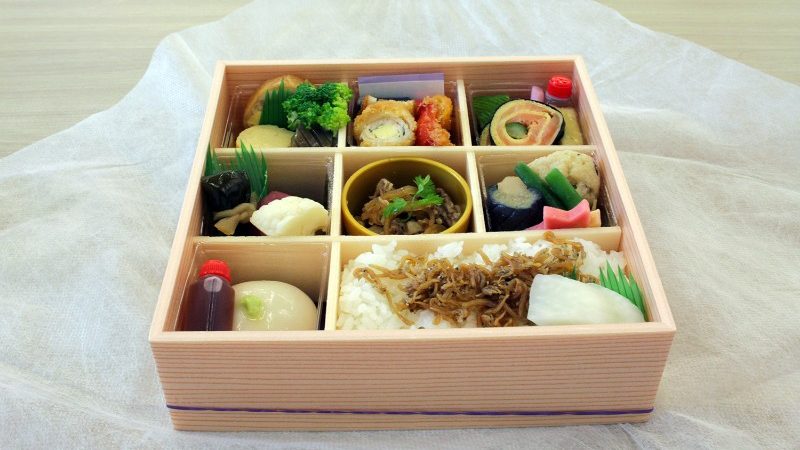 "Depachika" means "department store basement", but what it actually means, is "underground take-out food wonderland". In the basement level of flashier department stores in Japan, you'll find sprawling food retailers selling everything from steamed buns to miso-cured pickles, French pastries to square watermelons (yes, they do exist) to bento boxes. Bento boxes are a daily staple for locals, and have been so since the Edo period, when they were portable meals for aristocrats visiting the theatre or viewing cherry blossoms. You can find them at regular supermarkets and convenience stores, but a depachika will give you access to more selections and higher quality – and get to be dazzled by all the other edible goodies for sale.
Try: Tokyu Food Store (Shibuya) – take your packed lunch to Yoyogi Koen; Mitsukoshi (Ginza) – take your packed lunch up to the open-air seating on level 9, or nearby Hamarikyu gardens; Isetan (Shinjuku) – take it to Shinjuku Gyoen gardens.
7. Try hot and cold soba noodles
Many people get off the plane to Tokyo and hot-foot it to the first ramen joint, but soba is the noodle with the deepest connection to Tokyo; it was one of the 'four kings' of Edo (the old name for Tokyo) food back from the fledgling days of the city's food culture, along with sushi, tempura and eel. Plus, the noodles are made from buckwheat flour, so are nutty, earthy and healthy. Hot or cold, served with tempura, braised pork or seaweed – they're all good.
For more modern fit-outs: Ryan (Shibuya) or Miyota Soba (Omotesando)
For more traditional establishments: Kaoriya (Ebisu), Kanda Matsuya (Ochanomizu)
For a reliable chain: Yoshisoba.
RELATED: DO YOU REALLY NEED A RAIL PASS IN JAPAN?
8. Eat Edomae sushi
Tokyo is the home of nigiri-style sushi (nigiri meaning "pressed") – the sushi style that doesn't involve nori or wrapping, but a pressed rice cylinder topped with a slice of fish or other ingredient. This style developed as a fast-food for workers back in the Edo period, and gets its name from meaning "the sea in front of Edo", where the seafood was sourced. While an upmarket sushi dinner can set you back several hundred dollars, going for lunch is a fraction of the price. Order "omakase", meaning chef's selection.
Try: Sushi Hisaichi (Asakusa), Shutoku (Tsukiji, 2900 yen), Sushi ishijima (1,500 and 4,000 yen sets), or for a unique standing sushi experience, try Uogashi (multiple locations). Otherwise, head to the outer market of Tsukiji and take your pick – open from early, it's the perfect excuse for sushi and beer or sake for breakfast!
9. Stop for a drink and snack standing up
Tachinomi (literally means "stand-drink") and tachigui ("stand-eat") started out as places for workers to get a quick, cheap bite and a drink on the way home. During the Japan's economic heyday of the 70s and 80s, these cheap eateries fell out of popularity, but are now coming back into vogue.
Try: YATA sake bar (Shibuya, Shinjuku), Enishi (Shinjuku), Banhaiya (Nakameguro), Fujiya Honten Wine Bar (Shibuya), Moto sake bar (Shinjuku).
SUBSCRIBE TO INTREPID'S NEWSLETTER FOR TRAVEL TIPS, COMPETITIONS, GIVEAWAYS & MORE
10. Dine on all of the small shared plates at an izakaya restaurant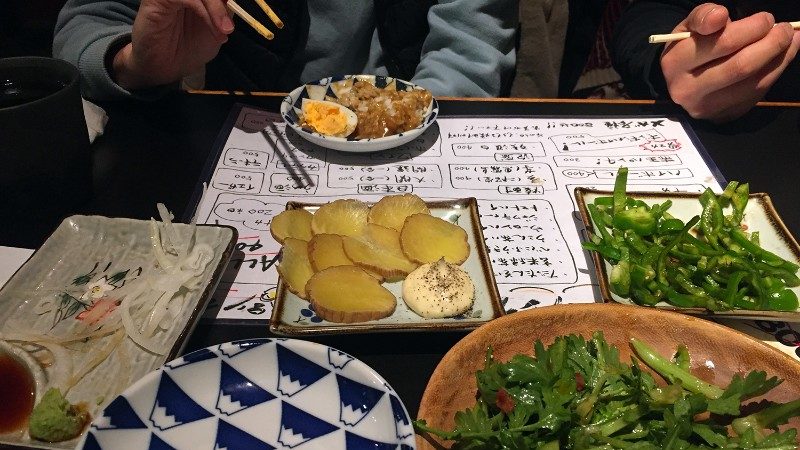 Izakaya are hard to define, but are often described as a Japanese "gastropub"; they're a dining experience based on food accompanied with a lot of booze. There's no one model for an izakaya: they may be a tiny 6-seater shop that looks like someone's storeroom, a 3-floor institution with dimly-lit winding corridors and intimate booths, or a basement full of rowdy tables and cigarette plumes. The dining style at an izakaya is small share plates of everything: sashimi, tempura, yakitori, wagyu beef, karaage (fried chicken), salads, vegetable dishes, tofu, noodles, Japanese-style pizza and everything in between – so they're perfect for trying heaps of Japanese food, without leaving you broke (although they may leave you with a hangover).
Try: Uoshin (Shibuya), Unosato (Shibuya), Galali (Aoyama), Okage san (Yotsuya), Rakuchin (Shibuya), Shirube (Shimokitazawa), Sasagin (Yoyogi-Uehara), Uoteru (Roppongi).
11. Eat something cooked over charcoal
Charcoal has been used to cook food in Japan since the Jomon period (14,000 BC – 300 BC), and binchotan – high-quality white charcoal processed from the wood of Japanese ubame oak tree – since the Edo period. Binchotan is revered world-over for its unique heat, which seals in the flavour of food, while cooking it at a steady temperature to keep the inside tender. What this basically means is: juicy, smoky meat and vegetables.
For a charcoal grill-style izakaya: Echigoyayasokichi (Ginza/ Tsukiji), Nakame no Teppen Honten (Nakameguro), Hakobune (Shimbashi)
For yakitori – chicken skewers grilled over charcoal: Torishiki (Meguro), Birdland (Ginza), Jomon (Roppongi), Iguchi (Nakameguro), or head to any of the tiny joints along the Yamanote train line from Yurakucho to Shimbashi station.
12. Experience the ingenuity of Japanese-Italian and French fusion cuisine
.
The attention to detail of Japanese chefs lends itself to mastery of both authentic Italian and French dishes, as well as creative fusions like uni and shaved truffles over baked rice, green pea mousse in kombu broth, risotto topped with dried abalone, jellied consomme with pickled local mackerel and sudachi citrus puree, shirako (cod milt) tartlets, cheese aged in sake lees.
Try: Wine no Ruisuke (Shinjuku), La Coccola (Aoyama), Restaurant Honda (Aoyama), Florilege (Jingumae), Gris (Yoyogi-Uehara), Craftale (Nakameguro), Salmon and Trout (Shimokitazawa), Eatrip (Jingumae).
TAKE A CULINARY TOUR THROUGH JAPAN ON A REAL FOOD ADVENTURE – DETAILS HERE
13. Go for a nijikai (second party)
Japan is a big fan of the "nijikai", meaning "second party" – so if you're still in the mood (and not at karaoke), head for a nightcap.
For experimental cocktail numbers like blue cheese martinis: Codename Mixology (Akasaka)
For a cocktail with a view: Cerulean Tower's Bar Bellovisto (Shibuya)
For secluded cocktails: Bar Kokage (Akasaka)
For vinyl records and whiskey: Bar Martha (Ebisu)
For gimlets in a dimly-lit lounge: Bar Tram (Ebisu)
For more rowdiness: Ebisu Yokocho or Golden Gai; Otherwise, anywhere you find open – many places open until 3am and beyond.
14. Enjoy a post-sento cleansing ale, drinking yoghurt or vinegar-based elixir
What better way to cleanse all the eating and drinking than by stripping down and soaking up in a public hot tub? Sento are the urban version of onsen (natural hot springs), and were the main form of bathing before houses were equipped with bathrooms. Sento may be municipal water enriched with minerals, or may be natural hot spring water. After bathing, it's common practice to drink Yakult (drinking yoghurt), a beer, or whatever the house-made vinegar elixir is.
Try: Kohmeisen (Nakameguro), Bunka-yokusen (Ikejiri-Ohashi), Jakotsuyu (Asakusa), Minami Aoyama Shimizu-yu (Omotesando).  
Hungry? Thought so… Visit Japan on a small group adventure now and eat ALL the things!
All images by Jessie Thompson. 
Feeling inspired?