Ah, breakfast. The most important meal of the day and undoubtedly one of the tastiest, especially given the brunch craze consuming the foodie scene right now.
But how would you like to swap your eggs benedict for something more exotic? If you're onboard, buckle up as we head off on an Asia-wide brunch tour. From warming noodle soups to fluffy steamed bao, which of these dishes will take your fancy?
This South Indian special has to be one of my absolute favourites when it comes to worldwide breakfast foods. The dosa (or pancake) itself is made by soaking rice and lentils in water overnight before blending into a batter. It's then stuffed with cooked potatoes spiced using methi (or fenugreek as it's also known) and curry leaves and served alongside chutneys and sambar. Sambar is a lentil-based stew or chowder cooked with tamarind.
Treat yourself to a taste: South India Real Food Adventure
SUBSCRIBE TO OUR NEWSLETTER FOR THE LATEST ASIA OFFERS, UPDATES AND COMPETITIONS
A go-to breakfast choice for many locals, dan bing is a thin Taiwanese-style crêpe made from water, flour and corn-starch. Once cooked the batter is layered with a beaten egg or two and your desired toppings. Spring onions are always popular, but you can get pretty much anything on your dan bing: chicken and basil, bacon and cheese, tuna mayonnaise and even fried chicken. You'll find them being sold by local street vendors every morning.
Treat yourself to a taste: Taiwan Real Food Adventure
RELATED: CHECK OUT THESE FIVE UP-AND-COMING FOODIE DESTINATIONS
For those who haven't yet sampled a Japanese breakfast, sitting down to one might be a slightly bewildering experience. Typically made up of a mishmash of dishes, this sizable meal might seem more like a lunch than breakfast. Get ready to tuck into some steamed rice, a bowl of miso soup, a selection of pickled vegetables, a Japanese-style omelette and a side of natto. Natto is a strong-smelling, polarising dish made from fermented soybeans.
Treat yourself to a taste: Japan Real Food Adventure
RELATED: WHY OSAKA IS THE BEST CITY IN JAPAN FOR FOODIES
You'll spot baozi, or bao for short, absolutely everywhere in China. These light and fluffy buns come stuffed with a range of delicious fillings, from barbecue-flavoured char sui pork to sweet egg custard. They tend to come in two sizes: 10cm wide that are bought individually and taken away, and 5cm wide that are more commonly eaten in restaurants. Although bao is almost always steamed, it's also possible to track down pan-fried and baked alternatives.
Treat yourself to a taste: China Real Food Adventure
RELATED: YOUR GUIDE TO TRADITIONAL CHINESE STREET FOOD
Because of the rice famine brought about by Pol Pot's infamous Khmer Rouge regime, Cambodians survived for years on a basic diet of borbor. Borbor is a rice porridge, much like its Chinese cousin, congee. Created by boiling a small amount of rice in plenty of water to create a soupy consistency, this considerably bland dish is then flavoured by a selection of different ingredients such as salted eggs, grilled dried fish, fresh chillies and pork intestines.
Treat yourself to a taste: Cambodia Real Food Adventure
RELATED: A DEFINITIVE GUIDE TO CAMBODIAN CUISINE
If you can't resist eggs for breakfast, then kai jeow is a must-try on any trip to Thailand. This simple local dish is made up of a Thai-style minced pork omelette, dished up on top of steamed rice and accompanied by a generous dousing of spicy ketchup-style tomato sauce. Instead of using salt, the eggs are seasoned using a favourite Thai ingredient, fish sauce. Spring onions, shallots or herbs may also be added for a little extra punch of flavour.
Treat yourself to a taste: Thailand Real Food Adventure
RELATED: WHY YOU SHOULD TRAVEL THAILAND IF YOU'RE A FOODIE
Pronounced "fuh" rather than "foe", this Vietnamese favourite is becoming ever more popular across the globe. Whilst soup might not spring to mind as a usual breakfast dish, pho is largely served up as the first meal of the day. Traditionally comprised of a subtly flavoured broth, rice noodles, thinly sliced beef and a load of fresh herbs, including Thai basil. Add extra zing with a generous squeeze of lime or spice with a few fiery chillies.
Treat yourself to a taste: Vietnam Real Food Adventure
RELATED: EVERYTHING YOU NEED TO KNOW ABOUT DINING ETIQUETTE IN ASIA
Given the sheer size of the Indian subcontinent, it's no surprise there's a huge variety of breakfasts on offer across the country. But a much-loved morning snack amongst North Indians is paratha. These unleavened flatbreads are cooked on a tava and come crammed with all sorts of tasty fillings, like grated cauliflower, paneer, coconut and more (not all in one, of course). They also come slathered in ghee and go nicely with chutneys, pickles or curries.
Treat yourself to a taste: North & South India Real Food Adventure
RELATED: 6 FOODS THAT PROVE INDIAN CUISINE IS THE BEST IN THE WORLD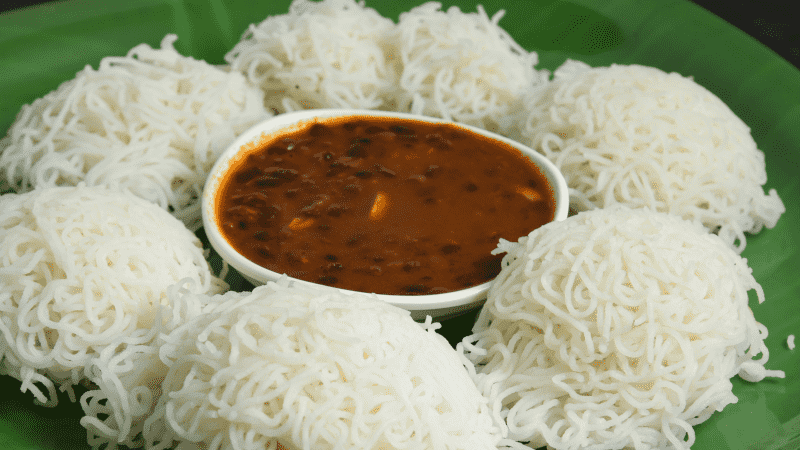 A real Sri Lankan speciality, idiyappam (or string hoppers as they're sometimes known), are round rice noodle cakes. Squeezed out of a noodle press onto wicker mats and then placed into the steamer for cooking. They're a preferred breakfast dish in this part of the world and tend to be served with a coconut gravy called kiri hodhi and pol sambal, a spicy side dish made using freshly grated coconut, blended with chillies and onions. Beware, it can be hot!
Treat yourself to a taste: Sri Lanka Real Food Adventure
RELATED: HOW TO EAT LIKE A LOCAL IN SRI LANKA
Ready to tuck into an Asian breakfast? You can enjoy eating until your heart's content on one of our Real Food adventures.
Feeling inspired?