Arkaroola Wilderness Sanctuary in the remote South Australian outback offers a sustainable and meaningful travel experience with an irresistible knockabout charm. As Tiana Templeman discovers, it's also one of the best kept secrets in the Flinders Ranges.
"This place makes me think of Uluru…"
"….and the Grand Canyon…"
"….and aliens from outer space…"
After two days at Arkaroola Wilderness Sanctuary, our Flinders Ranges Explorer tour group still couldn't decide exactly what this incredible spot reminded us of. But one thing was as clear as the stars above the five NASA-sized telescopes on the property: this remote Australian destination is one that everyone needs to visit.
After a bouncy three-hour journey along dirt roads with mobs of emus racing alongside the bus, the low-set accommodation buildings at Arkaroola appeared ahead of us like a welcome mirage. There are no roadhouses with fast food joints (or public toilets) in this part of the outback, and getting to Arkaroola is an adventure in itself. Located 600km north of Adelaide, tucked into the northern Flinders Ranges, and covering 610 square kilometres, this wild and scientifically renowned part of Australia is challenging to reach, but those who make the journey – ideally with an experienced tour leader doing the driving – are in for a treat.
Arkaroola's ancient landscape is home to the Adnyamathanha people, and has a geological history stretching back almost two billion years. It's one of Australia's most unique natural marvels and frequently draws comparisons to Uluru. And like Uluru, it wasn't always protected from exploitation by European settlers. Miners looking for gold and other precious resources first came here in the 1840s.
"The landscape is so unique here, so different, that there are many things that scientists still don't fully understand about Arkaroola's geology."
A steady stream of explorers, prospectors and others hoping to strike it rich followed, including geologist Dr. Reginald Sprigg AO. He spent time in Arkaroola between 1937 and 1940 as a student of geologist and explorer Sir Douglas Mawson, who described Arkaroola as "the gem of the Flinders Ranges, a geologist's paradise". Sprigg went on to become a respected geologist. The government pulled him out of the army to assess Arkaroola's potential for uranium mining.
However, Sprigg was more interested in protecting this special place than mining it. After buying the property in 1967, Dr. Sprigg and his family worked tirelessly to rehabilitate Arkaroola and have it gazetted as a wildlife sanctuary and historic reserve. Arkaroola is still owned by the Spriggs, and is now managed by Reg's son, Doug, who is 67 years young and shares his father's passion for Arkaroola.
Other visitors have also been captivated by the uniqueness of this place, including Padraic 'PJ' Koen, a self-proclaimed 'astro-nut' and astro photographer. He spends around half the year at Arkaroola, shooting the night sky and presenting Arkaroola's evening star show, which uses astrophotography combined with a live view from a telescope to great effect. Each time PJ comes to Arkaroola, he resets his body clock to sleep during the day and wake in the late afternoon. After he's had 'breakfast' at around 3pm and presented the star show, he explores and photographs the heavens until dawn.
"If I'm not doing the show, I'll usually grab a beer," he says, when someone asks what he does if the skies are cloudy. It only takes one hand for him to tally up the number of coldies he's had lately.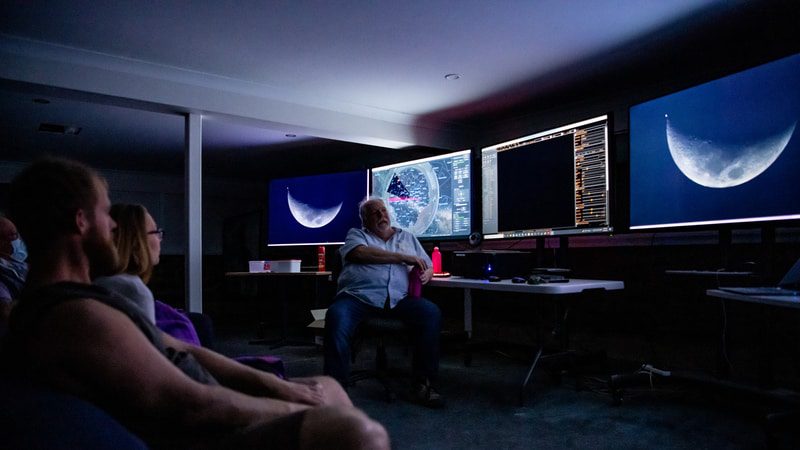 The skies above Arkaroola resemble a black velvet cloth strewn with sparkling diamonds, and are globally renowned for being crystal clear. In fact, one of the huge telescopes here beams data back to NASA in the USA every night. The Milky Way is so bright it casts shadows on the rugged landscape, which looks almost otherworldly as night begins to fall, like aliens could appear at any moment.
The next morning we're up early for a six hour open-top 4WD tour of Arkaroola that has us hanging on for dear life and marvelling at our guide Andrew Smart's driving skills. If you've ever watched a 4WD car advertisement with near vertical driving trails, with sweeping views of golden spinifex and a landscape that seems to stretch on forever, it was probably shot on location at Arkaroola. A favourite of car manufacturers – but not the driver who rolled a brand new 4WD on a location shoot while we were there – it's as beautiful as it is challenging to explore.
Unfolding like the pages of an ancient book, Arkaroola's exposed layers of rock hold information and tales of evolution that continue to captivate scientists and geologists. While he skilfully traverses the washed out tracks, Smart takes us on a virtual journey back through 1.6 billion years of geological time.
We stand on top of a lookout where icy peaks would have once towered over our heads. Millions of years later, a fringing reef standing one kilometre above the sea floor replaced the ice and housed some of the first lifeforms on earth. The landscape is so unique here, so different, that there are many things that scientists still don't fully understand about Arkaroola's geology.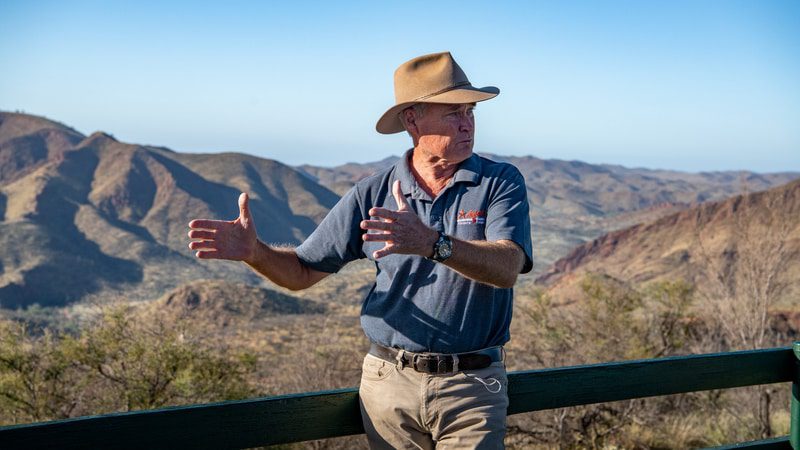 The highlight of our tour – literally – is standing on top of Sillers Lookout, 680 metres above sea level, eating freshly baked lamingtons and sipping steaming cups of tea. Lake Frome, the southern hemisphere's whitest salt lake, shimmers in the distance, and a mysterious looking haze hangs over the surrounding hills. This stunning, ancient place is like nowhere any of us have been before.
We return for a late lunch and a swim in Arkaroola's pool, before our group's private excursion to one of the five telescopes on the property with Doug Sprigg. Doug has been an amateur astronomer since the '80s and manages Arkaroola with an energy and enthusiasm that belies his age. The mighty telescope's distant dome is silhouetted against the dark night sky as we approach. We stand around checking our shadows cast by the stars as we wait for Doug to position the telescope.
One by one we shuffle into the domed building and take turns peering through the huge telescope's eyepiece to marvel at the Sea of Tranquility, where the first moon landing took place. The image is so clear it feels as if we could spot the flag planted by the astronauts. Arkaroola puts the 'adventure' into adventure travel and is nothing like we expected. It's impossible to understand the profound sense of wonder Arkaroola inspires unless you've experienced it for yourself.
You can explore Arkaroola on Intrepid's 7-day Flinders Ranges Explorer trip.
Feeling inspired?