Cycling is without doubt one of the best ways to experience a new destination. Exposed to the elements – and without the barrier of a car window – you get to see, smell and hear a place in a totally different and hugely enhanced way.
Pedalling sets the perfect pace – you travel slowly enough to enjoy your surroundings but fast enough that they're constantly changing. It's also relatively cheap, environmentally-frie ndly and fun. And the best thing? You get fit doing it – so you can justify sampling all those local delicacies along the way.
If this is your first foray into two-wheeled travel, fear not. Booking your first cycling holiday doesn't have to be daunting. From how to prepare to what to pack, here are six handy tips that come highly recommended.
1. Work out why a cycling holiday is for you
What do you want to get out of your cycling holiday? Are you tempted by fitness? Or perhaps it's the chance to meet like-minded people who share your passion for cycling. Two-wheeled breaks are ideal if you're travelling solo, and are seeking out precious time for yourself, away from daily distractions. But they are also good for families keen to switch off their gadgets and spend quality time together. For the intrepid explorer, travelling on two wheels allows you to reach smaller villages that buses can't get to – adding a touch of adventure to any holiday.
2. Decide on the type of cycling holiday you want to book
There's a wide range of cycling holidays out there – so part of the challenge will be narrowing down your favourites. Some trips include cycling as just part of a number of active adventures, such as kayaking and hiking, while others will see you ride almost every day, covering greater distances. From leisurely rides through Vietnam to a week rolling through Cuban countryside, there will be a cycling tour for you. Decide on how much time you want to spend on two wheels, and go from there.
Next, choose whether it's roads or mountains you're after. Road cycling is the most popular type of two-wheeled challenge, and also the most varied. You can race up the steep, smooth tarmac of the French Pyrenees, or bump along the lanes in rural villages of Rajasthan. If you've got the stamina, a mountain biking holiday may be for you – and there's nothing quite like the rush of adrenaline as you freewheel down the mountainsides.
RELATED: CHECK OUT OUR RANGE OF CYCLING TOURS
Finally, know your limits. It's good to push yourself, but your legs will thank you if you stick within your physical boundaries. It's a holiday, after all!
3. Choose your destination wisely
Different places have different terrain – and this can have a huge impact on your overall experience. Advanced bikers may look to somewhere like Majorca or France for its challenging mountain rides with steep climbs and fast descents. Both have the added challenge of high temperatures in summer. For a cycling holiday that will take you through beautiful and rural location, Tuscany is a good bet, offering road and mountain biking options of varying distances. Southeast Asia is a great destination for all abilities, though you may want to dodge monsoon season. Culture vultures may look to gain a rich experience of a new destination, such as Japan, on two wheels. The key is to factor in the type of terrain you will be riding on, the gradients you will face, and the weather during your trip.
4. Decide whether to take your own bike or not
Good news for anyone after a hassle-free holiday – bike hire comes included in Intrepid cycling tours. You just need to provide your height when you book. That means you also don't need to know that much about bikes because they are chosen for you depending on the type of terrain your will be cycling over. Some are mountain bikes with front suspension and 27 gears, while others will be hybrid bikes, or bikes more suited to tarmac.
If you're a dedicated cyclist, however, you may prefer to take your own bike, which you can do by boxing it up for transport on the plane (contact the airline first to see what charges may apply). You'll need to remove the pedals and secure the handlebars. If you find boxing it tricky, you can ask at your local bike shop if they will do it for you, although a fee may apply.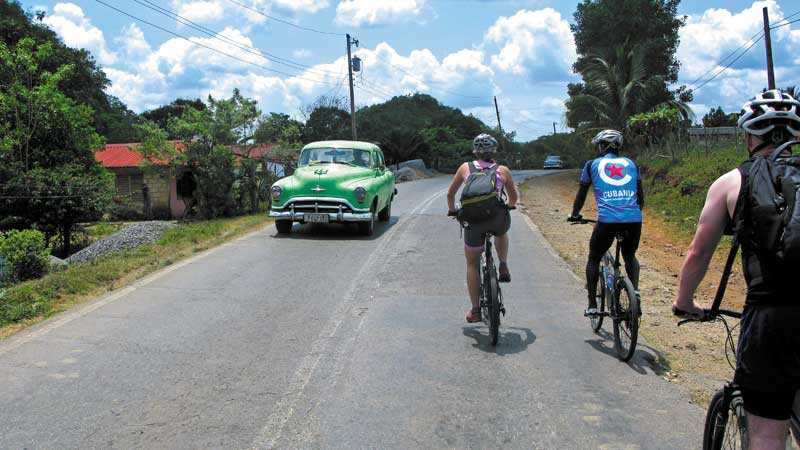 5. Prepare before you go
You don't need to be super-fit to go on a cycling holiday. If your plan is simply to glide through Tuscany's vineyards, stopping off at quaint villages along the way, you need to be physically active but not technically expert. But if you goal is to spend a month cycling up to 90km a day across South East Asia, you'll want to get some training in before you leave.
It's a good idea to start exercising more regularly before you leave to increase your cardio fitness levels. Get your legs used to pedalling with regular bike rides, or by hitting the gym or enrolling in spin classes. Keep your energy levels up by eating balanced and nutritious meals, and make sure you've got all your kit prepared (see below).
But really, all you really need to embark on a cycling holidays is the ability to ride a bike and a passion for seeing the world on two wheels.
6. Know what to pack
Thankfully, unless you're dead set on taking your own, bikes are provided as part of a tour. Helmets are compulsory, so you can either bring your own or buy one at a local bike shop when you arrive to save space in your suitcase.
Here's a handy list of everything else you should consider packing for your first cycling holiday:
Water bottle or hydration pack
Small, lightweight backpack. Or, if you only have a few things to carry, a bumbag containing the essentials like your money and phone will do the job, while your luggage is transferred from one point to the next
Padded cycling shorts
A gel seat cover (if you like extra comfort)
Closed shoes (or your own clip-in shoes and pedals if you ride regularly)
Cycling gloves (they give you more grip when your hands are sweaty)
Gels (for when the going gets tough and you need an extra boost of energy)
T-shirts (avoid cotton as it holds sweat close to your skin and go for high wicking fabric instead)
Layers, including a light rain jacket
Suncream
Sunglasses or cycling glasses
A camera – so you can capture the memories of your first cycling holiday.
Want to hit the road on an epic two-wheeled adventure? Check out our brand new range of cycling tours.
Written by Ellie Ross. Follow more of her adventures at ellieross.co.uk

Feeling inspired?