If Jangbu Sherpa, our wiry Nepalese trekking guide, were to have a spirit animal then it would undoubtedly be a mountain goat. There's really no other option for the man who has conquered the infamous Everest Base Camp (EBC) in Nepal over 200 times.
With energy to spare, calves of steel and a local's knowledge of the Khumbu, Jangbu is exactly the person you want leading you up the mythical mountain pass.
These guys (and girls) like Jangbu – your leaders, assistant guides, porters – work  hard. They work hard to keep everyone's spirits high even when the temperature is in the negatives and altitude sickness is beating you over the head. They monitor your water intake and your heart rate; keep an eye on your oxygen levels; and remind you to eat, sleep and change your socks (very necessary, trust me). They keep you from getting trampled by yaks; play game after game of teahouse cards; and maybe, if you're lucky, will fill your drink bottle with boiling water before bed. Basically, they're your mum, dad and best mate all rolled into one as you attempt the EBC challenge.
We know that the idea of trekking from Lukla to the foothills of Mount Everest is intimidating. But it doesn't have to be, because that's where Jangbu comes in. We quizzed this Intrepid leader on all things Base Camp, and here's his top tips for conquering the camp.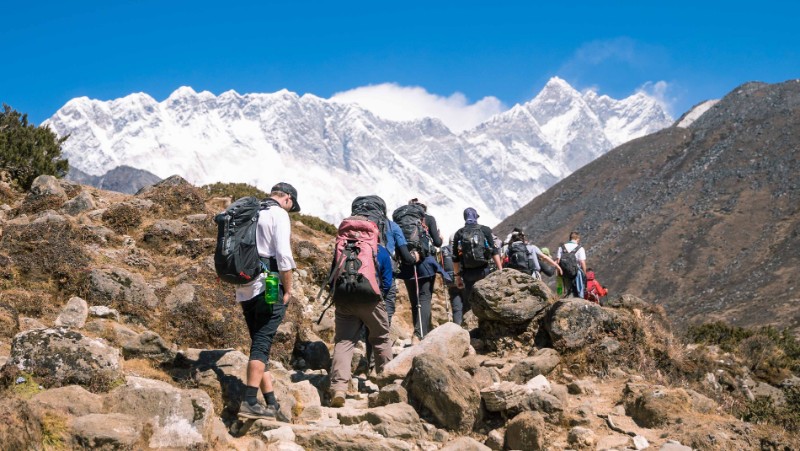 TAKE ON YOUR GREATEST ADVENTURE YET WITH OUR 15-DAY EVEREST BASE CAMP TREK
"There is no such thing as bad conditions, only bad clothing"
According to Jangbu, the number one golden rule for anyone undertaking the trek is to make sure you have the correct equipment. That means looking at the monthly temperatures for the time you're trekking and packing enough of everything. Jangbu reckons he never leaves camp without a pair of gloves, a beanie and a decent pair of sunglasses. For the entirety of the trip you will have a 10kg duffel bag to store your gear which will be carried by your porter. So don't skimp on the essentials, you'll only regret leaving that windbreaker at home.
TAKE A LOOK AT OUR RANGE OF NEPAL TOURS HERE
"The best day really is Base Camp day!"
The trek boasts almost too many highlights. Arriving in Tengboche and listening to the chanting Buddhist monks was up there for me, as was sleeping in Dingboche beneath the mighty Ama Dablam peak. But for Jangbu, the best day is Base Camp Day. "Sure, it's an early morning but there is such a celebratory atmosphere in the air and watching people achieve their goal is such a good feeling for me," he says. We even snuck a bottle of Everest whisky up the mountain and really celebrated the epic experience in style.
RELATED: THE WARNING NOBODY GIVES YOU WHEN TRAVELLING TO INDIA AND NEPAL
"It's more about attitude not altitude"
As far as Jangbu is concerned the hardest part of the trip for most people is simply dealing with the altitude. "Everyone gets the 'boom booms' (headaches), that's very normal. But some find it harder than others," he explains. And that's because altitude holds no favourites and shows no bias – everyone experiences life at great height differently. That said, Jangbu is a stickler for positive thinking and unless you are showing signs of distress outside of the normal symptoms (headache, nausea, difficulty sleeping, loss of appetite) he reckons it's onward and upwards. Literally. 
RELATED: 5 MUST-DOS IN KATHMANDU, NEPAL'S CAPTIVATING CAPITAL
"EBC can be achieved by anyone and everyone"
Leaders see an incredibly diverse range of trekkers conquer the camp every year. In fact, the oldest person Jangbu has led up the mountain was a 75-year-old man from the Netherlands who Base Camp'd like a pro. So if you're sitting there wondering if you're fit enough, the answer is more than likely 'yes'. "It definitely helps to be active and to have a little bit of training, but you don't need to be superman fit," says Jangbu.
SUBSCRIBE TO INTREPID'S NEWSLETTER FOR TRAVEL TIPS, COMPETITIONS, GIVEAWAYS & MORE
"Meeting Chomolunga is so special"
Mount Everest is not Mount Everest to everyone. In local cultures, the mountain also goes by the names Sagarmatha and Chomolunga. "This is very, very special for me because in my Sherpa culture the mountain is regarded as a Tibetan Buddhist goddess named Chomolunga". En route to Base Camp there are many opportunities to offer your prayers and respects to the mighty Chomolunga, and leaders like Jangbu will show you how.
Ready for the adventure? Take a look at Intrepid's range of Nepal tours here.
All photos by Tayla Gentle.
Feeling inspired?