Guaranteed to be a landscape like no other, exploring the Bungle Bungles range should be #1 on your Aussie bucket list.
Western Australia is truly spoilt when it comes to naturally beautiful things to see. From the spectacular Kimberley region with its expansive wilderness to various national parks with their interesting formations, sparkling waters, and jaw-dropping views, this state has it all. Even the extraordinary Bungle Bungles.
Located in Purnululu National Park and characterised by their unique, beehive-like shape, these breathtaking domes are an example of Mother Nature's best work. Formed over 20 million years ago, these orange and black stripey rock formations were only known to locals, shrouded in secrecy until the 1980s when they featured on a documentary of the area.
Since then, travellers have flocked to the World Heritage-listed range to get a peek at the stunning, red rock shapes and we can't blame them. They'll take your breath away and probably won't give it back. However, these now-iconic domes aren't the only stunning sight to explore in the range with gorges and chasms also topping the list of epic things to see in the Bungle Bungles.
So, lace up your boots, pick up your camera and get ready for the Australian adventure of a lifetime.
1. Walk amongst the Bungle Bungles formations
While these fantasy-like and peculiar domes might be the reason you're travelling to the Bungle Bungles region in the first place, it's worth acknowledging just how breathtaking they truly are. Acting as the main drawcard for travellers all over the world (and one of the major reasons why Purnululu National Park received its World Heritage status), the Bungle Bungles are simply a sight to behold.
But it's more than that. These sandstone domes aren't just another natural landmark to see or for another photo on your Instagram grid. In short, these extraordinary formations are more than just uniquely shaped rocks. They offer an experience in culture.
The Bungle Bungles are not only a celebrated and beloved part of Western Australia's desert landscape, but they also represent and maintain a spiritual and cultural connection to land for the traditional owners, the Karjaganujaru peoples.
Take the opportunity to adventure through this extraordinary landmark with a guide that'll tell you about the significance of country and how it's communicated through stories, songs, and art for a truly memorable trip.
WANDER THROUGH THE BUNGLE BUNGLES ON OUR KIMBERLEY TRAIL TOUR
2. Squeeze your way through Echidna Chasm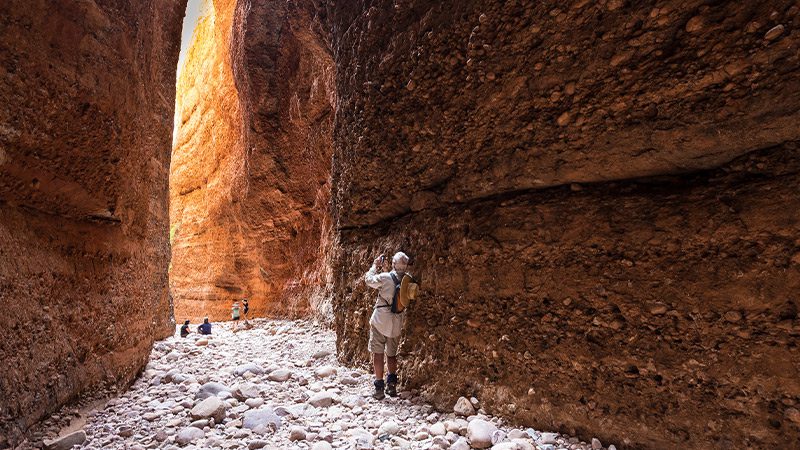 There's a reason why Echidna Chasm is considered to be one of the best things to see in the Bungle Bungles. Embark on a 2km (return) walk from Echidna towards a narrow gorge, where the width is only one metre wide in some places and the solid red rocks walls on either side of you are a staggeringly high 200 metres.
With lush, native Livistona Palms dotted across the landscape and beautiful colour variations imprinted on the rock faces around you, this otherworldly chasm will soon become your favourite place to spend some time in. For a little extra magic, hike to the chasm between 11 am and 1 pm to witness the 'golden glow' where sunlight hits the rock and lights up the gorge in a way that will be etched in your memory for years to come.
3. Test out the acoustics at Cathedral Gorge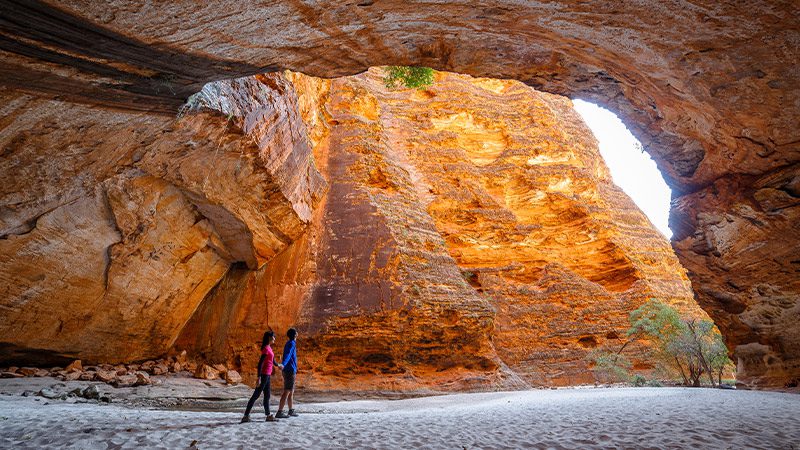 If you ever wanted to feel like a pop star with the voice of an angel, then singing your heart out in the magnificent Cathedral Gorge is something you must do when visiting the Bungle Bungles. Staggering in size and breathtaking in beauty, this natural amphitheater was created via water erosion over time, with the rich and colourful red rock carved year by year to resemble what we're lucky enough to stand in today.
During the wet season, water still gushes into the gorge, continuing its job of subtly shaping the rock walls. This becomes a spectacular feature in the dry season as the water leaves behind a small pool that remains all year round.
We could talk for days about how impressive it is to stand within this gorge's walls, from admiring the different colourations on the rock to soaking up the stillness of simply being there, but no amount of words will ever do it justice. This gorge is just one of those things to see in the Bungle Bungles that feels as if it's out of this world.
CHECK OUT CATHEDRAL GORGE ON OUR BROOME TO DARWIN OVERLAND ADVENTURE
4. Follow the creek bed at Piccaninny Gorge
You think you'd get sick of looking at the various natural formations located in the Bungle Bungles range after a while but one look at the spectacular Piccaninny Creek is enough to know it could never happen. Beautifully overflowing during wet season for thousands of years, this creek bed has become an adult's playground when the weather dries up with cracks to hide in and tracks to adventure along.
Curling itself around the iconic beehive-like domes themselves, this creek bed offers a different view of the range, allowing you to walk between the formations, studying the water's fascinating effect on the rock face and the colourations that come with years of natural erosion.
EXPLORE THE BUNGLE BUNGLES YOURSELF ON OUR BUNGLE BUNGLES TOURS
Feeling inspired?